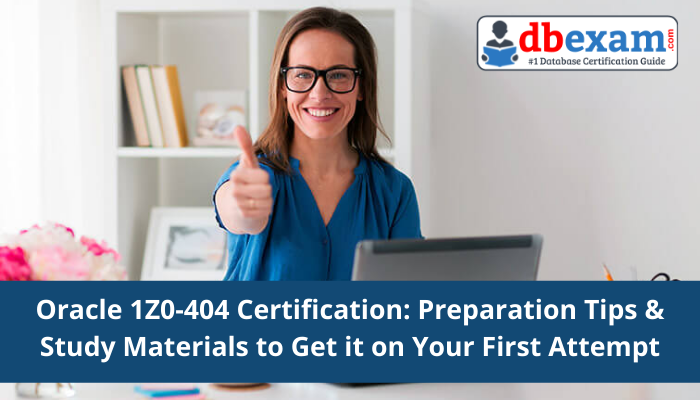 You should explore the valuable study tips and 1Z0-404 practice test materials to earn the Oracle Communications Session Border Controller 7 Basic Implementation Essentials certification smoothly. Learn more about the solution through this blog.
Overview of the Oracle 1Z0-404 Certification:
The 1Z0-404 is a 70 questions long multiple-choice exam. You need to get a 70% mark to pass the exam. Individuals who earn the 1Z0-404 certification are able to configure SBC to centralize, protect, manage, route, and improve the signaling and media protocols used in an enterprise or service provider communications network.
Who Is a 1Z0-404 Certified Specialist?
The 1Z0-404, or an Oracle Communications Session Border Controller 7 Basic Implementation Specialist, is someone who proved his knowledge needed to use Session Border Controller (SBC) on a project. He can configure SBC, route, centralize, manage, and enhance the signaling and media protocols.
What Topics Are Covered under the 1Z0-404 Certification?
The 1Z0-404 exam covers the following topics-
Configuring SBC High Availability

Access-Backbone Environment Configuration

Peering Environment Configuration

Session Border Controller Concepts

Provisioning Interfaces

Initial Configuration

Introduction to Session Border Controller (SBC)

Session Initiation Protocol (SIP) Essentials
How to Prepare for the Oracle 1Z0-404 Certification Exam?
Join the Training:
Getting the 1Z0-404 training is essential because it helps to improve your practical skills. Moreover, you get a chance to learn from the Oracle experts directly. You can join any of the following training-
Oracle SBC Configuration and Administration

Oracle SBC Troubleshooting

Session Border Controller (SBC)
Through the Oracle 1Z0-404 training, you increase your knowledge and understanding of Oracle's Communication offerings by training within the Oracle Communications Subscription. You will learn to administer EAGLE and SBC, understand advanced SBC concepts, and study SD-WAN through the training.
Discover the Syllabus and Focus on Grasping from the Core:
You must cover the syllabus topics to attempt a maximum number of questions in the exam. Grasping the syllabus becomes easy if you have a routine and devote particular hours to cover each section. The specialty of the Oracle exam syllabus is it is not percentage-based. So your study routine must have more time for the sections that have more sub-topics. Try to learn the topics from the core, as your firm grasp will help in the project performances in the future.
Regular Devotion Is Must:
You must fix the study hours and spends at least two to three hours daily getting ready for the exam. Staying organized would help you to cover the syllabus topics within time. Another important habit is to write down the essential topics for a better memory boost. These notes are handy and help immensely during revision.
Keep Practicing with 1Z0-404 Practice Tests:
1Z0-404 syllabus completion is not the last stop; you must check your preparation level to improve further. You can easily assess your preparation level through continuous practice. 1Z0-404 practice tests are made in such a manner that it offers you the experience of taking the actual exam. Scoring high is good, but you must only focus on practicing during your initial attempts. Explore your strength and weaknesses through 1Z0-404 practice test results and try to perform better in the next attempt. In short, gradually boost your confidence through practice tests.
Stay Positive and Focused:
To crack the Oracle 1Z0-404 exam, you need to be focused, follow a distraction-free study schedule, and stay positive till the actual exam day. Exam preparations are tiring, and you could face challenges in some of the topic areas. But, keep your focus and stay determined to crack the exam.
What Is Oracle Communication Session Border Controller?
Oracle Communications Session Border Controller solution helps in having trusted, carrier-grade real-time communications across IP network access borders and IP interconnect borders. It also includes fixed-line and mobile (VoLTE) services. Oracle Communications SBC works as a single software application that helps both purpose-built hardware platforms as well as virtualized deployments in both public and private clouds.
Benefits of Using Oracle Communication Session Border Controller:
Better Performance, Scalability, and Capacity:
The Oracle SBC portfolio has a wide range of appliances that scale by capacity, performance, and price point. The virtual offering works by including additional storage, compute, and network resources to a single instance.
Additional scalability is achieved by virtual instances, clustering appliances, or a combination of both. The process is done by front-ending the SBC cluster with either the Oracle's Session Router or the Subscriber-Aware Load Balancer.
Quality and Reliability Are High:
The Oracle SBC has a critical role in allowing service availability and user quality of experience. The solution performs admission control via local policies or external policy servers to guarantee that both the network and service infrastructure have the scope to support high-quality communications.
The solution also monitors and reports actual session quality to determine compliance with performance specifications set forth in service-level agreements (SLAs) between service providers. High-availability configurations and Intelligent session routing help to minimize outages caused by upstream link failure or equipment problems.
Bottom Line:
Getting the 1Z0-404 certification means you learn more about the Oracle Session Border Controller 7 solution and its uses. The knowledge of the solution and its industrial use helps you get a better career with the certification.