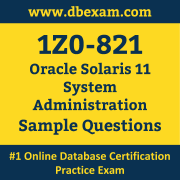 The Oracle Solaris System Administration (1Z0-821) Sample Question Set is designed to help you prepare for the Oracle Certified Associate Oracle Solaris 11 System Administrator (OCA) certification exam. To become familiar with the actual Oracle Certification exam environment, we suggest you try our Sample Oracle 1Z0-821 Certification Practice Exam.
This Oracle Solaris 11 System Administration certification sample practice test and sample question set are designed for evaluation purposes only. If you want to test your Oracle 1Z0-821 knowledge to identify your areas of improvement and get familiar with the actual exam format, we suggest you prepare with the Premium Oracle Certified Associate Oracle Solaris 11 System Administrator (OCA) Certification Practice Exam. Our team of Oracle Solaris 11 Administration experts has designed Questions-Answers for this premium practice exam by collecting inputs from recently certified candidates. Our premium Oracle 1Z0-821 certification practice exam will boost your confidence as well as your actual Oracle Solaris System Administration exam result.
Oracle 1Z0-821 Sample Questions:
01. You want to display network interface information. Which command should you use?
a) ipadm show-if
b) ipadm show-addr
c) ipadm show-prop
d) ipadm show-addrprop
02. How does a program normally induce a segmentation fault?
a) By executing an instruction the CPU doesn't support
b) By accessing an unpopulated area of the program map
c) By executing an instruction in the wrong part of the map
d) By linking in the wrong segment with the dynamic linker
03. Which ZFS property cannot be modified with the set subcommand?
a) mounted
b) mountpoint
c) readonly
d) sharenfs
04. User brian changes the permissions for db_data this command:
a) db_data now has permissions rwsr-xr-x and can be deleted only by user brian.
b) db_data now has permissions rwsr-xr-x and, if executed, will inn with the permissions of user brian.
c) db_data now has permissions rwxr-sr-x and can be deleted only by members of the group owning it.
d) The permissions for db_data cannot be determined, because the permissions prior to the change have not been specified.
e) db_data must be an ordinary file, because special permissions cannot be set on a directory.
05. In Oracle Solaris 11, where is the Oracle default repository located?
a) /var/spool/pkg
b) http://localhost/solaris
c) http://pkg.oracle.com/solaris/release
d) http://www.oracle.com/Solaris/download
e) /cdrom/cdrom0
06. Which two are true about accounts, groups, and roles in the Solaris user database?
a) All Solaris user accounts must have a unique UID number.
b) A Solaris account name may be any alphanumeric string, and can have a maximum length of 8 characters.
c) Account UID numbers 0-09 are system-reserved.
d) The GID for an account determines the default group ownership of new files created by that account.
e) The groups that an account is a member of are determined by the entries in the /etc/group file.
07. You have connected a new printer at a fixed IP address. It appears to work correctly most of the time, but at other times does not respond You suspect that the assigned address may not be unique within the network.
What command will be useful to confirm this?
a) arp
b) netstat
c) ipadm show-if
d) dladm show-addr
e) ipadm show-addr
08. A log message will always contain which two options listed?
a) Tag
b) Message
c) Message ID
d) Port number
09. Which installation option(s) is/are available with the Text Installer but not the Live Media installer?
a) Disk/partition configuration
b) Naming network interfaces
c) Adding software packages
d) Configuring Domain Name Services
10. What does it mean if a boot environment is marked active on boot?
a) It is active and currently mounted.
b) It cannot be destroyed.
c) It has no snapshots.
d) It cannot be mounted.
Answers:
Question: 01

Answer: a

Question: 02

Answer: c

Question: 03

Answer: a

Question: 04

Answer: b

Question: 05

Answer: c

Question: 06

Answer: a, d

Question: 07

Answer: a

Question: 08

Answer: a, b

Question: 09

Answer: d

Question: 10

Answer: b