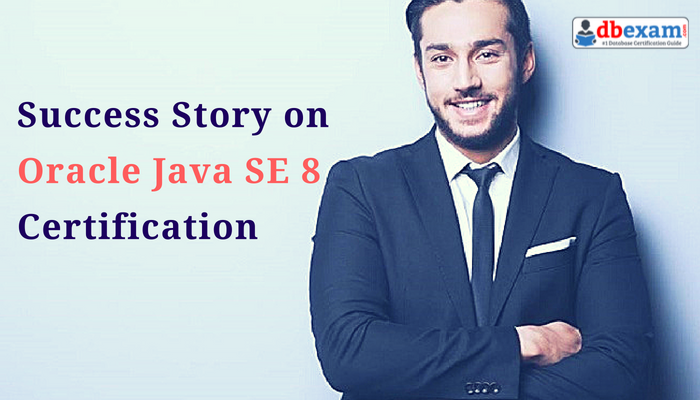 Stanley Elton recently passed Oracle Java I SE 8 certification exam. Stanley did a Java review and shared his Exam journey with us. Check out How Stanley Got Success in Oracle Java SE 8 Certification.
I wanted to share my experience on passing Oracle Java SE 8 certification exam. Having cleared all the pre-requisite exams for the certification, I followed the information and advice routinely being shared by dbexam.com Also; I would like to thank everyone for all the information and guidance that encouraged me to clear the Oracle exam. Now, I would like to share my journey to becoming a Java certified.
Professional Experience
I have over 8 years of work experience in software application development, as well as maintenance work. Having worked in a technology outsourcing organization, many tasks that I have done include the improvement of software applications, reverse engineering, maintenance, re-writing code, and support. Development from scratch was rare, but in the past year, I have been assisting a senior architect in their work, though I did not do any architectural job independently.
Preparing for OCA Exam
On the whole, I had more than 2 years of study to prepare for the Java certification, and if you do not have good experience on the job, getting the certification will be much more complex — as real-world experience is a requirement. I also studied the following books and would recommend them to all those who are getting ready for this certification.
OCA: Oracle Certified Associate Java SE 8 Programmer I Study Guide: Exam 1Z0-808.

OCA / OCP Java SE 8 Programmer Certification Kit: Exam 1Z0-808 and Exam 1Z0-809 by Jeanne Boyarsky, A must.

OCA Java SE 8 Programmer I Exam Guide (Exams 1Z0-808)

OCA Java SE 8 Programmer I Certification Guide
About the Exam
I took two hours to finish this exam. The is because I was learning through each question carefully and slowly. However, I still consider this exam can be finished in 1.5 hours. Most of the questions in the exam were same that I was practicing on dbexam.com, and only a few were very tough. At the same time, not even once did I come over a question that was easy or trivial — each was well-designed and properly thought out by the team.
I would also like to show a gesture of appreciation for the effort that has been done in the design of the questions. The moment I was done with them, I submitted the exam, and after 10 minutes, I received an email notification that my results were ready and available for viewing at the CertView Portal. Well explained and inflexible to the point, these questions held the potential to either let you go or earn you the certification. They also provided the source from which I could then be in a position to take on the actual exam with courage and lots of ease. In short, the design of such preliminary questions maps your knowledge to be ready for the certification.
Preparations for the Exam
I managed to Pass the exam on my very first attempt thanks to the dbexam.com that I purchased online practice exam which has questions at the same standard as the real exam and covered all required topics. That indicated all that I did not know and, once I became aware of my weaknesses, I put a great effort into learning all the things I had been missing out. Additionally, the exam has the full-length tests that are more than enough for exam preparation. In short, dbexam.com OCAJP 8 Study has highly recommended contents for someone who'd like to prepare for the OCAJP certification exam.