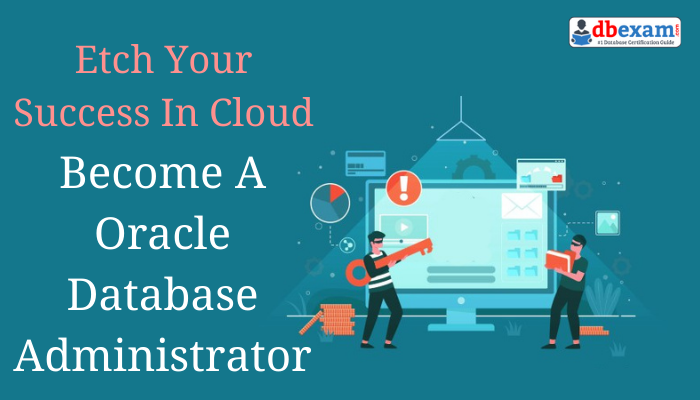 Oracle Certified Associate (OCA)
The Oracle Certified Associate for Database Administration is a basic certificate demonstrating above-average knowledge of Oracle database workings. We would suggest that database administrators, analysts, and developers with Oracle pursue this certification, and Database Administrators need it in today's competitive marketplace.
To get certified, you will require to pass the foundational exam and the Oracle Database 12c Administrator 1Z0-062 exam. There is no need to pay for Oracle training at this level, but you may find doing so helpful.
Oracle Database 12c Administrator Certified Associate (OCA) (1Z0-062) Certification Overview
The world's leading companies use Oracle Database technology to handle critical business processes, systems, and processes. Oracle Database is the number one database in the world.
Over 305,000 top companies trust their systems to Oracle Database.

Oracle Database is the number one embedded database technology.

97% of Global Fortune 500 companies use Oracle software. Well-trained, highly-skilled database professionals who can handle critical systems are highly demanded.
Becoming Oracle Database certified expands your knowledge and skills by telling you about many important database features, functions, and tasks. Oracle Database certification teaches you to perform complex, hands-on activities through labs, study, and practice.
With the 12c release, Oracle Database Administration is re-engineered for cloud computing. Multitenant architecture leads enterprises to unprecedented hardware and software efficiencies, performance and manageability advantages, and fast and efficient Cloud provisioning. Oracle Database 12c certifications underline the complete skills.
The Oracle Certified Associate (OCA) for Oracle Database 12c considers fundamental concepts and skills. DBAs need daily operational management and maintenance.
Building upon the Oracle Database 12c OCA certification competencies, the Oracle Certified Professional (OCP) for Oracle Database 12c contains top-performing database administrators' advanced knowledge and skills, including the development and deployment of backup, recovery, and Cloud computing strategies.
What Does the Typical Database Administrator Career Path Look Like?
While the career path toward database management varies from person to person and relies partially on whether they require to move to a senior database administrator role or want a spot as a chief information officer, there are a few essential steps that most future data administrators take:
1. Get a Degree
The minimum educational demand for an entry-level database administrator job is a bachelor's degree or associate degree in computer science, computer information systems, computer engineering, or any other field. You may also find a database administrative job with a degree in an equivalent field. To land a senior-level database administration job, applicants usually want a master's degree in an IT-related area.
2. Get Oracle Database Administration Certification
Most IT security positions need some level of certification. Here is a quick rundown of some of the most common database administrator certifications:
Additionally, Oracle certification exams validate your capabilities using real-world, scenario-based questions that set and challenge your ability to think and perform.
3. Get Trained in Database Administration
On-the-job training is essential to any IT security field. Learning about IT security and computer programming best practices is one thing, but implementing them in real-world scenarios is another. As the industry grows, continued education will aid you in staying on top of the latest threats, best practices, and technologies.
4. Develop the Right Skills
Prospective DBAs should develop analytical and problem-solving skills to excel in this role. They should also be effective communicators and exhibit strong attention to detail. A database administrator should become familiar with the computer programs and platforms often used for database admin, including SQL, PHP, and Python. Future DBAs can prepare to become SQL database administrators by training to manage SQL servers. An SQL DBA will need specialized certification and training, which can be helpful in a DBA's resume.
With cloud services becoming the go-to storage option for most organizations, DBAs should obtain at least a basic knowledge of managing and troubleshooting cloud databases. Cloud database administrators want to be proficient in developing cloud security measures, data performance improvement, and data recovery.
What Does a Database Administrator Do?
A database administrator, sometimes called a database manager, is responsible for handling computer systems that store and organize data for companies. Databases can include census information, client records, and user information for statistical surveys. DBAs can work for organizations, including academic institutions, government agencies, and financial institutions.
The duties of a database administrator include:
Securing data within an organization's infrastructure.

Identifying areas for improvement within an organization's security infrastructure.

Implementing security protocols.

Specifying who has access to a database.

Creating backup data plans and restoring lost data when necessary.

Monitoring and managing database systems.

Running tests to ensure optimum security.

Monitoring, maintaining, and securing cloud databases.

In short, database administrators are a pretty big deal.
What Is a Typical Database Administration Associate Salary?
According to Payscale, the average salary of a database administrator is $73,624 annually, and the national average ranges between $56,000 and $99,000, relying on seniority and experience. This ranges based on location, industry, company size, and other factors.
Here is a breakdown of the salary range for a database administrator:
Junior database administrator: $56,000-$64,000 per year.

Mid-level database administrator: $64,000-$90,000 per year.

Senior database administrator: $90,000-$99,000 per year.
The more education, experience, and credentials a DBA have, the higher their potential salary.
Conclusion
Now it is time to act! A database administration certificate gives you visibility in the community and helps you get that higher salary.
Of course, the cost can be a vital consideration when pursuing an Oracle Database Administration certification, but your company may pay for you to get ahead. Go ahead and talk to your boss to see if your company would be willing to pay for your certification. Database Administration is not easy, but it is a rewarding and worthwhile career path.
In any case, we wish you the best of luck in your endeavors!