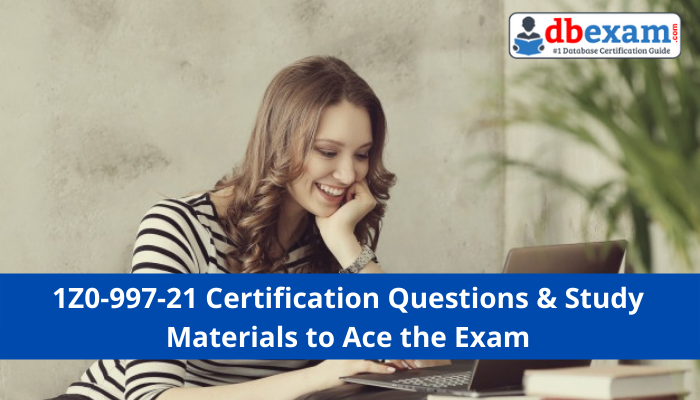 Get access to free 1Z0-997-21 sample questions and valuable materials to become Oracle Cloud Infrastructure 2021 Certified Architect Professional (OCP). Discover more on the certification and about Oracle Cloud Infrastructure through this article.
Overview of the 1Z0-997-21 Certification:
1Z0-997-21 or the Oracle Cloud Infrastructure 2021 Architect Professional certification is the Professional level OCI Architect certification.
The 1Z0-997-21 certification works as the next level of qualification for those who have already earned an OCI Architect Associate badge.
Can Anyone Take the 1Z0-997-21 Exam?
The 1Z0-997-21 certification being an OCP-level certification needs the eligible candidate to hold an associate-level certification. The Oracle Cloud Infrastructure 2021, 1Z0-997-21 certified Architect Professional possesses hands-on experience and knowledge needed to plan, design, implement and operate solutions on OCI.
What Qualities Do You Earn through the 1Z0-997-21 Certification?
A candidate learns to implement and operate solutions, plan and design solutions, design, implement and operate databases, design for hybrid cloud architecture. They also learn to design for security and compliance and migrate on-premises workloads to OCI. Field experience and up-to-date training are needed to pass the exam.
How to Get Ready for the 1Z0-997-21 Exam?
Learn about the 1Z0-997-21 Exam Pattern and Complete the Syllabus Topics:
The OCP-level 1Z0-997-21 exam is 50 questions long, and a candidate needs to get a 70% mark to pass the exam. The exam consists of multiple-choice questions and needed to be taken within 120 minutes.
Oracle syllabus is not percentage-based; therefore, the aspirants must chalk out a schedule depending on the number of subtopics. The eligible candidates must take at least two to three months to get ready for the exam.
Set Your Study Corner and Make Your Study Routine:
Setting a schedule or plan always helps deal with the exam situation with ease. So make a routine at the beginning of your preparation to smoothly utilize most of your preparation time. Choose a peaceful study corner, where you have all the necessary preparation materials. Keeping the important things arranged in one place would help stay focused during the study.
Small but Persistent Study Sessions Help A Lot:
There is no need to devote 5 to 6 hours to study. The aspirant can only study for an hour and get success if he chooses to be persistent in his routine. Switch off your cellphone or stay away from your social media during your study hours to gain maximum benefit from a short study session.
Choose the Reliable 1Z0-997-21 Practice Test Over Dumps:
Only preparation is never the path to attain success in any exam. It is always vital to assess your preparation level. When it is about evaluating yourself, you must always rely on a 1Z0-997-21 practice test. The practice tests are time-based, and when you keep solving them regularly, you will become familiar with taking the real exam. If you can gradually earn up to 100 percent marks in the 1Z0-997-21 practice exams, it will enhance your possibilities of scoring at least 80 percent marks in the actual exam.
The suggestion to candidates is to avoid dumps for the 1Z0-997-21 exam. Dumps are readily available and might be cheaper, but they don't give you the self-evaluation power. You can only read from a dump.

On the contrary, the 1Z0-997-21 practice test results point out your weaknesses and strengths about the exam. If you work hard on the weaker topics, you can make it your strength in your next attempt. So, boost your confidence gradually with a reliable practice test.
Join the Oracle 1Z0-997-21 Training:
Getting the Oracle training is beneficial. A candidate learns about the practical aspects of the exam through the training. The aspirant can join any of the following training-
Oracle Cloud Infrastructure 2021 Certified Architect Professional

Oracle Cloud Infrastructure Learning Subscription
How do Organizations Benefit from Moving to OCI?
Faster, More Powerful Performance:
Since its inception, the primary goal of OCI has been to outperform other cloud providers, and Oracle has succeeded in this quite well. There are never more than two hops between computing and storage due to the usage of flat network design, which means performance is predictable and fast. Through independent testing, OCI reportedly had 2 to 5 times better performance than other cloud providers.
Cost Savings Is Possible:
Any cloud provider should be able to lower the operational costs to some extent, but OCI offers enterprise businesses significant savings. In the past, if the user tried to run an enterprise application in a Gen 1 Cloud, it usually costs more than running it on-premises. But, that is not the case for OCI's Gen 2.
OCI aids all legacy, enterprise workloads and even can use the company's existing on-premise systems. OCI makes the most of your previous technology investments, and it can reduce the overhead and operational costs. The user can have investments in hardware and associated maintenance and run large workloads at scale without a jump in pricing.
Have Greater Scalability:
Another key aspect of OCI is its ability to scale to offer as much (or as little) compute power and storage as you need. The user can add virtual servers on-demand to work with innovative new applications, processes, or data possibilities. So, the organization does not pay more than they need while reducing costs.
Bottom Line:
Oracle is continuously trying to reinvest in their company to offer their customers the latest technologies. OCI is a future-proofed solution that can help your business by moving your legacy workloads to one of the most cutting-edge platforms across the globe. Therefore, earn the 1Z0-997-21 certification and apply the knowledge for your business or help the growth of the organization you work in.