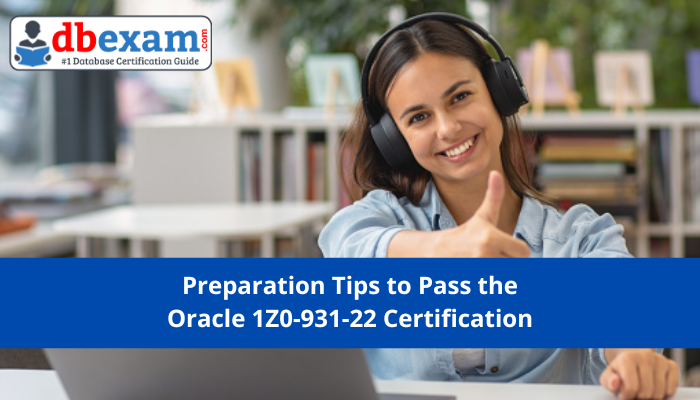 1Z0-931-22 or the Oracle Autonomous Database Cloud 2022 Professional certification could be an excellent choice for a career, and practice tests help to pass it.
1Z0-931-22 or the Oracle Autonomous Database 2022 Certified Professional is someone who demonstrates the knowledge required to manage, monitor, provision, and migrate workloads to Autonomous Database, both on shared and dedicated Exadata infrastructure.
What Do You Learn through the 1Z0-931-22 Certification Preparation?
Individuals who earn the 1Z0-931-22 certification understand to use the features, workflows, and architecture of an Autonomous Database successfully. In addition, the individuals are capable of using Autonomous Database tools to develop an Autonomous Database.
Who Can Take the Exam and What Helps in Passing the Exam?
The 1Z0-931-22 certification is available to all candidates, including on-premise DBAs, Cloud data management professionals, and consultants. A candidate must possess up-to-date training and hands-on experience or practice in Autonomous Database to pass the exam with ease.
Preparation Tips to Pass the 1Z0-931-22 Exam:
Registration First Approach Helps in A Systematic Preparation:
While you start preparing for the 1Z0-931-22 certification exam, selecting the exam date should be your first task. Setting a date for the 1Z0-931-22 exam will give you the needed boost to take your study plans seriously with an organized approach. Pearson Vue conducts the 1Z0-931-22 exam; therefore, register with them, and count the total number of days to plan properly for the exam.
Go through the 1Z0-931-22 Syllabus Details:
You must visit the official page before you start the regular exam preparation. The official page offers the syllabus in detail and other valuable links for exam preparation. Oracle syllabus does not mention any percentage specifically on the syllabus; therefore, chalk out the topics lengths or number of sub-topics to schedule your routine.
Once you follow a schedule to cover the 1Z0-931-22 syllabus, studying becomes easy, and you can cover the entire syllabus within a specific time. Time-saving and time management skills are important during exam preparation. Therefore, mention on your study chart about the syllabus domains you want to cover on a daily basis.
Have Writing Habit to Boost Your Preparation:
You must possess writing skills to boost your preparation level. It is proven that aspirants who are focused on reading and writing the essential topics end up memorizing them for a longer run, which is a need to succeed in any multiple-choice exam.
Learn from the 1Z0-931-22 Training:
You must never forget that your success in the 1Z0-931-22 exam is highly dependent on your theoretical and practical knowledge base. Therefore, boost your practical knowledge with Oracle experts through practical training.
Level Up Your Confidence with 1Z0-931-22 Practice Test:
You must check out your confidence level from time to time, and what could be better than enrolling for the 1Z0-931-22 practice tests? The time-based practice tests are one of the best self-assessment tools to check your preparation level. When you follow the 1Z0-931-22 practice tests, you can calculate your speed and have the experience of taking the exam. Many aspirants follow dumps and face challenges as they do not go through the regular assessment and are unaware of their preparation level. Therefore, choose practice tests and stick to it.
Overview Oracle Autonomous Database:
Oracle Autonomous Database is a fully automated database service that makes it easy for all organizations to create and deploy application workloads regardless of scale, complexity, or criticality. The converged engine of Autonomous Database supports diverse data types, and simplifies application development and deployment from modeling and coding to ETL, database optimization, and data analysis. The machine-learning–driven automated scaling, tuning, and patching, Autonomous Database offers the highest availability, performance, and security for OLTP, analytics, batch, and Internet of Things (IoT) workloads. Autonomous Database is built on Oracle Database and Oracle Exadata and is available on Oracle Cloud Infrastructure for shared or dedicated deployments.
Benefits of Using Oracle Autonomous Database:
The solution helps to detect and protect from system failures and user errors automatically and offers failover to standby databases with zero data loss.

Oracle Autonomous Database provisions highly available databases, tunes and configures for specific workloads, and scales compute resources when needed, all done automatically.

The solution protects sensitive and regulated data automatically, patches the database for security vulnerabilities, and prevents unauthorized access, all with Oracle Autonomous Database.
Bottom Line:
Oracle Autonomous Database uniquely allows the transformation by offering a new era of data management available in both a public cloud and on-premises choice. The Database blends the cloud's flexibility with machine learning's power to deliver data management as a service. It helps businesses to run mission-critical workloads using the most secure, available, performance, and proven platform. Therefore, earn the 1Z0-931-22 certification to prove your credibility to have a better career.