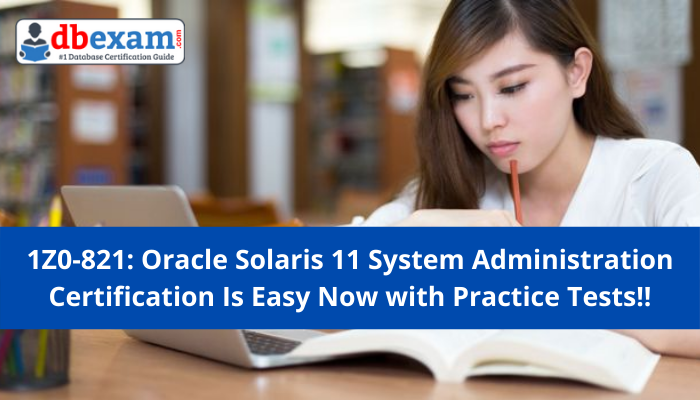 Experience the amazing features of Oracle Solaris with the Oracle 1Z0-821 certification. Include practice tests in your preparation to pass the exam and explore the solution for better system administration.
Who Should Take the Oracle 1Z0-821 Exam?
OCA and OCP level Solaris 11 System Administrator certifications are designed to begin with aspirants who possess a strong foundation regarding the Oracle Solaris 11 Operating System administration at the OCA level. For OCP level, it is meant for aspirants who gained their mastery of the administration of the Oracle Solaris 11 Operating System. They should know the base level of skills and understand the UNIX operating system, commands, and utilities.
What Skills Are Covered under the 1Z0-821 certification Exam?
The OCA-level 1Z0-821 certification covers essential system administration skills such as managing file systems, installing and removing Solaris packages and patches, managing local disk devices, and performing system boot procedures and system processes.
What Topics Are Covered under the 1Z0-821 Certification Exam?
The 1Z0-821 exam covers the following topics-
Managing System Processes and Scheduling System Tasks

Controlling Access to Systems and Files

Setting Up and Administering User Accounts

Administering a Physical Network

Administering Oracle Solaris Zones

Setting Up and Administering Data Storage

Administering Services

Updating and Managing Software Packages

Installing Oracle Solaris 11 using an Interactive Installer
Details of the 1Z0-821 Exam:
The 1Z0-821 exam is a multiple-choice exam with 70 questions. A candidate needs to take the exam within 150 minutes, and they should obtain a 64% mark to pass the exam.
How to Prepare for the Oracle 1Z0-821 Certification Exam?
Join the Oracle 1Z0-821 Training:
Joining any of the following 1Z0-821 exam training could be beneficial for aspirants-
Oracle IT Infrastructure Learning Subscription

Unlimited Learning Subscription - All Technology

Oracle Solaris 11 System Administration
Through training, a candidate learns to optimize, secure, and enhance the way any organization processes critical data to:
Simplify operations

Empower innovation

Reduce cost and complexity

Have a clear path to the cloud
Be Confident with the 1Z0-821 Syllabus Topics:
Being confident with the syllabus topics is your primary task if you want to ace the Oracle 1Z0-821 exam with ease. Do not get stressed during exam preparation and start your exam acing approach with a study schedule. It will help you to cover the syllabus within no time.
Devote in Studying During Productive Hours:
Grasping the 1Z0-821 syllabus topics could be an issue for many aspirants, but learning becomes easy if you choose the most productive hours when you stay fresh and energetic. Focus on daily studying and cover the syllabus topics in small sections.
Make Notes for Better Memorization:
It is scientifically proven that writing a topic while studying helps you to memorize the topic for longer. Another benefit of making notes is you can use the notes later for better and quicker revisions.
Be Part of Forums for Group Discussions:
If you are part of any exam preparation group, studying for the 1Z0-821 exam would become easy. Joining a group provides you with the scope to share your knowledge and learn something from them.
In forums, some aspirants share their personal experiences with the 1Z0-821 exam and how they passed or failed. Those posts are helpful in getting valuable insights, and you can make strategies to do better in the exam. You can get inspiration from the success story of others and implement the tips and tricks in your preparation.
Become A Perfectionist with 1Z0-821 Practice Tests:
You must be a perfectionist regarding every syllabus domain to score well in the 1Z0-821 exam. Taking rigorous 1Z0-821 practice tests online would make you familiar with the syllabus domains. The valuable insights in the result section would help you work on the challenging syllabus domains. Therefore, do rigorous practice before the actual exam and improve your scores in the final exam.
What Is Oracle Solaris?
Oracle Solaris solution is designed to offer a consistent platform to run the enterprise applications. The solution is trusted for running both modern and legacy applications on the newest system hardware while offering the latest innovations. The administrative interfaces are simple to use, and it protects the business from error-related mistakes that could cost you critical downtime. The technologies embedded in Oracle Solaris have been engineered for security and compliance from day one, allowing the user to protect business with a comprehensive, in-depth strategy that's easy to apply.
Benefits of Using Oracle Solaris:
Use the Assured Platform:
Oracle Solaris and embedded third-party source code follow the Oracle Software Security Assurance Process, a program that encompasses every stage of the product development lifecycle. Oracle Software Security Assurance is Oracle's process for creating security in its product's build, design, testing, and maintenance.
Simple Solution to Adapt Business Needs:
Oracle Solaris eases out the system life-cycle, application life-cycle, and cloud possibilities. It enables the user to adapt to business needs quickly and run your data center with the utmost efficiency and confidence.
Better System and Application Lifecycle:
Oracle Solaris offers a complete and integrated set of technologies to manage the software lifecycle of the platform. Oracle Solaris helps to increase productivity, reduce human error and greatly reduce IT costs with support for a failsafe software update. The process includes Image Packaging System and ZFS Boot Environments, secure end-to-end provisioning Automated Installer, rapid application deployment using Unified Archives, and a comprehensive compliance framework.
Concluding Thought:
Oracle Solaris administrative interfaces are for easy use, and the solution protects businesses from human mistakes that could cost a critical downtime. All the Oracle Solaris technologies are made for security and compliance, allowing the user to protect the business with a comprehensive defense-in-depth strategy that's easy to apply. Therefore, grab the Oracle 1Z0-821 certification for a secure career and use the amazing features for your organization's benefit.