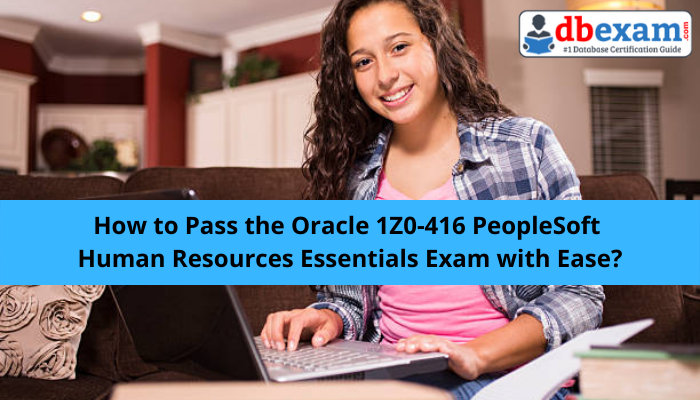 OCS level exam like the 1Z0-416 exam is quite challenging. But, when you are equipped with the proper study material and practice tests, passing the PeopleSoft 9.2 Human Resources Essentials exam becomes easy. Learn more about exam preparation and get accustomed to PeopleSoft HCM through this blog.
1Z0-416 or the PeopleSoft 9.2 Human Resources Certified Implementation Specialist (OCS) certification is a 70 questions long multiple-choice type exam. You need to get a 66% mark to pass the exam and earn your associate-level certification.
Who Is the 1Z0-416 Certification Meant for?
1Z0-416 or the PeopleSoft 9.2 Human Resources Certified Implementation Specialist certification is suitable for individuals who possess a strong foundation and expertise to sell and implement PeopleSoft Human Resources solutions.
The 1Z0-416 certification is available to all candidates but is geared towards the members of the Oracle PartnerNetwork. OPN members who earn the 1Z0-416 certification will be recognized as OPN Certified Specialists. The 1Z0-416 certification qualifies as competency criteria for the PeopleSoft 9.2 Human Capital Management Specialization.
What Topics Are Covered Under the 1Z0-416 Certification?
The 1Z0-416 certification covers topics such as: Adding People, Managing Worker Data, Core Foundation Tables, Administering Data Permission Security, Managing Person and Job Data, and Managing Positions. The 1Z0-416 certification differentiates candidates in the marketplace by providing a competitive edge through proven expertise. If you possess field experience and up-to-date training, that will help you to pass the exam with ease.
Practical Study Tips to Remember During the 1Z0-416 Exam Preparation:
Have A Firm Grasp on the Syllabus Topics:
The first practical step to ace the 1Z0-416 exam is to learn the syllabus topics from the core. As the 1Z0-416 exam is of associate level, you might possess some knowledge regarding the products, but grasping the syllabus topics from the core, still matters a lot. The more you are confident with the syllabus topics; the more is the scope to ace the exam on your first attempt.
Study Devotedly to Ace the 1Z0-416 Exam:
Devotion is the key to earning success in a shorter time span. Take at least two to three months to get ready for the 1Z0-416 certification exam and set your daily study hours. If you follow a schedule and focus on covering two to three topics daily, facing the exam becomes easy. Therefore, do not only set your study goals but rather follow them rigorously to attain success.
Join the Oracle 1Z0-416 Training:
Studying for theoretical knowledge is essential, but your theoretical knowledge gets boosted when you join the training and earn practical knowledge from the experts. Therefore, do not miss out on the Oracle training.
Gauge Your Preparation Level with Practice Tests:
Studying and rushing to the exam hall could be challenging for aspirants. Hence, gauging your preparation level becomes essential. Many aspirants face the challenge of time management during the actual exam, and enrolling for the 1Z0-416 practice exams would help them in this regard. Taking online practice exams makes a candidate familiar with the exam structure. Moreover, they would earn knowledge regarding their preparation level and can work accordingly to improve certain areas.
What Is PeopleSoft?
PeopleSoft is a combination of software applications that offers larger organizations, and companies get access to human resources services. The different types of applications include:
Financials and chain management (FSCM).

Human resources management systems (HRMS).

Customer relationship management (CRM).

Enterprise performance management (EPM).
Employers might use PeopleSoft applications to keep records on employees, plan specific employee career paths and manage human capital.
How Does Oracle PeopleSoft Human Capital Management Help Businesses?
The PeopleSoft HCM system deals with how you can better manage your company's entire workforce by analyzing employee efficiency and productivity and addressing talent management needs. The software delivers a user-friendly design, which provides for greater user satisfaction, and it meets the customer's needs by offering a simplified solution.
PeopleSoft HCM allows the user to attract, retain, and engage current or potential employees via its complete talent management method. The user can manage employee data efficiently and streamline the administration operations. As a bonus, the employees can maintain their profiles, and update pertinent information such as an address, name, date of birth, and marital status.
Any size business can benefit from the PeopleSoft platform as it aims to assist with transactional operations. Companies can deduct company costs while improving the overall operations through centralizing and automating these functions. Here are PeopleSoft Modules that help you in the operations-
Global Core HCM:
The module offers a company directory, real-time analytical tools, and self-service functionality for all users. It also aids various international applications, which is helpful for companies with locations in several countries.
In-memory Labor Rules and Monitoring:
The module assists a company in making educated labor decisions by using real-time analytical tools. The module helps companies stay compliant with overtime regulations.
Talent Management Module:
This module provides organizations with assistance in recruiting and succession planning.
Workforce Management:
The module allows companies to manage their workforce by analyzing labor costs.
Workforce Service Delivery:
The module works as a collaborative and self-service tool to streamline everyday human resources operations.
Bottom Line:
Earning the 1Z0-416 certification proves your skills and knowledge regarding PeopleSoft. Therefore, enhance your resume value with the 1Z0-416 certification and reach a new career height.