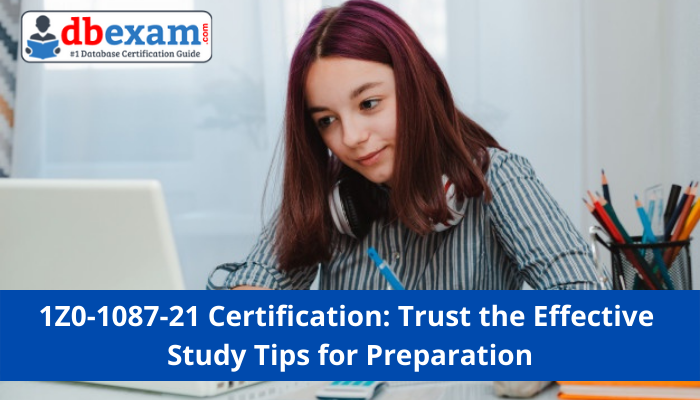 Here are the web-based and desktop-based 1Z0-1087-21 practice tests, sample questions, and mock exams to aid you in exam preparation. All you need to do is, go through this article, follow the study guide and utilize the resources for maximum benefit.
Who Is a 1Z0-1087-21 Certified Specialist?
The 1Z0-1087-21, Oracle Account Reconciliation 2021 Certified Implementation Specialist, is a candidate who proved his knowledge and expertise in implementing account reconciliation solutions. Aspirants with the 1Z0-1087-21 certification can manage reconciliations, load data, configure reconciliation compliance and transaction matching, and create and manage reconciliation rules, as well as set up calendars and teams.
What Is the 1Z0-1087-21 Exam Structure?
The 1Z0-1087-21 exam is 90 minutes long with 60 questions. A candidate needs to get a 68% mark to pass the exam. Passing the exam earns you the Oracle Account Reconciliation 2021 Certified Implementation Specialist (OCS) certification.
How to Prepare for the 1Z0-1087-21 Exam?
Oracle 1Z0-1087-21 exam needs a lot of dedication and hard work as the syllabus is specially designed to measure the in-depth knowledge of the applicant. The candidate needs to score a 68% mark to pass the 1Z0-1087-21 exam. Therefore, a proper study plan and useful materials are the need of the hour.
Planning Is Crucial to Ace the 1Z0-1087-21 Exam:
Prior planning and proper planning helps to avoid poor performance. A candidate should always spend ample time and space for your preparation. No matter how easy an Oracle 1Z0-1087-21 certification exam feels to you, you still need to be well prepared for it. Exams are meant to measure your skill, and one of the skills it seeks to measure is your ability to read and perceive. Never sit for the 1Z0-1087-21 exam without complete assurance that you have done your best to get ready for the exam.
Grasp the 1Z0-1087-21 Syllabus:
You should find out which topics carry the most points, following the previous year's questions. There is no percentage distribution in the Oracle syllabus pattern, so you must study all areas. Find out the most productive time from your daily schedule and devote a few hours during those hours. Daily studying would help the syllabus to get covered in minimum time.
Notes Are Helpful:
There are two major benefits to making notes. The first point is that notes help you to understand better the topic you are studying. When you face the actual exam, you may have forgotten what you read, but you somehow manage to remember what you wrote. Taking notes also makes revision easier. When you are going through the Oracle 1Z0-1087-21 topics for the second, third, or fourth time, all you require to do is go through the notes you have made and read rather than going through the entire syllabus again.
Trust and Winning Attitude Is Must:
This point cannot be exaggerated. Always believe in yourself and your preparation. Your attitude towards the 1Z0-1087-21 exam means a lot. A winning attitude from the beginning would help to combat failure and tiredness during exam preparation.
Practice Tests Are Highly Beneficial:
Performing Oracle 1Z0-1087-21 Practice tests will give you a good idea of the different types of questions asked in the exam. Another advantage of answering 1Z0-1087-21 practice questions is they boost your confidence. Your confidence improves with every question you answer correctly. The practice test results would immediately point out if you lack in some areas. Through this guidance, you can improve highly. Therefore, study, learn, and practice more.
Join the 1Z0-1087-21 Exam Related Training:
A candidate must join the training and learn from it. A candidate can join any of the following training-
Oracle Account Reconciliation 2021 Certified Implementation Specialist

Oracle EPM Cloud Learning Subscription

Through the EPM Cloud Learning Subscription, a candidate learns the following areas

They learn to begin with Oracle EPM cloud.

The aspirant learns to upload data from external sources and manage them in Enterprise Planning Cloud.

They can work with Account Reconciliation and Transaction Management.

The 1Z0-1087-21 certified aspirant learns about business applications, creates views and viewpoints to manage alternate business perspectives in Enterprise Data Management.

Manage and create accounts, entities, scenarios, and user-defined dimensions in Financial Consolidation and Close.

Create a custom reporting cloud application, models, and dimensions in Narrative Reporting.
What Is Oracle Account Reconciliation?
Account Reconciliation is a purpose-built business method available in the Oracle Fusion Cloud EPM. It is designed to manage the global reconciliation processes. The solution offers real-time visibility into the performance of reconciliations and ensures that all reconciliations prepared are properly qualified. The solution also helps companies streamline and optimize performance by generating reconciliation tasks, including high-volume transactional reconciliations and variance analysis.
Explore the Benefits of Using Oracle Cloud EPM:
Get Matching Rules for Better Performance:
Speed up your performance by creating flexible matching rules for individual transactions or groups of transactions (one-to-one, many-to-one, and many-to-many matches).
Create High Volume Transactional Reconciliations:
High-transaction volume, labor-intensive reconciliations need sophisticated transaction matching technologies. The auto-match engines can match millions of transactions in minutes. The engine is tightly integrated into period-end reconciliation to offer evidence of reconciliation at a point in time and meet compliance demands.
Confirm or Decline Auto Suggested Matches:
Oracle EPM's intelligent automated match feature will suggest matches for the user. The user can choose to accept or discard, speeding up the transaction matching process accordingly.
Support the Complex Reconciliations Method:
Unlimited attributes per data source can be used to support the most complex reconciliations in the organization.
Make Journal Entries:
Journal entries can be automatically made to resolve variances found in the matching process, again saving you time.
Bottom Line:
The specialist-level Oracle 1Z0-1087-21 certification from Oracle proves your credibility in the marketplace. Having the certification means you can implement Oracle Account Reconciliation in your work and do justice to work and organization.