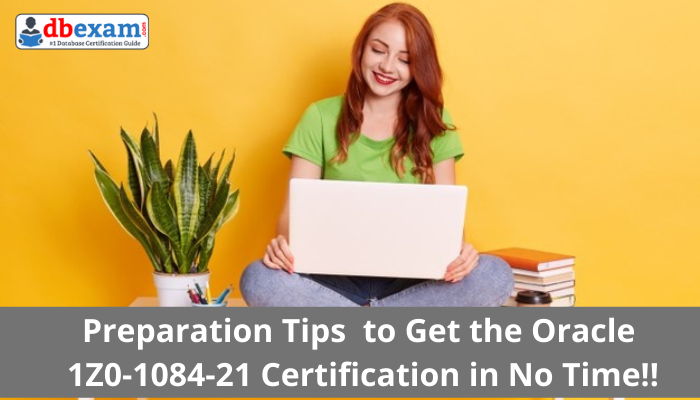 The 1Z0-1084-21 exam is the path to get your Oracle Cloud Infrastructure Developer 2021 Certified Associate (OCA) certification. Though an associate-level certification, a candidate must fix his study schedule and practice tests for effective preparation and easy success.
Details of the 1Z0-1084-21 Certification:
The 1Z0-1084-21 exam is a 90 minutes long exam with multiple-choice questions. There are 60 questions asked in the exam, and you must get a 70% mark or more to get success.
Who Is the Preferred Candidate for the 1Z0-1084-21 Exam?
An Oracle Cloud Infrastructure (OCI) Developer 2021 Associate, the 1Z0-1084-21 exam is suitable for developers and Dev Ops who have 12 months or more experience developing and maintaining OCI applications.
The 1Z0-1084-21 candidates must have a solid knowledge of cloud-native fundamentals and in-depth knowledge of at least one programming language. They should possess knowledge of developing, securing, operating, and testing applications in Oracle Cloud Infrastructure and the ability to use the OCI service APIs, CLI, and SDKs to write applications. Practical experience on knowledge of OCI architecture, use cases, best practices are recommended.
What Is the Best Study Method to Follow for the 1Z0-1084-21 Exam Preparation?
What Is the Value of Registering Early?
Pearson Vue conducts the 1Z0-1084-21 exam, so you must visit their official page or directly register from the related official page. If you register for the exam, your money is involved, and chances are you would take the exam preparation seriously, which you have taken without registration.
Learn the 1Z0-1084-21 Exam Objectives:
A candidate must be clear about the exam objectives. Once you are aware of the exam objectives, your learning for the exam becomes easier. Grasp the 1Z0-1084-21 exam topics from core to answer the maximum number of questions in the exam hall. Here are the syllabus topics that you need to learn during the 1Z0-1084-21 exam.
Operating Cloud-Native Applications

Testing Cloud-Native Applications

Securing Cloud-Native Applications

Developing Cloud-Native Applications

Cloud-Native Fundamentals
You Must Plan It Well How to Cover the 1Z0-1084-21 Syllabus:
When it comes to exam preparation, learning in small portions works the best for most candidates. Many candidates, who plan to read the topics within one week, fail to cover the syllabus topics with the full-day study.
Therefore, make the study plan realistic. Set a study chart that mentions your daily plan till the exam day, and follow the schedule regularly for easy success. Preplan the schedule of what you want to study, how many hours, and which particular topics you would cover on a specific day. You don't need to study for the whole day, but try to devote at least two to three hours daily to hassle-free preparation. Don't follow the path of others; use the time you feel most productive, and set your study goals at work.
Take the Help of Oracle 1Z0-1084-21 Learning Path:
The learning path helps to earn knowledge regarding the exam topics-
This Learning Path covers topics such as-

Methods for migrating database to OCI.

Transfer enterprise applications such as WebLogic, JDE, Siebel, Hyperion to OCI, PeopleSoft.

Learn about Analytics and Data Warehouse solutions on OCI.
Oracle Learning path always aids a candidate to learn from the experts. A candidate might face difficulty in learning some topic areas, but the guidance from the Oracle trainers will help you understand the topics with the flow.
Recall the Syllabus Topics with 1Z0-1084-21 Practice Test:
When you go for the 1Z0-1084-21 actual exam, you need to remember the complete syllabus structure in the exam hall to attempt the questions. Through online practice attempts, you get a chance to learn about the actual exam questions and patterns. Not only this, the 1Z0-1084-21 practice tests are time-based and real exam-like, so they help you become familiar with the actual exam. A candidate's first try should be attempting all questions within time. They must fail to answer correctly about some topics, but they should practice hard and improve the score gradually.
What Is Oracle Cloud Infrastructure?
OCI, Oracle Cloud Infrastructure is a deep and broad platform of public cloud services that allows customers to create and run a wide range of applications in a secure, scalable, highly available, and high-performance environment.
What Are the Benefits of Using OCI?
Learn how to use new cloud characteristics with each product release. Build deep product expertise for your specific job role.
Practice new skills in live environments through hands-on labs.
Track learning progress through learner and team analytics.
Get Best Support for Hybrid Architectures:
Use your cloud applications and databases anywhere with various choices of options, ranging from Oracle's public regions to edge devices. In addition to the public cloud region, Oracle offers full private dedicated Regions in customers' data centers, edge-computing Oracle Roving Edge devices, and the blazingly fast Oracle Exadata Cloud.
Quickly Transfer Enterprise Apps:
Using traditional, on-premises workloads that enterprises depend on to run their business is easier to migrate to Oracle Cloud. Designed to deliver bare-metal compute services, network traffic isolation, and the only service-level guarantees for performance, Oracle Cloud enables rapid migration and faster time to innovation. Build new value around migrated applications faster with Autonomous databases, data science tools, and cloud-native development tools.
Bottom Line:
If you are keen to start an Oracle career, what could be better than an OCI certification? Make your base strong in Oracle Cloud and grab the 1Z0-1084-21 certification for a prosperous career.