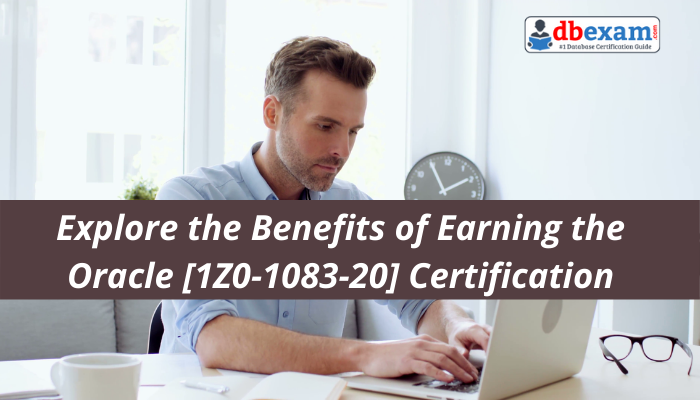 Why should you have the 1Z0-1083-20 certification? There are plenty of reasons. You can-
Satisfy internal and external reporting needs with Oracle Cloud EPM Narrative Reporting.

Combine across the report creation method to define, author, review, and publish management and regulatory reports.
Who Is an Oracle 1Z0-1083-20 Certified Specialist?
A 1Z0-1083-20, Oracle Narrative Reporting 2020 Certified Implementation Specialist, is a candidate with the knowledge and skills of implementing Enterprise Performance Management and Oracle Narrative Reporting Cloud solutions.
Earning the 1Z0-1083-20 certification proves that the individual can set up and configure Cloud security and build EPM Cloud automation routines. He can also manage the Narrative Reporting Environment, work with Management Reporting and Disclosure Management, create Report Packages, and create a Narrative Reporting custom application.
Practical Study Guide to Ace the 1Z0-1083-20 Exam:
Research about the Exam Pattern and Register Yourself:
A candidate must be aware of the exam structure to take the exam smoothly. The 1Z0-1083-20 exam is an 85 minutes long exam, and it is a multiple-choice type exam. A candidate should be prepared to attempt 56 questions within the time frame. He must get a minimum of 64% marks to pass the exam. Pearson Vue conducts the exam, you can directly register from the official page or Pearson Vue's page. Register early to know the exam date and utilize the time between registration and the actual 1Z0-1083-20 exam wisely.
Join One of the Following Training:
You can clear your doubts through 1Z0-1083-20 training and strengthen up your knowledge base through training from one of the following-
Oracle Narrative Reporting 2020 Certified Implementation Specialist

Oracle EPM Cloud Learning Subscription
Stay Dedicated to Your Schedule:
A candidate must make a study plan, and his target should be completing the syllabus smoothly. Any candidate for the 1Z0-1083-20 exam could be a highly knowledgeable candidate, as this is an OCS level exam, but still, they must devote at least two months to the exam preparation. Covering every syllabus topic is highly important for smooth success in the exam. You might make a routine and follow it rigorously. Daily studying for two hours would be of great help. If you decide to cover certain topics within these two hours, try to accomplish the regular goal. Learn the topics from the core via writing short notes.
Learn from Additional Resources:
Once you complete the 1Z0-1083-20 syllabus topics, look for additional resources like useful sample questions. Many websites offer important sample questions source which is free. Avail the 1Z0-1083-20 sample questions to maximize your learning experience.
Ditch 1Z0-1083-20 Dumps and Rely on Practice Tests:
Dumps are easily available for the 1Z0-1083-20 exam, but you can only use dumps to read and learn the contents. On the other hand, you can assess your performance level through online practice tests. Most of the 1Z0-1083-20 practice exams are expertly designed, and they offer the same feel as the original exam. Continuous practicing would help you take the exam on time; you will get an idea of how much time you should spend on each question and find out about your weaknesses and strengths from the result section. So depend highly on practicing online to assess your preparation and work on the weaknesses to get better results.
What Is the Benefit of Earning the 1Z0-1083-20 Certification?
If you are an Oracle Narrative Reporting 2020 Certified Implementation Specialist (OCS), you are well versed with Narrative Reporting 20.10. You can use your knowledge to perform the following functions-
Directly Access Systems of Record:
Always work with the by accessing data directly from Oracle and non-Oracle sources. This includes spreadsheets, Hyperion EPM applications, Oracle Cloud EPM applications, native databases, Oracle Analytics content, and Oracle Cloud Financials.
Get Rid of Creating Existing Reports:
With the Narrative Reporting 20.10 solution, you don't need to recreate existing reports. You can work on your current Microsoft Word and PowerPoint or PDF-based narrative reports, as well as Excel-based reports through a continuous and controlled method.
Blend Data and Narrative Contents:
Help offer context to the numbers by blending financial statements and data with textual narrative in a single report.
Lessen Reporting Time:
Gear up the reporting process. Narrative Reporting comes supported with a report writer that allows you to bring in charts and grids sourced from Oracle Cloud Financials, Oracle Cloud EPM, and Oracle Essbase.
Bottom Line:
What is the benefit of earning an OCS level certification like the 1Z0-1083-20 exam? The OCS level certification proves your dedication towards Oracle exams and proves your credibility in the related field. The certification empowers you than any other non-certified candidate for better preference and work role.