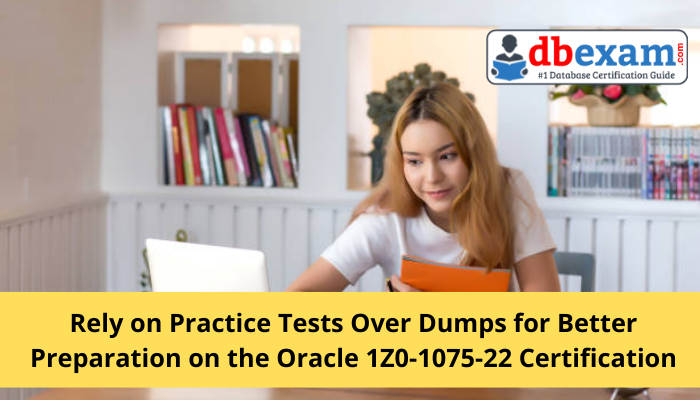 Choosing the study material is vital to getting the 1Z0-1075-22 certification, and practice tests are a proven source of getting the Oracle Manufacturing Cloud 2022 Certified Implementation Professional certification with ease. Discover more about the study plans and Oracle Manufacturing Cloud through this blog.
Overview of the 1Z0-1075-22 Certification:
1Z0-1075-22, the Oracle Manufacturing Cloud 2022 Certified Implementation Professional certification is all about demonstrating the knowledge and skills required to use Oracle Manufacturing Cloud on a project by making work orders, managing work definitions, and executing production.
What Do You Learn through the 1Z0-1075-22 Certification Preparation?
Candidates who earn the 1Z0-1075-22 certification can set up reporting and analytics, set up Manufacturing, and understand the complexities of manufacturing integrations, including Inventory foundations and costings.
What Topics Are Covered under the 1Z0-1075-22 Certification Exam?
The 1Z0-1075-22 certification exam covers the following topics-
Projects Enabled SCM

Costing and Inventory Foundations

Reporting and Analytics for Manufacturing

Manufacturing Costing

Manufacturing Integrations

Execute Production

Manage Work Definitions

Manufacturing Setup
How to Study for the 1Z0-1075-22 Certification?
Learn from the 1Z0-1075-22 Training:
Joining the training is equally important as gaining the knowledge from the theoretical part.
The candidate learns to
Explain Configurator Modeling and associated components.

Implement and use receipt accounting and cost accounting.

Set up and implement Supply Chain Financial Orchestration and Collaboration.

Learn the use and setup of Inventory Organizations.

Identify the key functionalities in Supply Chain Planning.

They learn about demonstrating how to implement Product Hub using Functional Setup Manager.

Describe and execute the setup and implementation steps for the SCM applications.

Understand the key concepts and processes involved in implementing Order Management.

Identify and perform the functional setups required to use Oracle Manufacturing Cloud.

Recognize and leverage the key Back-to-Back Supply Creation and Fulfillment elements.
Grasp the 1Z0-1075-22 Syllabus Topics from Core:
You might have possessed some basic knowledge while opting for a professional-level certification; still, you need to grasp the syllabus topics thoroughly. Go through the 1Z0-1075-22 syllabus and make out a plan to cover the topics within time. While planning the study, keep the lengthier topics in mind and more time for them.
Syllabus Completion Becomes Simple with Study Schedules:
Preparing for the 1Z0-1075-22 exam could sometimes be tiring, but to break the monotony and to keep the pace of study, you should follow a study schedule. Making charts and knowing the topics you want to study on a particular day would keep you productive throughout the preparation. If your total time of preparation is two months, chalk out in the chart how you will be utilizing each day.
Avoid Studying at A Strech:
While you start preparing for the 1Z0-1075-22 exam, keep in mind to study effectively for two to three hours daily. If you are able to do daily study and accomplish your goals, it will save you from study stress and long study hours. You must be focused during study time to gain maximum from studying. Do not forget to take breaks while studying, as it would help you rejuvenate and learn better.
1Z0-1075-22 Practice Tests Work Better than Dumps:
Completion of the syllabus should not be your last stop. Start assessing yourself with practice tests after that.
Evaluating your performance is mandatory; are you learning correctly? Practice exams help in getting the evaluation done. Industry experts usually design these 1Z0-1075-22 practice tests; therefore, the practice tests offer quality and real-time exam experience. Finishing the practice test within time and gradually scoring higher will improve the time management skills and knowledge of a candidate. They can follow the valuable insights through the result section and improve further in the future. On, the other hand, dumps are, most of the time, read-only materials; therefore, you miss out on the valuable assessment process.
Overview of Oracle Manufacturing Cloud:
Oracle Manufacturing Cloud is a solution that helps streamline global, mixed-mode manufacturing to make anything, anywhere, with an optimized, intelligent, and integrated solution powered by the Internet of Things (IoT) and Artificial Intelligence (AI).
Benefits of Using Oracle Manufacturing Cloud:
Manage Operations Efficiently:
Visually define the production method. Streamline the entire production cycle and manage operations more effectively.
Digitally Transform the Factory:
Leverage best-in-class possibility for efficient shop floor execution. Digitally transform the factory.
Better Cost Management:
Efficiently monitor manufacturing costs and variances by plant and determine root causes for cost variances.
Analyze Quality Data:
Analyze and capture quality data. Predict potential issues and take corrective measures throughout the manufacturing lifecycle.
Make Configured Products:
Manufacture customer-configured products with complete integration from order to cash.
Bottom Line:
The Oracle Cloud Manufacturing is a vital component of the integrated Oracle Cloud Supply Chain Management. The solution helps firms compete in today's global market by offering the latest tools to run their shop floor. With margins for products eroding and increasing customer demands, manufacturers must adopt modern best methods, including the Internet of Things and Adaptive Intelligence, to improve business agility and sustainability. Therefore, earn the 1Z0-1075-22 certification and contribute your Oracle Manufacturing Cloud for your own benefit and your organization's benefit.