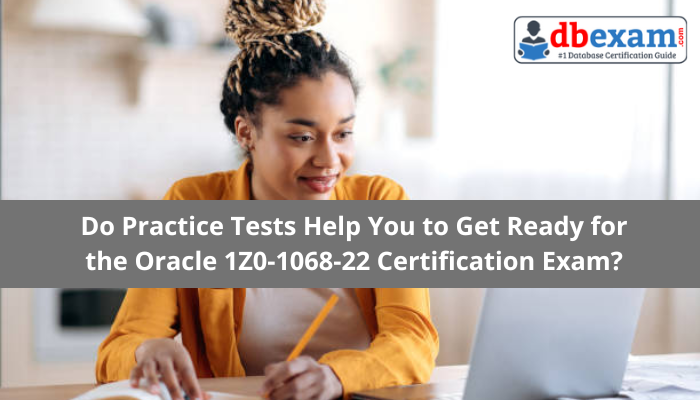 Preparation is the key to passing the 1Z0-1068-22 exam, and practice tests help you take the exam easily. You get to know your preparation level, and getting ready for the exam becomes easy.
Who Is An Oracle 1Z0-1068-22 Certified Specialist?
1Z0-1068-22, the Oracle Commerce Cloud 2022 Implementation Specialist, demonstrates the knowledge and skills needed to build a Commerce store with custom requirements and integrations.
What Do You Learn through the 1Z0-1068-22 Certification?
Individuals who earn the 1Z0-1068-22 certification are able to manage sites both programmatically and in the Administration User Interface, implement and deploy custom storefront components, integrate with external payment services using payment gateway extensions and webhooks and work with account-based business commerce features (B2B) and configuration possibilities supported by the platform, outlining key configuration tasks required to prepare an account-based storefront for production.
What Topics Are Covered Under the 1Z0-1068-22 Certification Exam?
The 1Z0-1068-22 exam covers the following topics-
What is New?

Custom Payment Integration

Account-Based Commerce (B2B)

Search Engine Optimization (SEO)

Multiple Sites in a Single Oracle Commerce Cloud (OCC) Instance

Storefront Development

Store Implementation Requirements and Design
How Should You Get Ready for the 1Z0-1068-22 Certification Preparation?
Take Enough Time to Get Ready for the 1Z0-1068-22 Exam:
Every aspirant must take enough time to get ready for any certification exam. The 1Z0-1068-22 certification is the specialist level Oracle certification, and it proves the candidates' knowledge regarding similar level Oracle products. Though you possess some knowledge regarding the syllabus topics, you are still new to the 1Z0-1068-22 exam syllabus topics. Therefore, you must take sufficient time to prepare for the specialist-level certification. Study for two to three months on the syllabus topics and get ready to take the 1Z0-1068-22 certification exam smoothly.
Get Ready with the 1Z0-1068-22 Syllabus Topics:
You must be aware of what you learn through 1Z0-1068-22 syllabus preparation. Oracle syllabus is not percentage-based, therefore, sets a great study strategy to learn the syllabus topics from the core. Work with Oracle press-released books or online resources to learn more on the topics from the core. Do not stop yourself from learning the syllabus only; better widen your knowledge with sample questions and video materials.
Accomplish the Daily Study Goals:
You must choose the topics for daily study and fix the study hours to prepare the exam better. You must maintain your short-term and long-term goals by checking your study routine. Try to accomplish the daily study goals by engaging in two to three hours of daily study, and reach your long-term goal of covering the syllabus topics within a decent period. Having a study schedule is good, but try to follow the routine if you want to achieve success in the 1Z0-1068-22 exam preparation.
Keep the Pace of Your Preparation with Positive Motivation:
You might get exhausted and demotivated at some point of your 1Z0-1068-22 exam preparation. But, try to think of grabbing your OCS level certification and the benefits associated with it to keep your preparation level high. Positive thinking is essential if you want to earn positive results.
Join the Oracle 1Z0-1068-22 Training:
Getting knowledge from the experts is essential to boost your knowledge regarding the practical aspects. Therefore, join the 1Z0-1068-22 training to strengthen your practical skills to implement the knowledge in future projects.
Practice Online with 1Z0-1068-22 Practice Tests:
Including online 1Z0-1068-22 practice tests and assessing yourself through them is the key to earning success in the 1Z0-1068-22 exam. What could be better than getting a real exam-like experience before you jump to the 1Z0-1068-22 exam? It is always beneficial to become familiar with the exam structure. Your time management skills will increase with rigorous practice on the 1Z0-1068-22 practice tests. Therefore, keep on practicing and improve your preparation level with each attempt. Learn your mistakes and work more on those sections.
What Is Oracle Commerce?
It is an e-commerce platform that helps B2C and B2B businesses to connect with customer and sales data from their CRM to their operational and financial data. The solution helps in offering personalized experiences to buyers across sales channels.
Benefits of Using Oracle Commerce Cloud:
Improve the Customer Experience:
Enhance your customers' search experience with features that constantly surface the products they want to purchase. Oracle Commerce's search depends on machine learning to curate specific products, optimize results, and boost or bury results based on customer preferences. The intuitive user interface makes it easy for merchants to set up facet ordering and other ordering strategies, control day-to-day configurations, and manage keywords with a built-in thesaurus and predictive dictionary.
Deliver Multiple Websites:
Offer multiple websites on the same scalable infrastructure with a single subscription to Oracle Commerce. Multisite options make adding country-specific, branded microsites easy as businesses grow. The universal administration tool helps your teams to publish sites that engage their target audience without the need to build from scratch.
Reduce Implementation Costs:
Publish your site fast and reduce implementation costs by taking advantage of features included with Oracle Commerce. Categorize audiences, suggest products, and offer self-service experiences to your customers from one platform.
Bottom Line:
There is no need to say how beneficial specialist-level certifications are for your career boost. Through the 1Z0-1068-22 certification, you prove your skills in Oracle CX Commerce. Therefore, grab the certification and boost your resume value.