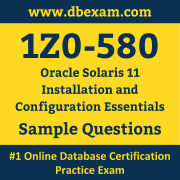 The Oracle 1Z0-580 Sample Question Set is designed to help you prepare for the Oracle Solaris 11 Installation and Configuration Essentials (1Z0-580) certification exam. To become familiar with actual Oracle Certification exam environment, we suggest you to try Sample Oracle 1Z0-580 Certification Practice Exam.
This sample Oracle 1Z0-580 certification practice exam is designed for evaluation purposes only. If you really want to test your knowledge to identify your weak areas and familiarize with actual exam format, we suggest you to practice with Premium Oracle 1Z0-580 Certification Practice Exam for Oracle Solaris 11 Installation and Configuration Essentials (1Z0-580) certification. Our team of Oracle Solaris experts have designed Questions-Answers for this premium practice exam by collecting inputs from recently certified candidates. Hence, We strongly recommend you to use Premium Oracle 1Z0-580 Certification Practice Exam to clear your actual Oracle 1Z0-580 Certification Exam with great score.
1Z0-580 Sample Questions:
01. Which two actions are used to permanently configure a new interface?
a) dladm set-linkprop mtu=1500 net2
b) ipadm create-addr –T static –a 10.2.3.5/24 net2/v4static
c) ipadm create-addr –a local=2ff0::f3ad/64 –T static –t net2/v6dhcp
d) ipadm create-ip net2
02. What are three properties of a business critical cloud infrastructure?
a) Service isolation
b) Flexible, virtual application instances
c) Dedicated, single purpose file servers
d) Easy, intuitive provisioning, chargeback, and capacity planning
e) Rigid, inflexible network design
03. You are working on a system that appears to be hanging during the boot process. Which would be the best course of action for determining which step in the boot process might be causing the issue?
a) Boot the system into single user mode, run ps –ef to determine processes that are not running
b) Boot the system into the "none" milestone, enable all services, then run svcs –a to determine the state of your services, as well as check for error messages in /var/svc/log
c) Boot the system, disable all services using the "svcs disable all" command, reboot and bring up each service individually.
d) Interrupt the boot process before services are started with Stop-A or <CTRL><ALT><DELETE>.
e) Perform an interactive boot, and disable services as they request startup.
04. What three options are features of the Oracle Solaris 11 Automated Installer?
a) Direct reuse of Jumpstart profiles and rules
b) Solaris 11 Zones provisioning
c) Solaris 10 branded zone provisioning
d) Directly bootable installation images
e) Image Packaging System (IPS) integration
05. Which two options do you absolutely need to have in place in order to successfully customize the network installation of an Oracle Solaris 11 x86 system?
a) Two Automated Installer manifests, one for x86 systems and another one for SPARC systems
b) An SMF system configuration profile
c) An x86 system running Automated Installer service
d) Either a SPARC or an x86 system running Automated Installer service
e) An Oracle Solaris 11 IPS repository hosted in your own datacenter
06. After installing an Oracle Solaris 11 system, you execute the following command to create a data set into which several nonglobal zones will be installed:
# zfs create –o encryption=on –o dedup=on –o compression=on rpool/myzones
Enter passphrase for 'rpool/myzones':
What impact will this command have on any zones installed under this ZFS data set?
a) The zones will have encrypted swap and /tmp file systems
b) The zones will not permit any move or clone operations
c) The zones will be required to be "solaris" brands only
d) The zones will cache the encryption key while running
e) The zones will be unable to start during system boot
07. Which line would you want to remove in the GRUB's menu to prevent an automatic installation from commencing when booting from CD or DVD, but without intentions of installing?
a) Install=default
b) Install=true
c) Install=always
d) Install=yes
e) Install=now
08. The command "beadm create –a solaris-test" will __________.
a) Create and automatically boot the solaris-test boot environment
b) Create and activate the solaris-test boot environment but not reboot
c) Create an archive of the solaris-test boot environment
d) Will not create a new boot environment without further information
e) Will only activate a previously defined boot environment named solaris-test
09. Which command can be used to determine which apache web server packages are installed?
a) pkg list apache
b) pkg list *apache*
c) pkg list installed apache
d) pkg list all apache
e) pkg list all web installed
10. You are implementing three workloads, one in each of three zones. Which five factors should you consider when configuring networking?
a) Are VLANs in use?
b) The quantity of physical NICs in the system.
c) The network bandwidth needs of the workloads.
d) Which layer 4 protocol family is in use: TCP or UDP?
e) The range of IP addresses that each zone can use.
f) The amount of processing capacity needed to handle network interrupts for each zone.
Solutions:
QUESTION: 01

Answer: b, d

QUESTION: 02

Answer: a, b, d

QUESTION: 03

Answer: b

QUESTION: 04

Answer: b, d, e

QUESTION: 05

Answer: b, d

QUESTION: 06

Answer: e

QUESTION: 07

Answer: b

QUESTION: 08

Answer: b

QUESTION: 09

Answer: b

QUESTION: 10

Answer: a, b, c, e, f