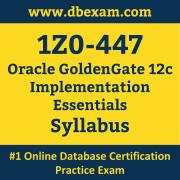 You can use this Oracle 1Z0-447 exam study guide to collect all the information about the Oracle GoldenGate 12c Implementation Essentials exam. The Oracle 1Z0-447 certification exam is mainly targeted to those candidates who have some experience or exposure to Oracle GoldenGate technology and want to flourish their career with Oracle GoldenGate 12c Certified Implementation Specialist (OCS) credential.
The Oracle 1Z0-447 certification exam validates your understanding of the Oracle GoldenGate technology and sets the stage for your future progression. Your preparation plan for Oracle GoldenGate 12c Implementation Essentials Certification exam should include hands-on practice or on-the-job experience performing the tasks described in following certification exam syllabus topics.
Oracle 1Z0-447 Exam Details:
Oracle 1Z0-447 Syllabus Topics:
Oracle GoldenGate (OGG) Overview

- Describe OGG functional overview and common topologies
- Describe OGG Veridata and Management Pack functionality
- Describe the difference between real-time data integration replication and Data Manipulation Language (DML) replication

Architecture Overview

- Describe OGG components
- Create the two types of Capture processes for Oracle database
- Create the three types of Replicat processes
- Explain the difference between an Extract and Pump, and local and remote trails
- Configure OGG's process recovery mechanism

Install and Configure OGG

- Download and Install OGG, and differentiate between various installers (zip, OUI, tar)
- Synchronize source and target databases with the Initial Load
- Prepare database for OGG CDC and check databases with OGG schema check script
- Configure OGG Replication component parameter files
- Configure the OGG Command Interface to create OGG processes
- Describe how to identify and resolve issues in heterogeneous replication, and provide appropriate solutions
- Configure OGG utilities

Parameters

- Describe and compare GLOBALS versus MANAGER parameters
- Create solutions using component parameters for replication requirements
- Install OGG parameters
- Explain and identify parameters specific for non-Oracle databases

Mapping and Transformation Overview

- Implement use cases for transformation functions
- Implement macros

Configuration Options

- Describe OGG configuration options (Data Definition Language (DDL), compression and encryption options)
- Configure OGG event actions based on use cases
- Troubleshoot conflict detection and resolution
- Configure Integrated Capture, Replicat, and deployment options

Managing and Monitoring Oracle GoldenGate

- Manage OGG command and data security
- Implement and troubleshoot OGG Monitoring
- Explain the configuration and management of the Enterprise Manager 12c plug-in
- Implement and troubleshoot OGG Veridata
The Oracle GoldenGate Implementation Essentials Certification Program certifies candidates on skills and knowledge related to Oracle GoldenGate products and technologies. The Oracle 1Z0-447 is granted based on a combination of passing exams, training, and performance-based assignments, depending on the level of certification. Oracle GoldenGate 12c Implementation Essentials certification is a real benchmark of experience and expertise that helps you stand out in a crowd among employers. To ensure success, Oracle recommends combining education courses, practice exams, and hands-on experience to prepare for your Oracle GoldenGate 12c Certified Implementation Specialist (OCS) certification exam as questions will test your ability to apply the knowledge you have gained in hands-on practice or professional experience.