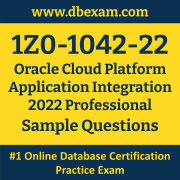 The Oracle Cloud Platform Application Integration Professional (1Z0-1042-22) Sample Question Set is designed to help you prepare for the Oracle Cloud Platform Application Integration 2022 Certified Professional (OCP) certification exam. To become familiar with the actual Oracle Certification exam environment, we suggest you try our Sample Oracle 1Z0-1042-22 Certification Practice Exam.
This Oracle Cloud Platform Application Integration 2022 Professional certification sample practice test and sample question set are designed for evaluation purposes only. If you want to test your Oracle 1Z0-1042-22 knowledge to identify your areas of improvement and get familiar with the actual exam format, we suggest you prepare with the Premium Oracle Cloud Platform Application Integration 2022 Certified Professional (OCP) Certification Practice Exam. Our team of Oracle Integration Cloud experts has designed Questions-Answers for this premium practice exam by collecting inputs from recently certified candidates. Our premium Oracle 1Z0-1042-22 certification practice exam will boost your confidence as well as your actual Oracle Cloud Platform Application Integration Professional exam result.
Oracle 1Z0-1042-22 Sample Questions:
01. Which two are execution modes supported by gateway node in Integration API Platform Cloud Service?
a) Production
b) Development
c) Stage
d) Test
02. What Expression Language does Decision Modeling and Notation (DMN) use?
a) RegEx
b) Groovy
c) Friendly Enough Expression Language (FEEL)
d) Process Expression Language (PEL)
03. Which APIs does Oracle Internet of Things (loT) Cloud Service use to perform an analysis?
a) Native Spark Java APIs
b) SQL Queries
c) JavaScript APIs
d) Big Data APIs
04. When a connection is in edit mode and the browser crashes, the connection becomes locked, which then prevents it from being edited.
Which two users can unlock the connection?
a) a user with the Designer Role
b) the same user who has edited the connection
c) any user
d) a user with the Administrator Role
05. You receive a status code: 502 Proxy Error. Which is a possible event cause for this error?
a) when the proxy setup is incorrect
b) while registering a large number of devices using the Batch Registration feature under the Devices menu
c) while adding proxy for an enterprise application device
d) while the proxy server is not responding to the request
06. Oracle Application Adapters in Service-Oriented Architecture Cloud Service (SOA CS) can connect to on-Premise systems.
What are 2 key elements that you need to review in this architecture?
a) Account for network connectivity and latency sensitivity to the on-premise application in the architecture.
b) Ensure that Oracle Support Notes for a hybrid cloud architecture with that application are reviewed and supported.
c) Design a load balancer solution for connectivity.
d) The DMZ needs to open port 80 for proper connectivity.
07. Which schema is used for defining the field structure of an analytic object?
a) Apache Avro schema
b) XSD schema
c) Database schema
d) XSL Schema
08. Assuming that a particular user possesses the "Deploy to Gateway" grant, what grants on an API are required in order to deploy that API?
a) Entitle API
b) Manage API
c) Manage API or Deploy API
d) View all Details and Deploy API
09. What options are available for Escalation and Expiration of human tasks in Process Cloud Service?
a) Escalate, Restart, Next or Previous
b) Renew, start, end, or error
c) Never Escalate, Skip, hierarchy, or New
d) Never expire, Expire, Renew, or Escalate
10. Which is a required prerequisites for API Platform Cloud Services?
a) Storage Cloud Service and Compute Cloud Service
b) Integration Cloud Service
c) Database Cloud Service (DBCS) and Storage Cloud Service
d) Java Cloud Service (JCS) and Database Cloud Service (DBCS)
Answers:
Question: 01

Answer: a, b

Question: 02

Answer: c

Question: 03

Answer: a

Question: 04

Answer: b, d

Question: 05

Answer: b

Question: 06

Answer: a, c

Question: 07

Answer: a

Question: 08

Answer: c

Question: 09

Answer: d

Question: 10

Answer: c