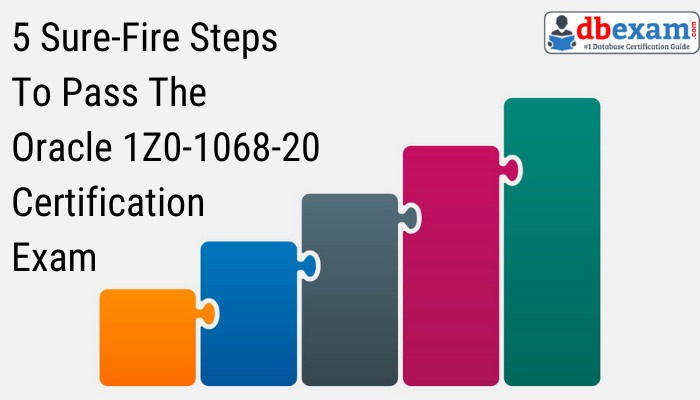 The Oracle CX Commerce 2020 Implementation Essentials, 1Z0-1068-20, is an extremely sought-after certification in the IT field. This Oracle certification will help you attain fabulous success in your career. The applicant will be able to exceed in Store Implementation Requirements and Design, Account-Based Commerce (B2B), Managing Multiple Sites in a Single OCC Instance, Storefront Development, Search Engine Optimization (SEO), and Custom Payment Integration. Relevant Training and field experience is recommended.
Before we jump to the exam details and how to ace the exam, let's know what Oracle CX is. CX Commerce is a leading enterprise SaaS commerce solution -- scalable, flexible, cloud-native, and developed to support both B2B and B2C. Want to build an enterprise, highly customizable, feature-rich digital commerce business? CX Commerce's solution presents for all of that!
Preparation Guide for Oracle 1Z0-1068-20 Exam: Steps to by Step Approach
It demands hard work and a few practiced tips to accomplish the goal. Since we've crafted a step-by-step guide that will help you pass the exam to earn Oracle CX Commerce 2020 Implementation Essentials certification. So follow the below steps and accomplish your desired goal!
1. Understand Oracle 1Z0-1068-20 Exam Objectives
The first step in your preparation guide should always be to visit the official webpage for the Oracle 1Z0-1068-20 exam. You must read on all the exam topics and have absolute clarity about them. This will definitely put you on the right path. Keep in mind; the official website is the most reliable platform. Hence, try dedicating sufficient time to each and every exam topic.
2. Books and Study Guides
The best way to begin your Oracle 1Z0-1068-20 exam preparation is by the books. It is more of a conventional way of studying for any exam, but still, it is beneficial. As there are not many good books available for the Oracle CX Commerce 2020 Implementation Essentials exam preparation. As all the books and other materials are just the essences of the official documentation, this will provide depth to your Oracle 1Z0-1068-20 exam preparation.
3. Video Tutorials
For Oracle 1Z0-1068-20 exam preparation, you will find many good video tutorials and training courses. Some of them will be free, and others will cost you. These courses will cover all the topics of the exam objectives. These tutorials will give you a basic to advance understanding of all the topics. You can also go for instructor led-training where all of our doubts will be solved by the instructor.
4. Participate in Online Forums or Study Group
As there are so many disturbances around us, online forums and study groups can benefit applicants. But, this distinct step is not compulsory for your preparation. The step of joining any study group or forum is entirely up to you. At any point, throughout the preparation, you can join any study group. Study groups will make sure you are linked to all other people going through the same path as yours. You can always ask a question concerning the topic you are facing difficulty with. Many members in study groups can also help you understand any query you have relating to the Oracle 1Z0-1068-20 exam.
5. Take Oracle 1Z0-1068-20 Practice Tests
Practice tests are used to give you an actual exam-like environment. It also confirms the content of your study resource and the materials you have used for the preparations. Practice tests also help you to find your weak topics which are required to work on. Practicing with an exam simulator gives you an advantage as you practice in a real-time exam environment. These exams help you to remember the study resource also.
Conclusion
I hope this study guide will help you in your Oracle 1Z0-1068-20 exam preparation. It will make you familiar with all the necessary resources and help you in your practice. All the resources specified earlier, study materials, and tips will ease your preparation. If you follow all the above-mentioned steps with 100% dedication, you will easily pass this Oracle CX Commerce 2020 Implementation Essentials certification exam.
Prove your skills and promote your career with the Oracle CX Commerce 2020 Implementation Essentials exam. Begin Your Preparations Now!