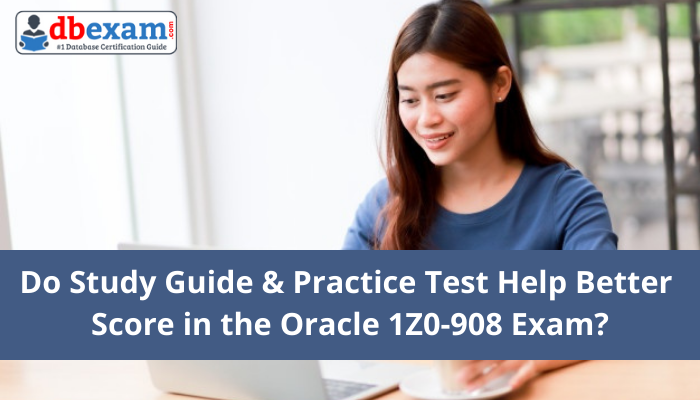 Yes, you should rely on a study guide for an organized 1Z0-908, MySQL 8.0 Database Administrator exam preparation. Including practice tests would help in boosting your confidence further. Get an overview of the 1Z0-908 certification and explore the beneficial study materials.
What Is Proved through the Oracle 1Z0-908 Exam?
1Z0-908, or the MySQL 8.0 Database Administrator Certification exam, proves the skills and knowledge of a candidate regarding relational database concepts, proficiency in fundamental SQL statements, and integrating the manner to execute programming languages.
Target Audience for the 1Z0-908 Exam:
The following candidates are the suitable target audience for the 1Z0-908 exam-
Cloud Administrators

Database Administrators

Database Designers

Web Administrators
Study Guide to Pass the 1Z0-908 Exam:
A study guide is a combination of essential tips that would ease the preparation journey regarding the professional level 1Z0-908 exam.
Improve Your Skills with Oracle SQL:
Database administrators require to master several hard skills to obtain and perform their jobs. Like many scientific and technical professionals, these hard skills listed below need time, concentration, and technological aptitude to excel. They must enhance their skills regarding SQL and its usage in programming.
What Is SQL?
SQL is a programming language, and it orients and organizes all data management methods. Aspirants should learn about the three dominant database languages: Oracle Database, Microsoft SQL, and IBM's DB2. Professionals may require to build websites with MySQL, create relational connections among multiple datasets with Transact-SQL, and control object-oriented methods with PL/SQL.

Structured Query Language (SQL) alters, retrieves, inserts, updates, and deletes data in relational database management systems. SQL tells the database what to do and precisely what it demands to keep the process simple. SQL is a type of language that all RDBMS systems such as MS Access, MS SQL, MySQL, Oracle, Postgres, and others use.
Follow A Schedule to Cover the 1Z0-908 Exam Topics:
Learning from the syllabus topics is essential if you are keen to attempt a maximum number of questions in the exam preparation. A candidate can learn from the online resources or utilize the books provided for Oracle MySQL 8.0. Oracle syllabus is not percentage-based, and a candidate learns about configuring MySQL, the architecture of MySQL, through the exam preparation. A candidate must focus on the topics with more subtopics during the theoretical knowledge gain and cover them one by one.
Learn from the 1Z0-908 Training:
Training boosts the practical knowledge of a candidate regarding the subject topics and helps a candidate apply their knowledge practically in projects in a better manner. A candidate must join one of the following training:
Oracle Certified Professional, MySQL 8.0 Database Administrator
Earn the MySQL 8.0 Database Admin Certified Professional Credential
Join Communities and Forums:
Joining forums and communities and learning from seniors will boost a candidate's preparation. The aspirant might get valuable tips regarding their preparation and clear his doubts through conversations.
Should You Rely on 1Z0-908 Practice Tests?
Learning from 1Z0-908 practice tests is essential, as it helps in self-assessment. The practice tests contain real exam-type scenario-based questions, and solving them offers valuable insights regarding your preparation level. As the practice tests are time-based, solving them regularly would boost your speed and enhance the chance of attempting the maximum number of questions in the exam hall. Therefore, keep practicing and keep improving your weaknesses.
What Are the Benefits of Getting the Professional Level 1Z0-908 Certification?
Gain More Confidence:
When an aspirant holds the professional level certification from Oracle, his confidence grows up undoubtedly. The candidate realizes that his true potential is confirmed through the certification knowledge, and he can apply for the job of his choice with more confidence. Oracle certifications are valued across the globe and prove to be a good resume booster.
Better Career Scopes:
The career scopes of 1Z0-908 Oracle MySQL 8.0 Database Administrator certifications are higher. More than 500 companies and their subsidiaries use Oracle software, and if you get the Oracle 1Z0-908 certification, that will open up more career opportunities. The aspirant would get more scope to showcase his talents and would be able to explore better possibilities.
Get Better Salaries:
Getting certified and upgrading to higher-level certifications means moving towards small pay to higher-paying jobs. The 1Z0-908 certified candidates can easily get a bigger salary and can also get promoted. It is proved that the people who have professional certifications are always paid more than those without it. They are also given more importance than other aspirants.
Skills Are Improved and Validated:
One of the major advantages that will help the candidates in the profession is that their skills will improve drastically through preparation and training. The certified candidates will have more skills that can bring profits to the companies they work for.
Bottom Line:
Oracle technology is getting admired and earning usefulness in large enterprises, and they are ready to use the technology to have the desired level of efficiency. The market demand has boosted the demand for certified professionals, and therefore the need to earn the Oracle 1Z0-908 certification.