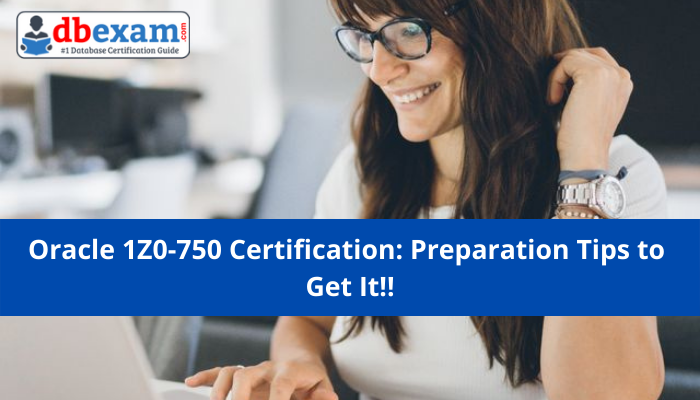 Earning the Oracle 1Z0-750 certification could seem a bit difficult, but once you apply the proven study tips and include practice tests in your preparation, everything gets going.
What Is Proved through the 1Z0-750 Certification?
Getting the 1Z0-750 or Oracle Application Express 18: Developer Certified Professional certification proves that you are highly competent to develop apps using Oracle APEX. Through the certification, you will prove fluency and a solid knowledge of the skills helpful in developing professional apps using Oracle APEX. The 1Z0-750 certification helps in experience gaining to build robust, secure apps that use many of the solution's features.
Who Should Take the 1Z0-750 Certification?
The 1Z0-750 certification exam is suitable for Application Developers with experience in building web applications. The applications in the certification offer extending ERPs, opportunistic apps, Oracle APEX solutions, and more.
What Is the 1Z0-750 Exam Structure?
The 1Z0-750 exam is a 75 questions long multiple-choice exam, and it earns you the Oracle Application Express 18: Developer Certified Professional (OCP) certification. You need to get a 56% mark to pass the exam.
Some Practical Preparation Tips to Pass the 1Z0-750 Exam:
Syllabus Completion Matters the Most:
Covering the syllabus is important for any exam, but you need to focus more while preparing for an OCP-level certification. Go through the syllabus and set your intentions, how you want to cover the topics. It is always vital to take ample time and get ready for any certification.
Learn from the Experts through 1Z0-750 Training:
Enroll for the 1Z0-750 training at the beginning of your preparation, and improve your knowledge practically regarding the topics covered. You can join any of the following training-
Oracle Application Express 18: Developer Certified Professional

Oracle Application Express Workshop I Ed 2

Unlimited Learning Subscription - All Tech

Oracle Database Learning Subscription
You might be part of a study group, or you may do self-study. Whatever is your status joining the training is important.
Focus on Your Daily Targets:
You must work on two to three topics daily and learn them from the core. If you plan out the topics to be covered on a particular day and do not think during study time, your productivity will increase during study hours. Try to write down the topics you learn and make essential notes from it.
Cover Syllabus in Small Sections to Stay Stress-Free:
The best method to keep yourself stress-free is to study daily, and you must cover the syllabus part by part during this study time. Studying for long hours might not work, as you may get tired, and your energy might get clouded. Try to avoid distractions while you study, and don't hesitate to take breaks.
Assess Yourself with 1Z0-750 Practice Test:
Assessing your preparation is mandatory; to understand if you are learning properly. 1Z0-750 practice test exams would help to do the assessment. Once you grasp the exam syllabus well, search for the practice exams and keep on solving them. Working on these 1Z0-750 practice tests would boost your preparation and will offer an actual exam-like experience. Time management is essential during multiple-choice exams, and you become a pro with continuous practice.
Overview of Oracle Development:
Oracle APEX service or APEX Application Development is a fully controlled, low-code application development platform.
Oracle Development helps in building and deploying modern, data-driven applications in Oracle Cloud. Due to Oracle's Application Development, business users and application developers can have enterprise applications 38X faster than coding without knowing complex web methodologies.
Benefits of Using Oracle Development:
Get Low-Code Development:
Have a guided approach with a rich, browser-based, intuitive graphical interface gears up the application creation. The powerful UI elements help the users to have a high level of functionality in apps with limited coding.
Work with Fully Responsive Applications:
Applications created with APEX are fully responsive. Elements such as networks, charts, and reports work seamlessly across different screen resolutions while keeping the same functionality without any additional code.
Use Simple Development Methods:
Developers can initiate to apply changes and make betterments often in real-time without the need for complicated deployments.
Make Apps Confidently:
Lower the number of security operations in your apps with security built into the framework. Work from cross-site scripting to SQL injection.
Simple Code Instrumentation and Tracing:
Detailed diagnostic data can help developers to find defects or performance issues in applications during the early stages of the project.
Have Future-Proof Apps with a Converged Database:
Create modern, data-driven applications using a converged database, which works on all modern data types, including relational, JSON, spatial, and more. Use data from both local and remote data sources using REST interfaces.
Bottom Line:
There is no need to say how valuable OCP certifications are. Getting the 1Z0-750 certification will prove your credibility to potential employers, and your career will reach a new height.