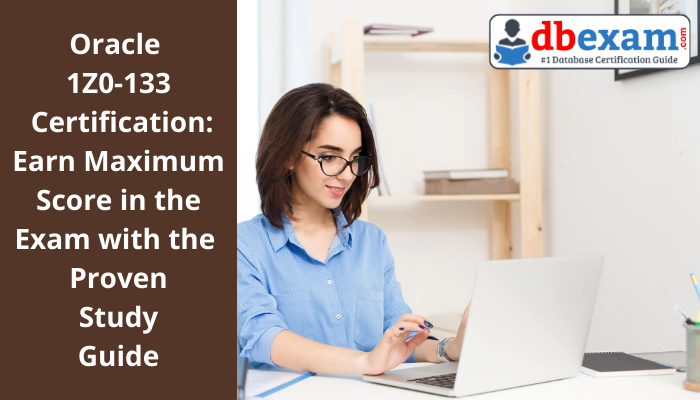 Following a comprehensive study guide helps you to score well in the 1Z0-133 or the Oracle Certified Associate Oracle WebLogic Server 12c Administrator exam. You must also include practice test materials to become confident with the exam preparation.
Overview of the 1Z0-133 Certification:
Earning the 1Z0-133 certification is all about setting the skills to confidently set up server environments, troubleshoot and tune performance. Oracle WebLogic Server 12c solution is more cloud-ready than ever before, so the aspirant learns new features. Elastic JMS and Dynamic Clusters make it simple to deploy WLS in a private or public cloud. Through the 1Z0-133 certification preparation, you will earn the skills and experience to deliver scalable, fast, secure applications. Having field experience and up-to-date training helps to pass the exam with ease.
Target Audience for the Oracle 1Z0-133 Certification Exam:
The target audience for the 1Z0-133 certification is individuals who want to gain knowledge in the Oracle Web Logic Server category. The associate-level certification helps administrators to boost their knowledge and make a strong career.
The Oracle WebLogic Server 12c Administrator certification sets the standard for WLS administrators. The solution creates the industry standard for Java application servers.
Syllabus Topics Covered Under the 1Z0-133 Certification Exam:
The 1Z0-133 certification exam works on the following topics-
Cluster Communication, Planning, and Troubleshooting

Cluster Proxies and Sessions

Creating and Configuring Clusters

Using the Administration Console

Starting Servers

Creating Domains

Installing and Patching WebLogic Server

Overview of WebLogic Server

Transactions

Backing Up a Doman and Upgrading WebLogic Server

WebLogic Server Security

Network Channels and Virtual Hosts

Deploying Applications

Node Manager

Monitoring a Domain

Configuring JDBC
Details of the 1Z0-133 Exam:
The 1Z0-133 certification exam is 77 questions long exam, where you need to face multiple-choice questions and obtain a 64% mark to pass the exam.
How to Prepare for the 1Z0-133 Exam:
Devote in a Hassle-free Preparation:
Associate-level certifications are meant to make your fundamental knowledge for a stronger advanced-level certification. Therefore, learn the topics from the core level and improve your knowledge through continuous practice to implement them better in the future. For a serious approach to taking the exam, you must register early with Pearson Vue and study hard. If you take at least three months of preparation, you can keep the preparation process stress-free and manage your daily work. In short, taking enough time helps in keeping a balance between work and study.
Get Clear about the Exam Objectives:
Chalk out the exam objectives, and write down the topic names that you want to cover on a particular day. Setting a study schedule would help you to avoid the study time hassles of choosing a topic. As a result, you can study for only two hours and cover a few topics with ease.
Stay Stress-Free with Daily Study Habit:
Covering an exam syllabus is not an easy approach, and you must stay organized to grasp it within a specific time. Do not keep the syllabus completion for last-minute study. Rather focus on daily studying and cover small sections gradually. Keeping yourself stress-free is one of the important tasks during the preparation, and studying daily consistently for fewer hours would help in that process.
Improve Your Learning with Oracle Training:
Earning and boosting your practical knowledge is a must when you are preparing for the 1Z0-133 exam. Therefore, join the 1Z0-133 training and learn directly from the experts.
Explore 1Z0-133 Practice Test Materials:
Self-assessment is the one and only path to work on your weaknesses and improve further. Therefore, include 1Z0-133 practice tests in your preparation, and get to know more about your strengths and weaknesses. Scoring high during these mock exams should be your target, but do not get disheartened if you can't score high during your initial attempts. Find out your weaknesses through this learning process, and work more to turn them into your strengths gradually.
What Is Oracle WebLogic Server and How It Is Helpful?
Oracle WebLogic Server is the number one application server for developing and deploying applications across cloud-engineered systems, environments, and conventional systems.
The solution offers application developers modern development tooling and advanced APIs for application innovation. Oracle WebLogic Server offers a mission-critical cloud platform for applications that need high performance, scalability, and reliability.

The powerful, integrated management tools ease operations and reduce management costs.

Finally, the Oracle WebLogic Server solution provides the foundation for the Oracle Fusion Middleware portfolio of products. The solution is available in three stages for easy operations.
Bottom Line:
As the industry-leading e-commerce transaction platform, Oracle WebLogic Server allows the user to develop and deploy reliable, secure, manageable applications quickly. The application of Oracle WebLogic Server helps business users in many ways. Therefore, grab the 1Z0-133 certification and improve your scope of getting a better job.