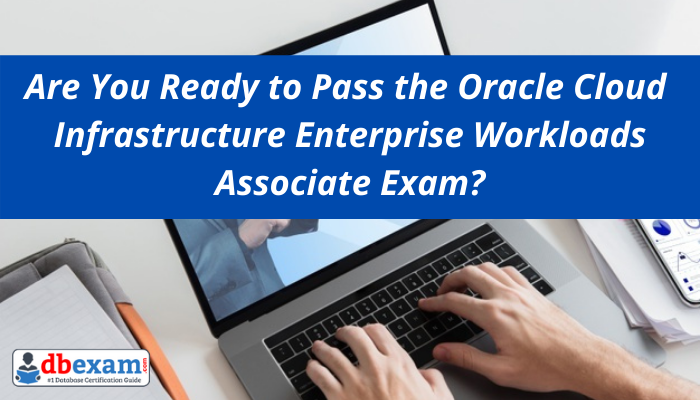 Are you interested to pass the 1Z0-1088-20, Oracle Cloud Infrastructure 2020 Enterprise Workloads Associate exam? Here are the study tips to ace it.
Who Is An Oracle 1Z0-1088-20 Certified Associate?
A 1Z0-1088-20 Oracle Cloud ​Infrastructure 2020 ​Enterprise Workloads ​certified associate is a candidate who has demonstrated ​hands-on experience and ​knowledge needed to ​Implement and Architect ​Oracle on Oracle Solutions.
What Skills Are Validated through the 1Z0-1088-20 Certification?
The skills validated through the certification are-
Data Migration

Design scalable and elastic ​solutions for high ​availability and disaster ​recovery

JDE, ​PeopleSoft, Siebel

Migrating WebLogic ​Applications

Migrating E-business Suite to E-Business Suite

Hyperion to OCI

Data Warehouse to Data WareHouse ​and analytics solutions.
Who Are the Target Audience for the 1Z0-1088-20 Certification?
The 1Z0-1088-20 Oracle Cloud Infrastructure 2020 Enterprise Workloads Associate certification exam is designed for professionals responsible for designing Oracle enterprise application solutions using Oracle Cloud Infrastructure services.
The suitable candidate should have-
A strong understanding of OCI concepts.

He must understand the business requirements for application performance and resiliency.

He should be able to translate on-premises app environments to a cloud environment.

He must design infrastructure systems that meet business and technical requirements.

He is responsible for an architect cloud solution and defines the appropriate migration strategy.
1Z0-1088-20 Certification Details:
Name of the Certification: Oracle Cloud Infrastructure 2020 Enterprise Workloads Associate
The exam is 85 minutes long, and a candidate should get a 68% mark to pass the exam. The 1Z0-1088-20 exam is a multiple-choice type, and some questions are scenario-based.
Is There Any Prerequisite to Take the 1Z0-1088-20 Exam?
It is suggested that the candidate should have a minimum of 6 months of hands-on job or industry experience in architecting or implementing cloud enterprise application solutions, preferably on Oracle Cloud Infrastructure.
It is also recommended to have attained the OCI Architect Associate level certification or have gained an equivalent hands-on job or industry experience in preparation for the exam.
What Are the Exam Objectives?
The exam objectives are-
Oracle on Oracle Solutions

Migrate WebLogic Applications

Migrate JDE to OCI

Migrate Siebel to OCI

Data warehouse & Analytics

Data Migration Techniques

Migrate E-business Suite to OCI

Migrate PeopleSoft to OCI

Migrate Hyperion to OCI
How to Prepare for the 1Z0-1088-20 Exam?
Learn the 1Z0-1088-20 Exam Objectives:
You must be clear about the exam objectives. Once you know what you have to study to pass the exam, your journey and learning become easier. Cover the exam topics from core to answer the 55 questions asked in the exam.
Make A Schedule to Grasp the Topics Well:
Every candidate must have a schedule and daily plan to learn the exam topics. Make a target of covering two three topics daily. Until you finish learning one topic, don't move to the next topic. Learning and writing down would help to memorize the topics for longer. Make small notes from the important topics to use during revision. If you have written notes, you won't need to rush for the original sources before the exam. Fix 2 to 3 hours for daily study; you may be productive at night or day. Set the according to your productive hours and study daily to complete the syllabus.
Take the Help of Oracle 1Z0-1088-20 Learning Path:
This Learning Path covers topics such as-
Techniques for migrating database to OCI

Migrate enterprise applications such as WebLogic, EBS, JDE, PeopleSoft, Siebel, and Hyperion to OCI

Data Warehouse and Analytics solutions on OCI
Oracle Learning path always helps a candidate to learn from the experts. You might face difficulty in learning some topic areas, but the guidance from the experts will help you learn the topics with ease.
Practicing Online Should Become Your Habit:
If you keep on studying and don't review or practice, you might forget the topics easily. Using the 1Z0-1088-20 practice test is one of the vital steps of your preparation. Through online practice attempts, you get a chance to learn about the actual exam questions and patterns. Not only this, the practice tests are time-based and real exam-like, so they help you become familiar with the actual exam. A candidate's first try should be attempting all questions within time. They must fail to answer correctly about some topics, but they should practice hard and improve the score gradually.
Bottom Line:
Oracle certifications are greatly valued across the globe. When it is about the associate level certifications, like the 1Z0-1088-20, the certificate could be an excellent beginning point for your career. Having a certification always would keep you ahead of any other non-certified peer. A certification is proof of your hard work and knowledge regarding specific topics. Therefore get certified and increase your value in the industry.