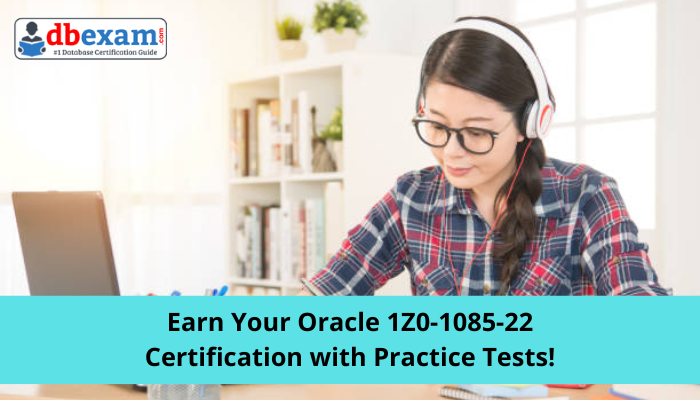 Are you preparing hard to earn your 1Z0-1085-22 certification? Practice tests help improve your preparation level and knowledge of Oracle Cloud Infrastructure.
Details of the 1Z0-1085-22 Exam Structure:
The 1Z0-1085-22 certification exam is a multiple-choice exam with 55 questions, and an aspirant needs to get a 65% mark to pass the exam. Passing the exam earns you the Oracle Cloud Infrastructure 2022 Certified Foundations Associate (OCA) certification.
Who Is the 1Z0-1085-22 Certification Meant for?
The OCI, Oracle Cloud Infrastructure Foundations, 1Z0-1085-22 certification is for aspirants who are interested in demonstrating fundamental skills regarding public cloud services offered by Oracle Cloud Infrastructure (OCI). The 1Z0-1085-22 certification is suitable for non-technical background aspirants. These are aspirants involved in selling or procuring cloud solutions, as well as those with a technical background who want to prove their foundational-level knowledge around core OCI services.
The 1Z0-1085-22 aspirant must not possess any hands-on technical skills to take the exam. The 1Z0-1085-22 certification exam does not work as a prerequisite to taking any other OCI certifications.
What Topics Are Covered Under the 1Z0-1085-22 Certification Exam?
The 1Z0-1085-22 certification exam covers the following topics-
OCI Pricing, Support, and Operations (Governance and Administration)

Security and Compliance

Core OCI Services

Getting Started with OCI
Preparation Tips to Earn the 1Z0-1085-22 Certification:
Register and Research about the 1Z0-1085-22 Exam Pattern:
Exam preparation means you are aware of the exam structure. If you are known of the exam pattern, you can plan your study depending on the pattern. The objective and descriptive exam preparation patterns will be completely different. Therefore, go through the exam structure and learn more about the exam
Positive Mindset Leads You to Success:
Staying positive plays an important role throughout the preparation. If the aspirant stays calm throughout the preparation, his stress level will be low, and he will be more focused on learning. Feeling tired or demotivated on some days is normal, but try to keep the positivity throughout your preparation.
Make A Study Schedule to Cover the 1Z0-1085-22 Syllabus Topics:
Having a solid knowledge base over the syllabus domains is essential if you want to attempt a maximum number of questions in the exam. Look for Oracle-provided materials online or offline to get ready for the exam. While studying, focus on preparing the exam topics from the core so that you are well prepared for future practical implementations. Many aspirants consider it a challenge to remember the syllabus topics for longer, but developing a writing habit could save you from all the troubles. Essential topics made in the form of notes are helpful later during revision.
Assess Where You Stand with 1Z0-1085-22 Practice Tests:
An aspirant must keep on tracking where he stands in the exam preparation process. Practicing online with 1Z0-1085-22 practice tests will help you easily assess your preparation level and pass the Oracle Cloud Infrastructure 2022 Foundations Associate exam. The practice test exams are time-based and offer you the scope to take the real exam. When you keep solving these practice test questions regularly, it will improve your time management skills. Set a target of scoring high in the 1Z0-1085-22 mock exams to ensure success in the actual exam.
Why There Is A Need for an Oracle Cloud Infrastructure Solution?
Oracle Cloud Infrastructure solution was designed for enterprises that need reduced costs, higher performance, and easy cloud migration for their existing on-premises applications. OCI solution helped to improve price performance for cloud-native workloads.
The Oracle Cloud Infrastructure is a deep and broad platform of public cloud services that help customers to design and run a wide range of applications in a highly available, scalable, secure, and high-performance situation.
How Oracle Cloud Infrastructure OCI Does Help Organizations?
Better Performance at A Lower Cost:
Oracle Cloud Infrastructure is highly useful for organizations that need higher performance, lower cost, easy cloud migration for the existing on-premises applications, and improved price performance for cloud-native workloads. Therefore, multiple organizations are out there that prefer to use Oracle OCI for cost reduction.
Experience Autonomous Services:
OCI is the individual platform of Oracle Autonomous Database and its self-repairing, self-optimizing autonomous features. The solution uses machine learning to generate routine tasks. The Autonomous Database provides better security, higher performance, and enhanced operational works and frees up more time to focus on building enterprise applications.
Transfer Enterprise Applications Swiftly:
Oracle Cloud aids in rapid migration and faster time to innovation. The user can have a new value around migrated applications faster with Autonomous databases, data science tools, and our cloud-native development tools.
Traditional, on-premises workloads that enterprises need to run their business are simpler to transfer to Oracle Cloud. The OCI solution is made to offer bare-metal compute services, network traffic isolation, and the only service-level assures for performance.
Bottom Line:
Basic level certifications are the key to widening your knowledge and moving towards a better career. Therefore, grab the Oracle 1Z0-1085-22 certification to start a stable OCI career.