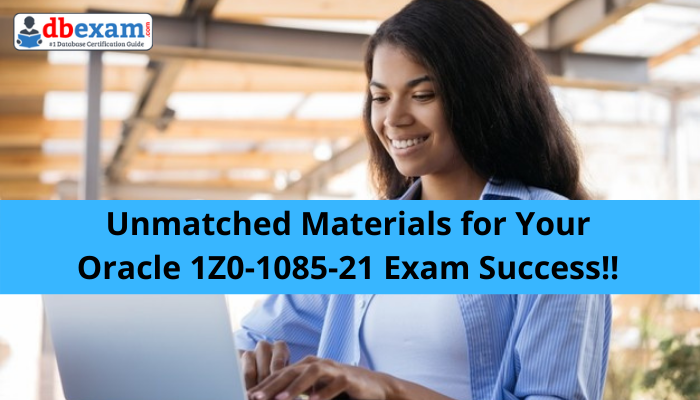 What is the importance of being 1Z0-1085-21, Oracle Cloud Infrastructure Foundations 2021 Associate? Is there any trusted practice test to help you ace the exam? Learn more about the resources through this article.
Details of the 1Z0-1085-21 Certification:
The 1Z0-1085-21 exam is an OCA-level certification that could be a great career booster for you. The OCA level 1Z0-1085-21 exam is a multiple-choice type exam with 55 questions. A candidate should obtain a 68% mark to pass the exam.
Who Should Take the 1Z0-1085-21 Exam?
The 1Z0-1085-21, Oracle Cloud Infrastructure (OCI) Foundations certification is suitable for individuals who want to demonstrate fundamental knowledge of public cloud services offered by Oracle Cloud Infrastructure.
The 1Z0-1085-21 certification is beneficial and targeted towards both candidates with non-technical backgrounds, such as those involved in selling or procuring cloud solutions, and those with technical experience who want to prove their foundational-level knowledge around core OCI services. Being an OCA level, the exam does not need any practical technical knowledge and is not a prerequisite for taking any other OCI certifications.
How to Prepare for the Oracle 1Z0-1085-21 Exam?
Start Your Preparation with 1Z0-1085-21 Registration:
If you start your exam preparation by registering early, possibilities are high that you can manage your preparation level well. Registration partially confirms that you are serious about taking the 1Z0-1085-21 exam. Though many candidates change their minds after registration, too, the chances are rare to back out from the exam.
Chalk out A Plan to Learn the 1Z0-1085-21 Exam Syllabus:
You should make such a plan that your exam preparation is done in a flow. To effectively use your time, you can make a chart and write down the particular syllabus topics to be covered within a specific time. Set your regular goals. You don't need to devote the whole day to study, but fix the time when you feel the most productive during the day or night. If you have decided to study two to three topics daily, be persistent to that schedule. Have consistency in your preparation. Move to the next topic once your base is strong with one topic. If you make your base stronger from an associate-level certification, gaining other certifications and knowledge will be easier.
Devote Ample Time for 1Z0-1085-21 Daily Study:
The grasping power differs for every candidate, so the study time and total exam preparation time differ. You must be dedicated to study and devote at least two to three hours daily, and if needed, more hours for the exam preparation. Try to write down short notes during daily preparation so the notes can be used during the revision. The habit of writing is a great memory booster. A candidate needs to remember the whole exam objectives on the exam day; therefore, it is better to go with a study plan that helps in the long run.
Learn from the 1Z0-1085-21 Training:
Training is an essential part of our exam preparation. A candidate gets the scope to learn directly from the Oracle experts through training. Therefore join the 1Z0-1085-21 training at the beginning of your preparation or according to your convenience.
Enroll for 1Z0-1085-21 Practice Test:
Keep tracking your 1Z0-1085-21 exam preparation through practice tests. If you start attempting the online practice tests, you can evaluate your preparation level easily. The 1Z0-1085-21 practice tests are helpful to offer valuable insights into your preparation and gradually help boost your preparation level. Therefore don't forget to assess yourself and improve gradually.
What Is Oracle Cloud Infrastructure Solution?
Oracle Cloud Infrastructure (OCI) is a broad and deep platform of public cloud services that allows customers to create and run a wide range of applications in a scalable, secure, highly available, and high-performance environment.
What Are the Benefits of Using Oracle Cloud Infrastructure (OCI):
Get Autonomous Services:
OCI is the independent home of Oracle Autonomous Database and its self-repairing, self-optimizing autonomous characteristics. Using machine learning to automate routine tasks, Autonomous Database offers higher performance, better security, and enhanced operational functions and frees up more time to focus on building enterprise applications.
Cost Reduction and Enhanced Performance:
Oracle Cloud Infrastructure is created for enterprises seeking higher performance, lower costs, and easy cloud migration for their existing on-premises applications, and improved price-performance for cloud-native workloads. Therefore, there is a huge number of customers using Oracle OCI to reduce their costs.
Easily Transfer Enterprise Apps:
Traditional, on-premises workloads that enterprises depend on to run their business are easier to transfer to Oracle Cloud. The OCI solution is designed to offer bare-metal compute services, network traffic isolation, and the only service-level assures for performance. Oracle Cloud allows rapid migration and faster time to innovation. You can make a new value around migrated applications faster with Autonomous databases, data science tools, and our cloud-native development tools.
Get Best Support for Hybrid Architectures:
Extend your cloud applications and databases anywhere with a wide range of options, ranging from Oracle's public regions to edge devices. In addition to our public cloud region, OCI offers full private dedicated regions in customers' data centers, edge-computing Oracle Roving Edge devices, and blazingly fast Oracle Exadata Cloud Customer, with Autonomous Database service delivered behind your firewall.
Bottom Line:
Certifications are best to boost your knowledge and make way for a better career. When the certifications are of OCA level, chances are more to learn from it and create value in the organization. Therefore, grab the 1Z0-1085-21 certification and enhance your value.