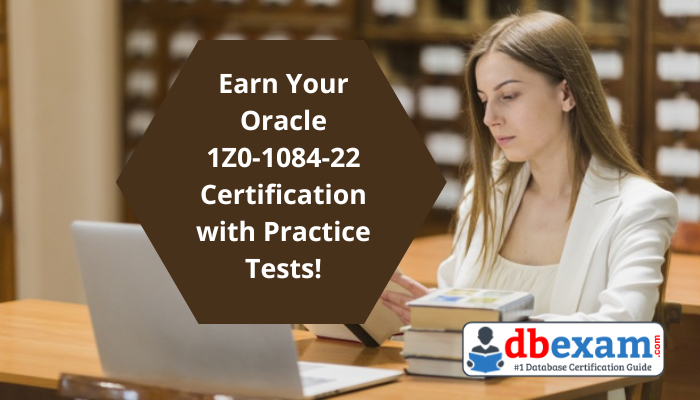 Is acing the Oracle 1Z0-1084-22 exam your dream? It can become a reality if you start rigorous practice with practice tests. Discover more about the study materials and preparation techniques through this blog.
Details of the 1Z0-1084-22 Certification Exam:
The 1Z0-1084-22 certification exam is a 55 questions long exam, and you get 90 minutes to take the exam. The aspirant must get a 65% mark to pass the exam and become Oracle Cloud Infrastructure 2022 Developer Professional.
Who Should Take the 1Z0-1084-22 Exam?
1Z0-1084-22, the Oracle Cloud Infrastructure (OCI) Developer 2022 Professional exam is suitable for developers and aspirants in Dev Ops who have a year or more of experience in developing and maintaining Oracle Cloud Infrastructure (OCI) applications.
What Is Validated through the 1Z0-1084-22 Certification?
This exam validates the candidate's understanding of cloud-native fundamentals, in-depth knowledge of developing, securing, testing, and operating applications in OCI, and ability to use the OCI service APIs, CLI, and SDKs to write applications. You must gain hands-on knowledge of OCI architecture, use cases, and best practices to prepare for the exam.
What Are the Syllabus Domains?
The 1Z0-1084-22 exam covers the following topics-
Monitoring & Troubleshooting Cloud Native Applications

Testing and Securing Cloud Native Applications

Leveraging Serverless Technologies for Cloud Native Development

Cloud Native Applications And Containerization

Cloud Native Fundamentals
How Should You Prepare for the 1Z0-1084-22 Certification Exam?
Explore the Syllabus Domains and Focus on Completing:
If you want to pass the 1Z0-1084-22 certification exam, grasping the syllabus topics from the core is the key. If you have a study schedule, it could help to cover the syllabus topics with ease. But, remember, only planning is not enough if you do not dedicate particular hours to studying.
Get the Necessary 1Z0-1084-22 Study Resources:
You must be careful about the 1Z0-1084-22 study resources while you cover the syllabus. You can use Oracle press-released books or online resources to prepare for the exam. Scheduling your study is essential, and you must keep more time for the lengthier topics. Checking out the old exam questions could give you an idea regarding the question patterns or most essential topics.
Learn from Video Materials:
Include various study resources while you prepare. You can study from sample questions and utilize video materials to get ready for the exam It will help you to break the preparation monotony and maintain your study pace.
Check Out Your Performance Time to Time with Practice Tests:
Once you learn the syllabus topics well, it is time for you to assess your performance level through online 1Z0-1084-22 practice tests. These 1Z0-1084-22 practice tests are designed in such a manner that it would offer you the real exam experience, and your time management skills will get better. Rigorous practice online is essential to learn where you stand in exam preparation. Set a target of getting high in the 1Z0-1084-22 exams, but do not get bothered if you are unable to do so. Follow the result section in that case, and get an idea about the syllabus domains you lack. Your next task is to chalk out the syllabus domains, work on them, and score higher in the final exam.
Overview of Oracle Cloud Infrastructure:
Oracle Cloud Infrastructure combines complementary cloud services that allows the user to create and run a wide range of services and applications in a highly available hosted condition. Oracle Cloud Infrastructure (OCI) offers high-performance compute possibilities (as physical hardware instances) and storage capacity in a flexible overlay virtual network that is securely accessible from your on-premises network.
Benefits of Using Oracle Cloud Infrastructure:
Better Ability with Premise Operations:
Organizations that are heavily invested in on-premises solutions can move them to the Cloud with OCI. They get full control over the migration efforts, e.g. storage setups, virtualization, server, and data center location, but they also have the option to utilize Oracle's expertise when they need it.
Greater Performance with Oracle OCI:
Both small and large organizations need their data to be up and work all the time properly. Oracle Cloud Infrastructure supports bare-metal servers that can create huge data sets in real-time and leverage high-performing, highly-scalable Oracle databases and related technologies. These servers also utilize non-volatile memory express and can use several data types at one time.
Super Secure Infrastructure:
Organizations need their networks, applications, and data to be secure from breaches that are potentially dangerous to their reputations. Governments also stipulate that organizations must comply with strict security standards. Oracle Cloud Infrastructure is made with security in mind. It separates computing and network resources and allows the setup of in-depth defense through built-in firewalls, integration with identity access management processes, multi-factor authentication, and data encryption, among other things.
Bottom Line:
Therefore, prove your professional level skills with the 1Z0-1084-22 certification and get noticed by potential employers. Having a professional degree would surely push you towards a secure career.