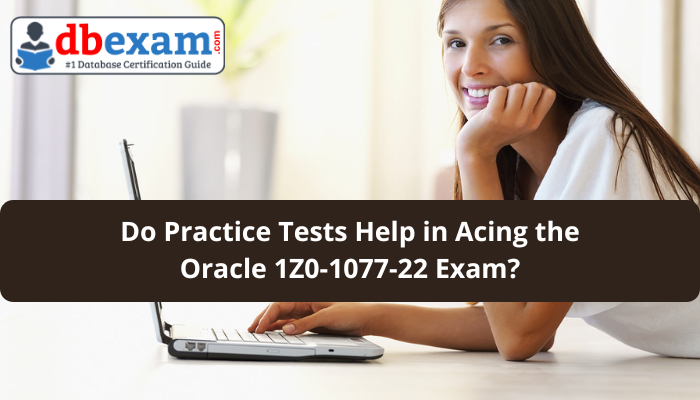 What study material helps you in passing the Oracle 1Z0-1077-22 certification exam? Practice tests are one of the best resources to get ready for the Oracle Order Management Cloud Order to Cash 2022 Certified Implementation Professional certification.
Overview of the 1Z0-1077-22 Certification:
The 1Z0-1077-22, Oracle Order Management Cloud Order to Cash 2022 Implementation Professional certification exam is a multiple-choice exam with 58 questions, and you need to get a 64% mark to pass the exam.
Who Is A 1Z0-1077-22 Certified Professional?
1Z0-1077-22, Oracle Order Management Cloud Order to Cash 2022 Certified Implementation Professional is an individual who proved the knowledge needed to use Order Management Cloud on a project.
What Else Do You Learn through the 1Z0-1077-22 Certification Preparation?
The candidates also learn pricing methods and set up shipping and fulfillment, utilize Order Entry functionalities, Manage Price Lists, Tiers, and Matrices, use Configurator and create workspaces, and use Configurator Rules. The 1Z0-1072-22 aspirants are able to understand interfaces and implement Order to cash business methods, use different pricing operations, and perform shipping-related inventory transaction operations. Additionally, you can understand and explain the core functions of Channel Revenue Management. Passing the 1Z0-1077-22 exam needs up-to-date training and field experience.
How to Prepare for the 1Z0-1072-22 Certification Exam?
Be Sure About the Exam Date with Registration:
The 1Z0-1077-22 certification is a professional-level exam, and you need to prepare hard to crack the exam. You might plan to get ready for the 1Z0-1077-22 exam, but your current job role or time frame could restrain you from being in the preparation flow. As a result, you might plan to take the exam but would give up mid-way. You can solve this issue if you register yourself for the exam. Registration involves your money, and in addition, you get to know the exam date, which helps in better planning.
Having A Schedule Helps in Covering the Syllabus with Ease:
When you enroll for an exam, your target should always be proceeding with stress-free preparation. Making a schedule confirms that you have already decided on the 1Z0-1077-22 exam topics you want to cover during the study hours. Studying for longer hours is not the key to success. You must use the study hours productively to earn success with ease. Some candidates misuse their productive time by choosing the topics while studying. Due to better management, aspirants who follow a study schedule are more likely to cover the syllabus topics within time.
Level Up Your 1Z0-1077-22 Syllabus Grasping Power with Notes:
Notes making helps a candidate while they prepare for the 1Z0-1077-22 certification. Their power of memorizing the topics for longer gets fulfilled, and they can utilize these notes later for a fruitful revision. Therefore, put special emphasis on making notes. Do not get worried about covering the syllabus in one go; rather, take two to three topics daily and learn them from the core.
Group Discussions Are A Helpful Learning Method:
Virtual platforms have made group discussions an easy path. Therefore, join the specific exam-related groups on social media platforms and raise put your queries in the group. You can also share your knowledge to improve your learning.
Take the Self-Assessment with Trusted 1Z0-1077-22 Practice Test:
If you keep on studying and reach the exam hall without prior assessment, you can face difficulties while taking the 1Z0-1077-22 exam. The best possible way to assess yourself is by taking 1Z0-1077-22 practice tests, and Self-assessment will help a candidate understand his preparation level. Choosing the proper study material could be a difficult task, but you can easily figure out the reliable material through a google search. Your target should be scoring higher in the mock exams but do not get disappointed if you are unable to score well during initial attempts. Focus on improving the sections through the guidance in the result section and make the path to score better.
What Is Oracle Order Management Cloud?
Oracle Order Management Cloud is created to improve order capture and fulfillment execution across the quote to cash method by offering a central order hub for multi-channel environments. The application offers the capacity to capture, price, and configure orders through direct order entry.
How Does Oracle Order Management Cloud Help Business?
Order Management is an application that allows organizations to accurately and efficiently manage customer orders across different order capture and fulfillment systems. The capture features help orders to be entered directly. It can be imported from external capture systems or imported from external capture systems and then gets edited. If there is a requirement, the Order information is also validated for data completeness and business rule compliance by having trade compliance checks. Here are the benefits listed below-
Reduce Average Order Cycle Times.

Cut down Revenue Impact of Fulfillment Issues.

Reduce the Inventory Cost.

Improve Revenue and Customer Satisfaction.

Cut down Order Fulfillment Errors.

Improve Profitability Per Order.

Reduce Time to Value.

Cut down the Order Handling Costs.

Enhance the Exception Management.

Become familiar Quickly with New Business Demands.

Promise Orders More Accurately.
Bottom Line:
Oracle Order Management Cloud is a solution that helps to increase profit margins, improve customer service, and assist in executing orders faster. Oracle's end-to-end, omnichannel, order-to-cash solution works on orders across multiple systems and simplifies product configuration, allowing dynamic pricing and global order promise. Therefore, if you earn the 1Z0-1077-22 certification, your scope of using your knowledge will be higher, and you will earn the needed recognition.