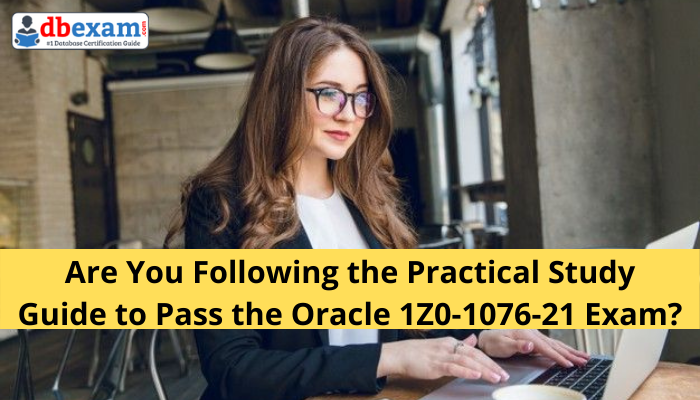 Your 1Z0-1076-21 certification success could be easy if you include a practical study guide and practice test in your preparation. The path to grab the Oracle Cloud Platform Systems Management 2021 Specialist certification becomes easy with the right approach. Learn more about the certification.
What Certification Do You Earn after the 1Z0-1076-21 Exam?
The 1Z0-1076-21 exam is a doorway to become an Oracle certified specialist. The 1Z0-1076-21 exam is 90 minutes long and asks 55 questions. The aspirant must get a 70% mark to pass the exam.
An Oracle Cloud Platform Systems Management 2021 Certified Associate proves the skills and knowledge to architect and implements Oracle Management Cloud.
Candidates who earn the 1Z0-1076-21 certification are versed in configuring Application Performance Monitoring, Oracle Infrastructure Monitoring, Oracle Log Analytics, and Oracle IT Analytics.
What Steps Should You Take to Pass the 1Z0-1076-21 Exam?
Don't Rush the Preparation Process:
Taking enough time is always important to pass any exam and is applicable for the 1Z0-1076-21 exam too. The 1Z0-1076-21 certification is the highest level certification from Oracle. That means the candidate appearing for the exam is versed in different Oracle products and levels. But it does not mean a candidate should rush to take the 1Z0-1076-21 exam because the exam could be challenging. Therefore proper planning and taking ample time for a minimum of two months is needed to prepare for the exam.
Cover Every 1Z0-1076-21 Syllabus Topic Flawlessly:
Cracking an exam is dependent on your preparation level, and learning the syllabus topics is the basis to clear the exam. Oracle syllabus is not percentage-based, so you must set a strategy to cover each area well. Depend on Oracle press-released books; books are the best source to prepare for an exam. You can find different resources available on the internet, but take books seriously. You can choose the online or offline learning materials, but set your main focus to cover the entire syllabus.
Decide What You Want to Study:
If you set the topics for daily study and fix the study hours, the preparation becomes easier. You can maintain the flow of the study just by checking your routine and following it rigorously. Devote at least two hours in the exam preparation; if you need more time, set a plan according to that.
Stay Motivated Till the Final 1Z0-1076-21 Exam Day:
Exam preparations are sometimes tiring; you can feel demotivated easily. But stay calm and think about the result, which is an OCS level certification, and the 1Z0-1076-21 certification's career effects could help you stay motivated in the long run.
Make A Habit to Practice Online:
Taking the 1Z0-1076-21 practice test online is the most relevant way to pass the exam on the first attempt. Relying on dumps or only studying could be a loss for many candidates. Are you prepared enough? You need to evaluate yourself continuously through 1Z0-1076-21 practice tests. What is better than having a real exam-like experience before reaching the exam hall? It is always beneficial to get familiar with the exam structure and become good in time management through 1Z0-1076-21 practice tests. Therefore, keep on practicing.
What Is Oracle Management Cloud?
Oracle Management Cloud presents a new generation of systems management helpful for today's IT organizations. Delivering on Oracle's vision of offering a complete set of cloud-based systems management services for having heterogeneous environments with minimal setup time, Oracle Management Cloud combines intuitive built-in dashboards that offer instant insights into your applications.
The management, monitoring, and analytics included within Oracle Management Cloud help machine learning, anomaly detection, and big data techniques against the full breadth of the operational data set. The solution helps in the process of overcoming limitations imposed by earlier-generation management tools.
Benefits of the Oracle Management Cloud for an Organization:
Oracle Management Cloud allows the user to manage any technology anywhere. Obtain greater control and higher stability for traditional on-premises custom and packaged applications while eliminating the cost of providing high service levels.
By taking advantage of Oracle Management Cloud, an organization can-
Maintain visibility across rapidly growing, cutting-edge, cloud-native microservices or cross-cloud integrations.

The organization can prevent outages across the entire application portfolio.

The user can collect and analyze business and IT data from end-user devices and browsers; through middleware, application, and database services; and down to hosts, hardware, virtual machines, containers, and clouds.

Source data can get structured and unstructured machine data such as metrics and logs and data generated by customer interactions with critical IT systems.

Oracle Management Cloud is all about learning; the more data you supply, the more value you can have from it. As a representer of the expanding Oracle Cloud Platform services (platform as a service), Oracle Management Cloud is compatible to work in any IT organization, which is an added benefit for organizations.
Bottom Line:
Organizations that need to manage a complex or rapidly changing application situation will find Oracle Management Cloud's services to be broadly applicable. The multiple advantages of Oracle Cloud Management will lead them to get 1Z0-1076-21 certified candidates, making the certification a great career choice.