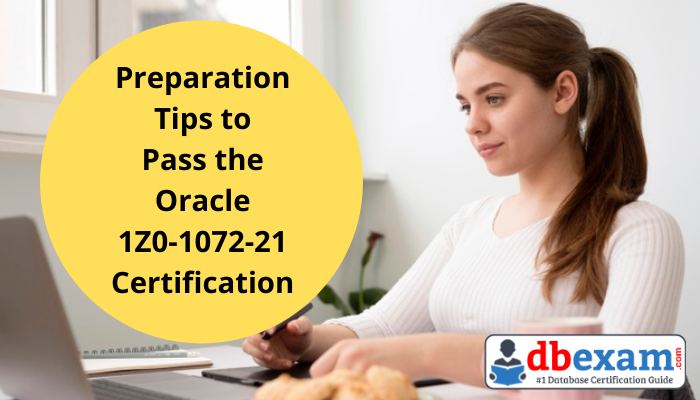 The preparation and passing of the Oracle 1Z0-1072-21 exam become easy with the PDF sample questions, proven study guide, and trusted practice test. Go through the article to get a better perspective on the 1Z0-1072-21 Exam.
What Is the 1Z0-1072-21 Exam Structure?
The 1Z0-1072-21 Exam is 90 minutes long and asks 60 questions. A candidate needs to face multiple-choice questions and should obtain a 65% mark to pass the Exam.
Who Should Take the 1Z0-1072-21 Exam?
The 1Z0-1072-21, Oracle Cloud Infrastructure 2021 Architect Associate exam is designed for candidates with strong foundation knowledge in architecting infrastructure with Oracle Cloud Infrastructure services.
What Topics Are Covered under the 1Z0-1072-21 Exam?
The 1Z0-1072-21 certification covers topics such as-
Advanced Networking Concepts,

Using Advanced Database features (Dataguard, BYOL, Data encryption, RAC, and EXADATA),

Launching Bare Metal and Virtual Compute Instances,

Networking,

Compute, and Storage Instantiating a Load Balancer,

Architecting Best Practices for HA and Security,

Identity and Access Management,
What Is Validated through the 1Z0-1072-21 Certification?
The 1Z0-1072-21 certification validates a deep understanding of OCI services to spin up infrastructure and offers a competitive edge in the industry. Up-to-date OCI training and lab experience are recommended to pass the Exam. The certification is available to all candidates. Therefore any candidate interested in working with Oracle Cloud Infrastructure can take this Exam.
How to Prepare for the 1Z0-1072-21 Exam?
Devote Enough Time for the 1Z0-1072-21 Exam Preparation:
Get started with the 1Z0-1072-21 exam registration process and take a healthy time gap to get ready. Engage at least two to three months to get ready for the Exam. Many candidates make the mistake of taking the associate-level Exam lightly, but don't forget that associate-level exams also need continuous devotion to pass. Therefore, ample time devotion is needed.
Join the Oracle 1Z0-1072-21 Training:
Oracle always suggests combining studying and taking the training. If the candidate invests ample time in the preparation, he can cover both aspects with ease. Learning from the training could be beneficial, as you would learn from the experts directly. A candidate can join the following training-
Oracle Cloud Infrastructure 2021 Certified Architect Associate

Training would make your knowledge base stronger to face the subject topics with ease.
Have A Firm Grip on the Syllabus Topics:
Many IT exams are divided into percentage-wise syllabus distribution. Candidates can focus more on the high percentage topics depending on the distribution, but it becomes difficult in the case of Oracle certification preparation, where the syllabus is not percentage-wise distributed. A candidate must focus on the number of subtopics and length of each topic to make an effective schedule.
Utilize the Study Hours Effectively:
You might get two to three hours daily or more according to your need. Try to utilize the study hours effectively by writing down the topic names in a single place. If you are aware of the topics on a single day, using the study hours becomes effective.
How to Remember the Topics for Longer?
Studying combined with writing habits could make your preparation journey easy. When you would face any multiple-choice exam, remembering the complete syllabus at one go is essential, and using the small details is also important. Therefore, include the memory booster process in your preparation journey.
Get the Authentic 1Z0-1072-21 Practice Test:
Many successful candidates shared that using the 1Z0-1072-21 practice test helped them a lot. Once a candidate covers the syllabus topics with ease, he must shift his focus to attempting or enrolling for a practice test online.
Search for authentic 1Z0-1072-21 practice tests that offer user reviews and check if the material is budget-friendly too. The more the aspirant practices, the more he gets familiar with the exam pattern and questions. The result section of practice tests offers valuable insights into your preparation level.
What Is Oracle Cloud Infrastructure?
OCI or Oracle Cloud Infrastructure provides PaaS, IaaS, SaaS, and Data as a Service (DaaS) capabilities in a single, complete platform. With OCI, Oracle has created an array of affordably-priced compute, storage, database, networking, and platform services geared towards enterprises, that include small and medium-sized ones.
How Could Oracle Cloud Infrastructure be Beneficial for Enterprises?
Oracle Cloud Infrastructure provides the following benefits to enterprises:
Manage High Performance Worthy of Mission-Critical Applications:
Enterprises, both small and large and those in between, need their applications to be up all the time. Oracle Cloud Infrastructure provides bare-metal servers that can process huge data sets in real-time, allowing high-performing, highly-scalable Oracle databases, and related technologies. These servers also have non-volatile memory express (NVME) storage that can manage several dozens of terabytes per instance.
Infrastructure Is Highly Secure:
Organizations need their networks, applications, and data to be secure from compromising breaches that are potentially damaging to their reputations. Moreover, governments encourage that enterprises must get along with strict security standards. Oracle Cloud Infrastructure is made with security in mind, separating computing and network resources and offering the setup of in-depth defense through built-in firewalls, multi-functional authentication, and data encryption integration with identity access management tools, among others.
Get the Scope to Build on Existing, on-Premises Investments:
Organizations that are already heavily devoted to on-premises solutions can move them to the Cloud with ease. They have full control over their migration efforts, e.g.data center location, virtualization, server and storage setups, but they also have the option to utilize Oracle's expertise when they need it.
Bottom Line:
The associate-level certifications are the building block for a stable career. When it is about having associate-level certification from Oracle, the certification certainly adds value to the aspirant's resume. Therefore, prepare and get the OCI level 1Z0-1072-21 certification for a better career.