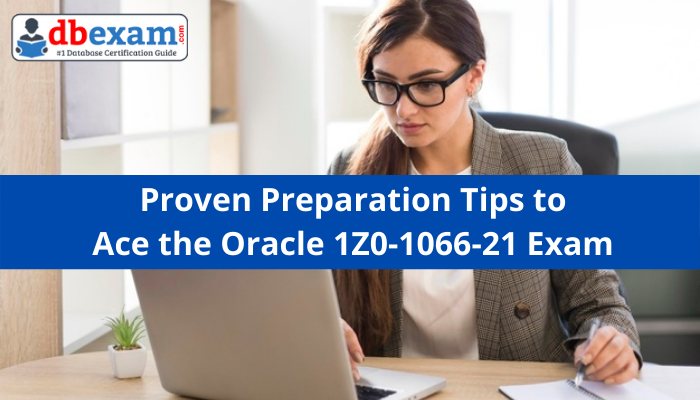 1Z0-1066-21 practice tests make the essential base for your exam preparation material. It is undeniable that you need to study hard, but getting the proper study guide and practice test could ease your preparation.
Get Overview of the 1Z0-1066-21 Certification:
Acing the 90 minutes long 1Z0-1066-21 certification gets you the Oracle Planning and Collaboration Cloud 2021 Certified Implementation Specialist (OCS) certification. The OCS level exam comprises 55 questions, and a candidate needs to get a 64% mark to pass the exam.
An Oracle Planning and Collaboration Cloud 2021 Certified Implementation Specialist is a candidate who demonstrates the knowledge needed to configure and manage a demand plan, configure and manage a supply plan, and manage data collection and analytics. Individuals who earn the 1Z0-1066-21 certification are familiar with managing exceptions, working with advanced fulfillment, and using simulation sets.
Preparation Tips to Ace the 1Z0-1066-21 Exam?
Set a Study Plan and Follow It Until the Day of the Exam:
Once a candidate goes through the syllabus of the 1Z0-1066-21 exam, it is time to make a study plan. But before creating the study plan, select your exam date by registering with Pearson Vue. If you are confirmed about the exam date, you can exactly count the days in hand and plan your study accordingly. Preparation without knowing the actual exam date could lead you to get demotivated from the middle of the preparation. Therefore, start the preparation when you are confirmed about the actual exam date.
You Should Set Solid Study Hours:
You can't study for only seven days and walk for the 1Z0-1066-21 exam; you need to engage at least two to three hours daily for the exam preparation. If your schedule is fixed, studying becomes productive.
Make a chart about the topics you want to cover on a particular day and highlight them after completing. Keep your target realistic, learn two to three topics daily, and highlight the topics after completion. You can make short notes from the important topics and maintain a notebook for using these notes later, during revision.
Divide the Syllabus Portions for Easy Completion:
While making the 1Z0-1066-21 study schedule, keep enough time for topics with more sub-topics and make short notes while reading essential topics. Remember, grasping the syllabus from the core is the ultimate solution to attempt the maximum number of exam hall questions.
Learn from the Experts through Oracle 1Z0-1066-21 Training:
Oracle exams need the combination of practice tests and hands-on skills to pass easily. Therefore, join the training and learn from the experts. You may join any of the following training-
Oracle Planning and Collaboration Cloud 2021 Certified Implementation Specialist

Oracle Supply Chain Management Cloud Learning Subscription
The Main Trick to Pass Is to Practice More:
Suppose you are working hard for the 1Z0-1066-21 exam, you have completed the entire syllabus too, but that won't earn you success if you don't keep practicing what you have learned. So follow the reliable 1Z0-1066-21 practice test to evaluate your preparation. The time-based practice tests will help a candidate to complete your exam within time. Usually, practice tests are designed to get the feel of taking the actual exam. Get valuable insights into your preparation through rigorous practicing.
Always choose practice tests over dumps to get an idea about your preparation. You can only read from dumps, but the 1Z0-1066-21 practice tests would challenge you in many areas, and you can evaluate yourself. During the initial practical exam attempts, many candidates fail to score well and start stressing about the issues. Every candidate should get valuable insights and should work on the guided area to improve better.
What Is Oracle Supply Chain Planning Cloud?
Oracle Supply Chain Planning Cloud is a so0lution that helps to get better results faster by planning the supply chain end-to-end in the Cloud. You can effortlessly combine demand insights, supply constraints, and stakeholder input and apply built-in machine learning to improve profitability while accelerating customer service.
What Are the Benefits of Using Oracle Oracle Supply Chain Planning Cloud?
Get Better Results Fast:
Use embedded analytics, guided problem resolution, and intelligent recommendations to enhance productivity.
Set Enterprise Planning:
Check out strategic and tactical planning processes in an intelligent, integrated end-to-end planning system.
Generate Planning Decisions:
Automate decision-making process with confidence. Change machine learning predictions into consistent, cause-and-effect responses.
Set New Rules for Supply Chain Resiliency:
IDC explores how improving agility and visibility can be key drivers of improving supply chain resilience.
Bottom Line:
There is no need to say how flourishing is the OCS level certifications. Having the 1Z0-1066-21 certification proves a candidate's dedication to Oracle certification and the candidate's credibility while boosting up his career opportunities.