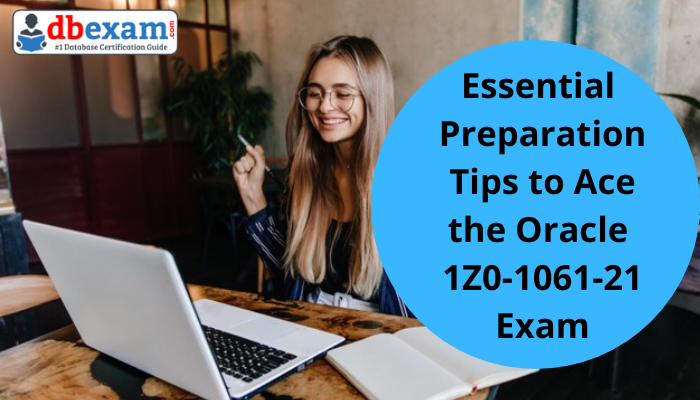 Success in the 1Z0-1061-21 exam is easy if you combine an effective practice test with proven preparation tips. Learn more about acing the exam through this article.
Who Is an Oracle 1Z0-1061-21 Certified Specialist?
A 1Z0-1061-21, Oracle Sales Cloud 2021 Certified Implementation Specialist, is a candidate who proved expertise in implementing Oracle CX Sales solutions. Candidates who earn this certification are familiar with Customer Management, Lead Management, Opportunity Management, Forecasting, Partner Relationship Management, Sales Analytics, Application Configuration and Customization, and Data and Change Migration.
Details of the 1Z0-1061-21 Exam:
The Oracle CX Sales 2021 Certified Implementation Specialist (OCS) exam is 90 minutes long and asks 55 questions. A candidate needs to get a 62% mark to pass the multiple-choice exam.
Study Guide to Ace the 1Z0-1061-21 Exam:
Don't Rush to Take the 1Z0-1061-21 Exam:
Oracle suggests study plus hands-on training pass the 1Z0-1061-21 exam. Some easy questions are there but, the 1Z0-1061-21 exam asks questions based on a case study and keen knowledge of the Oracle Sales Cloud.
Register yourself with Pearson Vue to take the 1Z0-1061-21 exam. A candidate can directly register from the official page by clicking on the registration button. As you are going to take a specialist-level certification, it is expected that your base is strong. How much knowledge you have does not make a difference; it is always better to take ample time before appearing for the 1Z0-1061-21 exam.
Stay Devoted to Your Routine:
Being organized is the key to success. If you are determined to pass the exam at first go, follow your schedule with devotion. Devote yourself in daily quality study hours and write down the crucial points during the study.
Join the Training Provided by Oracle:
Oracle offers Oracle Oracle CX Sales and B2B Service Learning Subscription to ace your 1Z0-1061-21 exam. Joining training means you can learn about the topics more clearly from the experts, which enhances your knowledge.
Have Complete Grasp on the 1Z0-1061-21 Syllabus to Nail the Exam:
Every part of the syllabus is essential, and covering all of them is necessary to nail the 1Z0-1061-21 exam. When you go through the syllabus, you can discover that Oracle syllabuses are not percentage-based. So how would you plan your study? Focusing on the lengthier topics, and following a schedule for your study is the key to ultimate success.
Choosing the Right Material and 1Z0-1061-21 Practice Test Is Vital:
Many communities and Oracle forums suggest using the proper practice test to pass the exam. Once you complete the syllabus areas, it is time to look for other resources like 1Z0-1061-21 sample questions, useful videos, and practice tests.
Using reliable 1Z0-1061-21 practice tests would help you discover your preparation level. You can find out about your strengths and weaknesses from the result section. It is suggested to practice as much as you can to get familiar with the exam structure, question pattern, and time management. On exam day, if you can't manage your time well, you might fail to attempt the total number of questions asked in the exam.
What Is Oracle Sales Force Automation?
Oracle Sales Force Automation aids sellers execute the required next best action using machine learning and complete, account-level data. The CRM solution automates and eases data entry and uses mobile interactions, offering the sales teams more time to get involved with customers and prospective customers.
Some Benefits of Using Sales Force Automation:
Satisfactory User Experience:
Reduce mind-numbing data entry and endless clicks with CRM sales tools. The tools automate administrative works so you can focus more time on your closing business and customers.
Get Full Customer View:
Give your sales representatives the tools needed so they can spend more time selling and less time hunting for customer/prospect data. Offer them the complete picture. Enhance your customer records with CRM and back-office systems data collected and supported with verified, third-party company and customer data.
Task-Based User Interface:
Help every moment count. Allow your sales teams to take quick actions to complete daily tasks, check upcoming closing opportunities, and immediately get hot leads.
Enhance Search Results:
Get actionable intelligence faster through a single, customizable view of accounts, possibilities, leads, and contacts, all supported by high-performance search.
Effective Records Management:
Upgrade and appoint tasks easily, complete call logs, assign follow-ups and add contacts through a system that's fully blended with popular email solutions and collaboration suites.
Collaborative Marketing:
Get benefits from a holistic view of sales and marketing engagements. Learn about the complete marketing engagement history, add contacts and leads directly to marketing campaigns, and offer feedback on effectiveness and interest.
Visual Builder Solution:
Leverage Oracle's visual development situation to rapidly create and deliver custom web and mobile applications that further enhance sales productivity and complement Oracle's core sales cloud solution.
Bottom Line:
There is no need to say that Oracle certifications are greatly valued across the globe, and when it is an OCS level certification like the 1Z0-1061-21, it is in high demand. OCS certifications are quite challenging, and it requires a lot of dedication; therefore, having it increases your value.