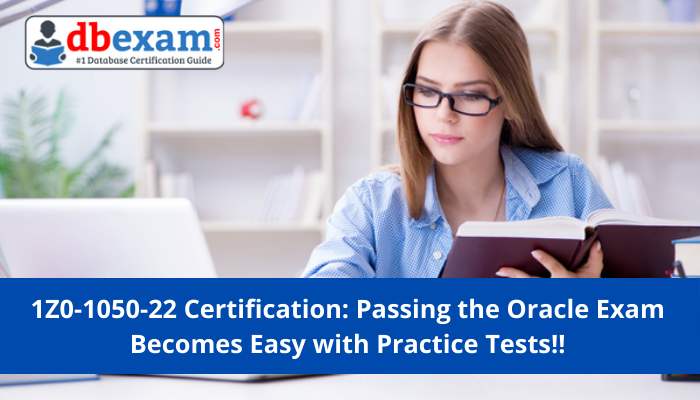 It is proven fact that practice tests are one of the best resources to clear the Oracle 1Z0-1050-22 exam and become an Oracle Payroll Cloud 2022 Implementation Professional certification holder. Explore some of the practical tips and materials through this blog.
Overview of the 1Z0-1050-22 Certification:
Through the 1Z0-1050-22, Oracle Payroll Cloud 2022 Certified Implementation Professional certification, you learn to demonstrate a strong foundation and expertise to implement Oracle Global Payroll.
What Do You Learn through the 1Z0-1050-22 Certification Preparation?
Candidates who earn the 1Z0-1050-22 certification can identify essential methods of Oracle Global Payroll that help in a successful implementation. They learn about the PTO setup Global Payroll by entering data and performing everyday payroll operations and can use Functional Setup Manager to implement payroll.
What Are the Exam Topics?
The 1Z0-1050-22 exam covers the following topics-
Calculate, Validate, and Correct Payroll Processes

Payroll Flows

Employee Level Payroll Information

Payroll Costing Rules

Payroll Payment Details

Earnings and Deduction Definition

Payroll and Balance Definitions

Payroll Concepts
What Study Strategies Should You Follow to Pass the 1Z0-1050-22 Exam?
Chalk out the 1Z0-1050-22 Syllabus Acing Plans:
Taking a printout of the 1Z0-1050-22 syllabus would help you stay in touch with the topics you need to cover. You can set your targets of covering particular topics each day, and highlight them on the chart, once you keep covering the topics one by one. Keeping the printed syllabus near you will motivate you to work on the scheduled topics more seriously. Highlight the topics to be reviewed with other colors and make studying enjoyable.
You Must Follow the Routine with Devotion:
If you have decided to study for two hours daily for the 1Z0-1050-22 exam, try to maintain that. You don't need to devote your whole day to exam preparation. But if you study with devotion, success will arrive at your doorstep by studying daily for two to three hours. Make short notes while you study. Many aspirants score better without making short notes, but having organized notes will help you in doing the revision faster.
Learn from the 1Z0-1050-22 Training:
Oracle suggests getting the training and hands-on lab experience for earning success. Therefore the candidate must join any of the training sessions to level up his knowledge-
Oracle Payroll Cloud 2022 Certified Implementation Professional
Oracle Global Human Resources Cloud Learning Subscription
Practice Online with 1Z0-1050-22 Practice Tests for Confidence Boost:
Online practicing with real exam-like 1Z0-1050-22 practice tests helps you attain success easily. There are sample questions also available on different websites. Go through these questions to get some idea about the practice test questions. Multiple-choice questions demand you to be very strong in time management, and through rigorous practice, you would become gradually strong regarding time management. The 1Z0-1050-22 practice tests are also helpful in offering insights regarding your preparation level. Follow these insights to assess your strengths and weaknesses better and improve your exam preparation.
What Is Oracle Payroll Cloud?
Oracle Payroll is part of Oracle Cloud HCM and is a fully unified solution for the HR process. The solution allows compliant and configurable payroll across the globe, irrespective of the industry, company size, or worker type. Oracle works on the payroll process and offers you better alignment across HR, operations, and finance. When everyone works on the same page, the business will be more efficient with more time to focus on improving the employee experience.
Benefits of Using Oracle Payroll Cloud:
Enjoy Efficient Working Process:
Automated Payroll Flows help to redesign the way you work with checklists to help you get the important tasks and steps you need to confirm your payroll is correct. Oracle offers intelligent features to make the process more efficient. The RetroPay feature allows post-period adjustments to employees' earnings, deductions, and costs depending on changes to pay rates, and benefit elections, so you can be confident that employees get the correct pay they're owed—no matter when the events occur. The features simplify the overall payroll process and boost productivity.
Control the Business Well:
Many multinational organizations struggle to analyze payroll information across different systems. The process is time-consuming, and when the data is finally pulled together, it is typically outdated. Oracle offers pre-built and customizable HCM analytics that allows access to enterprise-wide data in real-time. Additionally, Oracle solutions offer an easy-to-use tool designed to help quickly analyze your payroll business. The FastFormula feature allows the administrators to manage complex processing rules and calculations without the need to code. The solution helps in getting more insights into your workforce operations. The teams are better positioned to make fast and informed decisions that offer greater value to the business.
Improve the Employee Experience:
Employee experience matters a lot, as happy people tend to be more engaged and enhance productivity. Oracle Payroll provides features that make navigating life challenges a bit easier than before. Employees can request off-cycle payments for work time, and if approved, they get paid early with Anytime Pay. Oracle solution offers a consistent and intuitive experience that's easily accessible from any device, so employees can effectively work from wherever they are.
Bottom Line:
Oracle Payroll Cloud is a helpful solution to manage employees and make an organization productive. Therefore, get the Oracle 1Z0-1050-22 certification that proves your knowledge and sets you on the path to a better career.