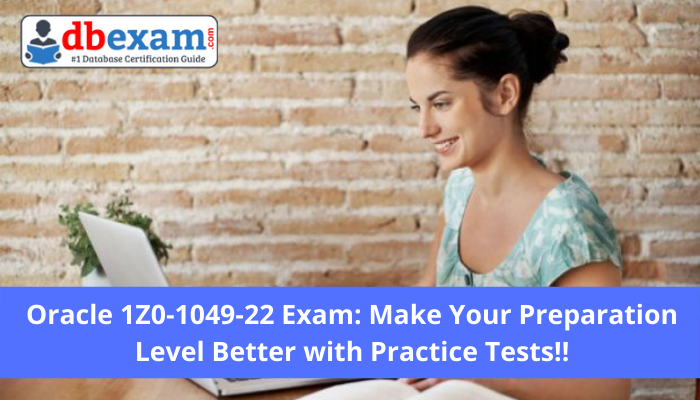 You should rely on the 1Z0-1049-22 practice test materials while preparing for the Oracle Compensation Cloud 2022 Certified Implementation Professional certification. Through rigorous practice, get insights into your preparation level, work hard, and earn a better score in the actual exam.
What Is the 1Z0-1049-22 Certification All About?
The 1Z0-1049-22 certification exam is a 55 questions long exam to be taken within 90 minutes. You need to get a 66% mark to pass the exam.
Through the 1Z0-1049-22, Oracle Compensation Cloud 2021 Certified Implementation Professional exam, you demonstrate the needed knowledge to implement and sell Oracle HCM Cloud Service solutions.
What Domains Do You Get Familiar with?
Aspirants who earn the 1Z0-1049-22 certification get familiar with topics like Total Compensation Statements, Base Pay, Individual Compensation, and Workforce Compensation.
What Domains Are Covered under the 1Z0-1049-21 Syllabus?
The 1Z0-1049-21 exam covers the following domains-
Workforce Compensation

Individual Compensation

Base Pay

Elements, Balances, and Formulas

Workforce Compensation Plans and Batch Processes

Total Compensation Statements
What Preparation Strategy Should You Follow to Pass the 1Z0-1049-22 Exam?
Get Started with Early 1Z0-1049-22 Exam Registration:
Exam preparations are harder if you are not focused well and don't follow an exam acing strategy. Before you start preparation, you must be sure about taking the 1Z0-1049-22 exam, and registration makes your goals solid.
Learn from the Oracle 1Z0-1049-22 Training:
Oracle provides training for the 1Z0-1049-22 exam. A candidate must enroll in the training to enhance their knowledge regarding the syllabus topics. Depending on your convenience, you can choose any mode of training, be it virtual classes or classroom training.
Grasp the 1Z0-1049-22 Syllabus Topics:
The 1Z0-1049-22 certification is a professional-level certification; therefore, it is assumed that you possess some knowledge regarding the subject matter. But, whatever knowledge base you possess, studying hard and completing the syllabus is essential.
Grasping the 1Z0-1049-22 syllabus topics could seem a bit challenging, as there is no such percentage division in the syllabus topics. But, you can make it simple by making a study chart from the beginning of your preparation. Set specific goals in your study chart and accomplish them daily.
Stay Devoted to Your Study Routine:
For better results, you must always fix your 1Z0-1049-22 exam study hours and use them wisely. If you have fixed two hours as study time, stay devoted during that time. Another important habit is to write down the essential points. Once you start writing practice and make notes, it helps you remember the topics for longer. Through notes making, you get ready for a faster revision.
1Z0-1049-22 Practice Tests Help You Get Ready for the Exam:
Are you ready to face the multiple-choice questions in one attempt? You can check it easily by solving practice test questions. Therefore, practice and assess your preparation level regularly. The 1Z0-1049-22 practice tests are beneficial in doing self-assessment. You can get insights into the syllabus domains that need more of your attention and the sections you can perform well. Moreover, the real-time tracking of the mock exams would help you become familiar with taking the exam within a specific time.
1Z0-1049-22 Dumps are also there as study materials, but you can't get the benefit of self-assessment and real exam experience with dumps. Therefore, stick with practice tests for better preparation for the exam.
What Is Oracle Compensation Management Cloud?
HR and managers are continuously thinking about how they manage and compensate their employees during the increasing flexible work patterns. Oracle Compensation Cloud offers a complete compensation solution that aids compliance, promotes fairness, and helps attract and retain top talent. The solution uses real-time data to manage, create, and model compensation plans based on unique conditions.
Benefits of Using Oracle Compensation Cloud for Organizations:
Better Compensation Allocation:
Oracle Compensation Cloud provides managers the ability to allow compensation for their teams. It does not matter where they are located and includes workers located in multiple countries with multiple currencies. With Oracle compensation, they can manage salary on their own or include stock, bonus, and long-term incentives in one place.
Get Compensation Approvals:
The Oracle Compensation Cloud helps structure the compensation approval hierarchy to match the unique user requirements. The manager can review the lower-level decisions at each level and make changes as necessary before submitting them further up the hierarchy.
Calculate New Components:
Boost managers to allocate awards for employees with different components of the salary. It is done by entering the final award and letting the application calculate the new components.
Get Real-time Employee Data:
Include and synchronize the relevant, up-to-date Oracle Core HR data when modeling and distributing compensation plans.
Bottom Line:
Through the Oracle 1Z0-1049-22 certification preparation, you get a scope to learn more about Oracle Workforce Reward Cloud. Oracle Workforce Rewards Cloud is a cloud-based HCM solution and was created mainly for human resources (HR) professionals. Through the use of the solution, the user can streamline the payroll process that complies with local taxation and rules, design pay programs for global and local populations, and manage incentive compensation and benefits programs. Therefore grabbing the 1Z0-1049-22 certification is essential to have a better career and aid the benefit of your organization.