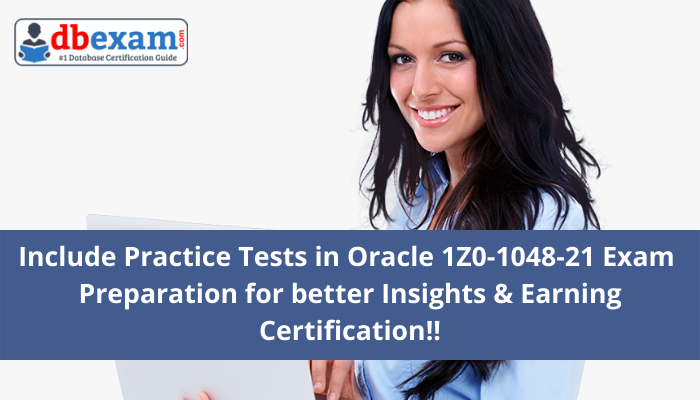 Acing the Oracle 1Z0-1048-21 exam is dependent on continuous insights and improvement. Therefore, avail the practice tests and make your preparation better over the time to pass the 1Z0-1048-21 exam on your first attempt.
Who Is a 1Z0-1048-21 Certified Specialist?
1Z0-1048-21, the Oracle Time and Labor Cloud 2021 Certified Implementation Specialist, is an individual who demonstrated the knowledge needed to configure, implement and use Oracle Time and Labor Cloud.
What Do You Learn through the 1Z0-1048-21 Certification Preparation?
While preparing for the 1Z0-1048-21 certification, you will learn to use Oracle Functional Setup Manager to implement time and labor. You will also learn to perform common time and labor processes, including processing, device, entry, and compliance configuration, and perform transactional tasks such as approving, reporting, and transferring time.
What Is the 1Z0-1048-21 Exam Structure?
The 1Z0-1048-21 exam is a 90-minute long exam with 55 questions. You need to get a 64% mark to pass the specialist-level exam. Passing the exam will earn you the degree of an Oracle Certified Implementation Specialist.
How to Prepare for the 1Z0-1048-21 Exam?
Devote Quality Time in the Oracle Exam Preparation:
Plan in advance for the 1Z0-1048-21 exam. You must devote quality time to exam preparation if you want to crack the exam on your first attempt. Taking a gap of at least two to three months from your registration day would help sail the exam hassle-free.
Boost Your Knowledge Regarding the 1Z0-1048-21 syllabus:
Completing the syllabus could feel challenging, but it is crucial if you want to pass the 1Z0-1048-21 exam on your first attempt. Pre-scheduling what you want to study on a particular day is much help. It will save your time during productive study hours. You will be able to completely focus on the selected topics without any distraction.
Set Your Daily Study Intentions:
Getting ready for the Oracle 1Z0-1048-21 exam would make it easier if you set your short and long-term goals and accomplish them through daily study. Try to cover two to three topics daily during your study hours, and improve your learning and memorization power through note-making. Be organized while making the 1Z0-1048-21 notes to use later at the time of revision.
Learn from Oracle Training and Joining Forums:
Studying for a specialist-level Oracle certification could feel challenging; therefore, incorporate the Oracle training to get clarity on the exam topics from theoretical and practical points of view.
Another beneficial thing in exam preparation is to join groups or forums. When you exchange your knowledge with others, it certainly improves your knowledge base.
Get Better Insights with 1Z0-1048-21 Practice Tests:
You must always get valuable insights in preparation and work accordingly to improve in different sections of the syllabus. 1Z0-1048-21 practice tests help greatly in this regard to point out your strengths and weaknesses. There are multiple benefits if you include 1Z0-1048-21 practice tests in your preparation. They make you familiar with the exam structure, and you become a pro with time management through continuous practicing. Therefore, keep practicing hard and boost your preparation level and confidence.
What Is Oracle Time and Labor Cloud?
Oracle Time and Labor Cloud is part of Oracle Cloud HCM, and it is a complete, easy-to-use, rules-based time recording and management system. Oracle Time and Labor cloud is designed to give you maximum control and visibility over your most valuable resource, your manpower.
Benefits of Using Oracle Time and Labor Cloud:
Flexible Time Entry Approvals:
Time and Labor uses standard approval mechanisms to manage time card approvals. The delivered approval styles of Line and Project manager can be used as it is or extended to multi-level or more complex routing as needed. A mass time card approval possibility enables a group of time cards to be reviewed at a summary level and approved in one click.
Quick and Easy Submission:
Time and Labor offers rapid time and absence entry through a daily, monthly or weekly calendar. Full drag and drop possibilities and the ability to enter time or absence for a range of dates are offered as an easy and fast way to enter time into the system.
Integration Possibilities Are Higher:
Time and Labor offer integration capabilities to time clocks and a configurable Web Clock for organizations needing more automatic time registration. Rules are applied to the incoming time events such that the time registration to payroll can be nearly fully automated, where the manager works with any exceptions to expected working times. Time entry through time clocks and the Web Clock can be integrated with the calendar and time card entry to offer support for a wide range of time management business methods.
Bottom Line:
Oracle Time and Labor Cloud is natively combined with Oracle Global HR, Oracle Payroll, Oracle Absence Management, Oracle Project Costing, and Oracle Time and Labor. Therefore, the solution supports multiple ranges of time recording needs for both the employees and the contingent workforce.
Oracle Time and Labor provide accurate and consistent time-related data to the Enterprise. This includes integration to Payroll, including support for retroactive changes, and recording time against valid, up-to-date project information.
Therefore, getting the specialist-level 1Z0-1048-21 certification will boost your knowledge and prove your credibility to work for the benefit of any organization.