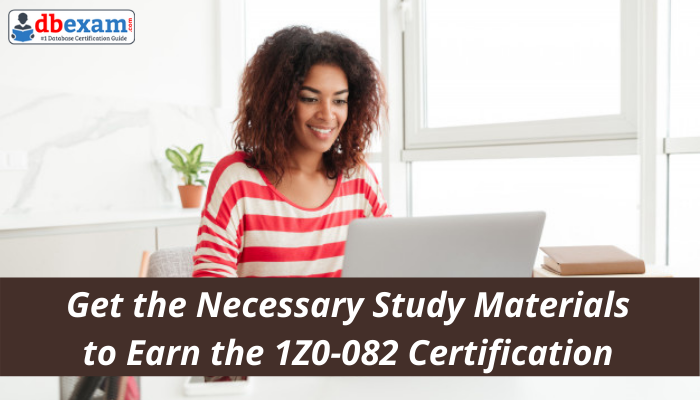 "Practice more to earn success" applies greatly for the 1Z0-082 certification. Hard work with a study plan and assessment with a practice test is needed to grab your Oracle certification.
Learn about the Oracle 1Z0-082 Certified Professional:
An Oracle Database Administration 2019, 1Z0-082 Certified Professional, is an individual who has proved his theoretical knowledge and practical skills required to configure and manage Oracle Databases up to and including Oracle 19c.
If you are keen to have the Oracle Database Administration 2019 Certified Professional (OCP) certification, you must pass the 1Z0-082 and 1Z0-083, both exams.
The 1Z0-082 is the first exam to get Oracle Database Administration 2019 Certified Professional (OCP) certification. The 1Z0-082 exam is 150 minutes long and comprises 90 questions. A candidate needs to face multiple-choice questions and get 60% marks to pass the exam.
Passing the 1Z0-082 exam proves a candidate's skills in SQL programming, database, and network administration.
Who Are the Most Suitable Candidates for the 1Z0-082 Exam?
The 1Z0-082, Oracle Database Administration I, the exam is designed for database administrators. If you are interested in updating your Oracle database skills, the 1Z0-082 certification is a perfect choice.
Skills Learned through the 1Z0-082 Exam Preparation:
A candidate learns various skills through the Oracle Database Administration 2019 Certified Professional certification. The exam preparation helps a candidate to gain the knowledge and skills to patch, install, and upgrade Oracle Database and Oracle Grid Infrastructure for a standalone server.
They learn to create and manage a backup and recovery strategy using Recovery Manager (RMAN).

The 1Z0-082 candidates learn to use RMAN for Database duplication and transportation and diagnose failures using RMAN.

The DBA candidates need to manage all aspects of pluggable databases, Multitenant container databases, , and application containers, including creation, cloning, transportation, backup, recovery, and security.
How to Prepare for the 1Z0-082 Exam?
Get Proper Study Materials to Cover the Syllabus:
A candidate may depend on Oracle's delivered resources. A candidate can read online 1Z0-082 books or use Oracle press releases in a paperback format. Choose the resources carefully and focus on completing the syllabus. After completing the syllabus, a candidate may choose other resources, like sample questions, to widen their knowledge.
Making A Plan Helps to Cover the Syllabus Fast:
Only gathering materials won't help you pass the exam. If you make a plan to study daily and devote 2-3 hours, completing the syllabus becomes easier. Make a chart and pre-schedule every day's topics. If you sit for studying and then decide the topics to be covered, it may ruin the productivity. Study for fewer hours, but do it effectively.
Make Short Notes During Study:
If you make a habit of writing down the essential points, you can remember the topics for longer. The more you memorize the knowledge, the chances are there; you can attempt the questions easily. Make an indexed pattern short note to reuse them during revision.
Join the Training to Learn More:
A candidate may take any of the following training:
Oracle Database Learning Subscription

Oracle Database: Administration Workshop

Oracle Database: Introduction to SQL
The 1Z0-082 training for Administration I focuses on fundamental Database Administration topics. These topics include:
Managing users.

Managing database instances.

Understanding database architecture.

Privileges dependent on roles.

Managing storage that lays the foundation for a Database Administrator job role.
Don't Forget to Practice with the 1Z0-082 Practice Test:
Taking the 1Z0-082 practice test would help a candidate to evaluate his preparation level. He can easily find out his weaknesses and strengths regarding the syllabus from the result section. Therefore, practicing becomes an essential aspect. Once you discover the weaknesses, work more on those topics and build your confidence.
Benefits of Becoming DBA Certified:
By being a 1Z0-082 certified Oracle Database Administrator Professional, a candidate shows the full skill set needed to execute the Oracle Database's day-to-day administration.

Preparation to take the Oracle Database certification exam widens his knowledge and skills by exposing the candidate to a wide array of significant database features, functions, and operations.

Oracle 1Z0-082 Database certification exam preparation teaches a candidate how to perform complex, hands-on activities through labs, practice, and study.

Additionally, Oracle certification exams confirm their ability by asking real-world, scenario-based questions that evaluate and challenge their ability to think and perform.
The DBA certification provided by Oracle is one of the most sought-after in the market today due to the quality of training it offers. Oracle claims that the DBA certification that they provide has resulted in 45% more productive DBAs and 26% more efficient database management. It helps their trainees become more effective database administrators by giving them a new set of in-demand skills. These skills can lead to the increase of their value to their current and future employers. Since Oracle is the second-largest software company by revenue and market capitalization, it speaks so much of its integrity as a provider of different courses that would lead to one's career development. Thus, the Oracle DBA certification can be considered as one of the best available courses in the market today and is worth trying.
Bottom Line:
Passing the 1Z0-082 exam leads you one step ahead to grab your DBA certification. The Database Administration (DBA) is responsible for managing, ensuring the availability and backup of the data produced and consumed by an organization through their IT systems. Therefore, the DBA is greatly significant to every IT department for they are behind the creation and design of databases and significantly boost the holder's career.