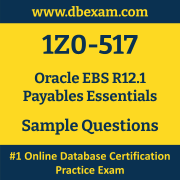 The Oracle 1Z0-517 Sample Question Set is designed to help you prepare for the Oracle E-Business Suite R12.1 Payables Essentials (1Z0-517) certification exam. To become familiar with actual Oracle Certification exam environment, we suggest you to try Sample Oracle 1Z0-517 Certification Practice Exam.
This sample Oracle 1Z0-517 certification practice exam is designed for evaluation purposes only. If you really want to test your knowledge to identify your weak areas and familiarize with actual exam format, we suggest you to practice with Premium Oracle 1Z0-517 Certification Practice Exam for Oracle E-Business Suite R12.1 Payables Essentials (1Z0-517) certification. Our team of E-Business Suite experts have designed Questions-Answers for this premium practice exam by collecting inputs from recently certified candidates. Hence, We strongly recommend you to use Premium Oracle 1Z0-517 Certification Practice Exam to clear your actual Oracle 1Z0-517 Certification Exam with great score.
1Z0-517 Sample Questions:
01. Which four attributes are validated during the Journal Import process?
a) period
b) approval level
c) balanced journal
d) cross-validation rule
e) account combination
f) journal sequence number
02. Using the Payables System Setup Options form, you can enable autonumbering for.
a) invoices
b) suppliers
c) payments
d) employees
e) expense reports
03. Which two statements are true regarding the Payables Options region in the Bank Account Window?
a) You can Enter the Payables options information for supplier bank accounts
b) The maximum Payment field controls the largest payment amount that you allow in a payment batch
c) The maximum payment filed controls the largest currency outlay that you allow for a payment batch for this bank account
d) The Minimum Payment field controls whether you would allow zero amount payments from this bank account
e) If the bank account is a foreign currency or multiple currency account, realized gain and realized loss accounts would be displayed by default in the Payables options window
04. Your client, Company A, has these requirements:
1. Asset invoices are entered in the Payables daily, but assets are transferred to Oracle Assets only once per week.
2. Payables journal entries have to be transferred to GL at least once per month for reporting purposes.
3. Oracle Projects balances must be updated once every month.
4. Payment batches must be processed daily.
On the basis of the above requirements, what would be the minimum recommended frequency of running the Transfer to GL program?
a) weekly
b) daily
c) monthly
d) once every two weeks
05. Which three statements are true regarding voucher numbers and document sequences?
a) After you create and save a sequence, you can change it
b) Assigning unique voucher numbers to documents is called document sequencing
c) You can select a sequence of numbers that you would assign to a document category
d) Document sequencing for all the documents you use in all your Oracle applications comes automatically set up with your installation
06. Select three activities that must be performed to complete the setup of the key accounting flexfield.
a) Create aliases.
b) Define a value set.
c) Define security rules.
d) Define an account structure.
e) Define valid segment values.
f) Create account combinations.
07. Which three methods can be used to enter invoice distributions?
a) Using a distribution set
b) Matching an invoice to a receipt
c) Entering manually in the Distribution window
d) Using the Distribution Open interface
08. Which event reverses an accrual for an item set to accrue on receipt?
a) paying an invoice
b) delivering goods to a final destination
c) running the Receipt Accruals - Period-end process
d) matching an invoice in Payables to a purchase order
09. Select the income tax report that is NOT available in the Payables module.
a) Withholding Tax by Invoice
b) Withholding Tax by Supplier
c) Withholding Tax by Payment
d) Withholding Tax by Supplier Site
10. Which two methods would you recommend for preventing the creation of duplicate suppliers?
a) Run the Vendor Audit Report
b) Recommend standard naming conventions for suppliers
c) Run the supplier listing by supplier name report to check the duplicates
d) Query the supplier in the supplier form before creating a new supplier
Solutions:
QUESTION: 01

Answer: a, c, d, e

QUESTION: 02

Answer: b

QUESTION: 03

Answer: b, e

QUESTION: 04

Answer: a

QUESTION: 05

Answer: b, c, d

QUESTION: 06

Answer: b, d, e

QUESTION: 07

Answer: a, b, c

QUESTION: 08

Answer: d

QUESTION: 09

Answer: d

QUESTION: 10

Answer: b, d