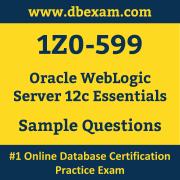 The Oracle WebLogic Server Essentials (1Z0-599) Sample Question Set is designed to help you prepare for the Oracle WebLogic Server 12c Certified Implementation Specialist (OCS) certification exam. To become familiar with the actual Oracle Certification exam environment, we suggest you try our Sample Oracle 1Z0-599 Certification Practice Exam.
This Oracle WebLogic Server 12c Essentials certification sample practice test and sample question set are designed for evaluation purposes only. If you want to test your Oracle 1Z0-599 knowledge to identify your areas of improvement and get familiar with the actual exam format, we suggest you prepare with the Premium Oracle WebLogic Server 12c Certified Implementation Specialist (OCS) Certification Practice Exam. Our team of Oracle WebLogic Server experts has designed Questions-Answers for this premium practice exam by collecting inputs from recently certified candidates. Our premium Oracle 1Z0-599 certification practice exam will boost your confidence as well as your actual Oracle WebLogic Server Essentials exam result.
Oracle 1Z0-599 Sample Questions:
01. For real time event processing, which three clients can you use?
a) Java
b) C++
c) .NET
d) REST
02. What type of Java EE application can be upgraded to WebLogic 12c using the Smart Upgrade tool?
a) GlassFish
b) iAS
c) WebLogic Server 11g
d) JBoss
03. In the area of Performance Management and Diagnostics, which feature is supported in Oracle Enterprise Manager 12C?
a) Search information in logs across multiple domains
b) View different log information in single console location
c) Save current performance data as baseline to be used in comparison with future data
d) Provides single dashboard across multi-tier composite application
04. What are four benefits of recommended basic architecture?
a) Good load balancing between Presentation Tier and Object Tier
b) Easy administration
c) Flexible Load balancing
d) Optimal performance
e) Simple security
05. Which product has guaranteed messaging and transactional integrity for 100% reliability, over 25 years of use in the world's largest transaction applications?
a) Coherence
b) Tuxedo
c) JRockit
d) WebLogic Server
06. When a critical error occurs, which module in Enterprise Manager will automatically collect diagnostics data from WebLogic Server?
a) Reports
b) Compliance
c) Support Workbench
d) Asset Discovery
e) visual creation of JDBC DataSource object to Oracle RAC
07. Active Cache is the integration of Coherence and WebLogic Server. Which component is NOT part of this integration?
a) Coherence*Web
b) Coherence*Extend
c) TopLink Grid with Coherence
d) Coherence cluster lifecycle management in WebLogic Server
e) Named cache dependency Injection
08. Which four service offerings are included in Oracle Public Cloud?
a) Database Service
b) Data Service
c) Java Service
d) Security Service
e) .NET Service
f) SOA Service
09. To use Active Cache features in WebLogic 12C, which three libraries are needed from the WebLogic Server installation to be deployed in WebLogic Server?
a) coherence-work.jar
b) coherence.jar
c) active-cache-1.0.jar
d) coherence-web-spi.war
10. Which four steps are involved to use Active Cache Dependency Injection in a WebLogic Java EE application?
a) Deploy Active Cache shared library
b) Declare dependency on the shared library
c) Declare all dependency injection entries
d) Package tangosol-coherence-override.xml in modules classpath
e) Package coherence-cache-config.xml in modules classpath
Answers:
Question: 01

Answer: a, b, c

Question: 02

Answer: b

Question: 03

Answer: a

Question: 04

Answer: b, c, d, e

Question: 05

Answer: b

Question: 06

Answer: c

Question: 07

Answer: b

Question: 08

Answer: a, b, c, d

Question: 09

Answer: b, c, d

Question: 10

Answer: a, b, c, e