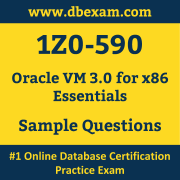 The Oracle VM Essentials (1Z0-590) Sample Question Set is designed to help you prepare for the Oracle VM 3.0 for x86 Certified Implementation Specialist (OCS) certification exam. To become familiar with the actual Oracle Certification exam environment, we suggest you try our Sample Oracle 1Z0-590 Certification Practice Exam.
This Oracle VM 3.0 for x86 Essentials certification sample practice test and sample question set are designed for evaluation purposes only. If you want to test your Oracle 1Z0-590 knowledge to identify your areas of improvement and get familiar with the actual exam format, we suggest you prepare with the Premium Oracle VM 3.0 for x86 Certified Implementation Specialist (OCS) Certification Practice Exam. Our team of Oracle VM experts has designed Questions-Answers for this premium practice exam by collecting inputs from recently certified candidates. Our premium Oracle 1Z0-590 certification practice exam will boost your confidence as well as your actual Oracle VM Essentials exam result.
Oracle 1Z0-590 Sample Questions:
01. Which command will be used to show running Guest VMs on an Oracle VM Server?
a) xm info
c) prstat
d) ps -ef
02. After adding multiple iSCSI storage repositories to your Oracle VM environment, you are getting out of memory errors in dom0.
Which file would you edit to increase dom0 memory allocation?
a) /boot/grub/grub.conf
b) /etc/xend/vm.config
c) /boot/initrd
d) /boot/xen-debug.gz
e) /etc/xen.cfg
03. In a standard deployment, which port on OVM servers a OVM Manager will communicate for management and monitoring?
a) 22
b) 54321
c) 7001
d) 8899
04. Which of the following software can be installed in Dom0 in a production environment?
a) HTTP Server
b) Device Drivers provided by Oracle or OPN Partners
c) Development Tools
d) Network monitoring tools
05. Choose four supported Guest OS in Oracle VM 3 for x86 from the following?
a) Windows Server 2003
b) Oracle Linux 6.x
c) SuSE Linux Enterprise Server 11
d) RedHat Enterprise Linux 5.x
e) Solaris 11 x86
06. Which of the following statements about OVM Template is NOT correct?
a) Templates downloaded from Oracle eDelivery site are pre-built, pre-configured and production ready.
b) A template archive must contains a vm configuration file and one or more disk image files.
c) A template can be used to deploy a complex application with multiple Oracle Software components running on independent OSes.
d) A template can be cloned as a Virtual Machine or another template
07. Which three network types are configured automatically for the first network bonding of a Oracle VM Server?
a) Management
b) Virtual Machine
c) Cluster Heartbeat
d) Live Migration
e) Storage
08. Under which two of the following situations will jobs be generated in Oracle VM Manager?
a) Discover Oracle VM Servers in Oracle VM Manager
b) View Oracle VM Servers' status in Oracle VM Manager
c) Change name of an unassigned Oracle VM Server
d) Power off a Oracle VM Server machine by running shutdown command in Dom0
09. Which type of virtualization technology does Oracle VM use?
a) Physical Domain
b) OS-Level virtualization
c) Hypervisor based virtualization
d) Application virtualization
10. Which one of the following statement is NOT true about master server in a server pool?
a) Oracle VM Manager will contact the master server using cluster 's Virtual IP.
b) When the master server in a server pool fails or in maintenance mode, one of the remaining servers in the server pool will be selected to be the new master server
c) Master server is used as gateway to manage other servers in the server pool
d) Non-clustered server pool does not need a master server
Answers:
Question: 01

Answer: b

Question: 02

Answer: a

Question: 03

Answer: d

Question: 04

Answer: b

Question: 05

Answer: a, b, d, e

Question: 06

Answer: c

Question: 07

Answer: a, c, d

Question: 08

Answer: a, c

Question: 09

Answer: c

Question: 10

Answer: d