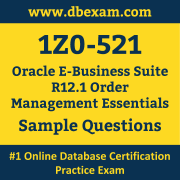 The Oracle E-Business Suite (EBS) Order Management Essentials (1Z0-521) Sample Question Set is designed to help you prepare for the Oracle E-Business Suite 12 Supply Chain Certified Implementation Specialist - Oracle Order Management (OCS) certification exam. To become familiar with the actual Oracle Certification exam environment, we suggest you try our Sample Oracle 1Z0-521 Certification Practice Exam.
This Oracle E-Business Suite R12.1 Order Management Essentials certification sample practice test and sample question set are designed for evaluation purposes only. If you want to test your Oracle 1Z0-521 knowledge to identify your areas of improvement and get familiar with the actual exam format, we suggest you prepare with the Premium Oracle E-Business Suite 12 Supply Chain Certified Implementation Specialist - Oracle Order Management (OCS) Certification Practice Exam. Our team of Oracle E-Business Suite Order Fulfillment experts has designed Questions-Answers for this premium practice exam by collecting inputs from recently certified candidates. Our premium Oracle 1Z0-521 certification practice exam will boost your confidence as well as your actual Oracle E-Business Suite (EBS) Order Management Essentials exam result.
Oracle 1Z0-521 Sample Questions:
01. Oracle daily Business Intelligence functions are secured using standard Oracle Application function security.
Choose three dashboards that are secured by the inventory organization.
a) Inventory Management
b) Warehouse Management
c) Procurement Management
d) Commodity supplier Management
e) Customer fulfillment Management
02. A key business user requirement to those users should be able to create sales order with distributor keys trokes. Which four setup options facilitate reduced data entry?
a) Defaulting rules
b) Transaction types
c) OM: invoice source
d) Processing constraints
e) Automatic attachments rules
f) OM: invoice transaction type
g) OM: enable Related items and manual substitutions
03. When setting up order transaction types, which is the first setup step required?
a) Create the order transaction type
b) Create a document sequence for orders
c) Create the line transaction type for order lines.
d) Create the line transactions type for return lines.
e) Assign line flows to the order transaction type
f) Assign the order transaction type to the document sequence.
04. During the customer phase of a project to implement Oracle E-Business suit Release 12, you are responsible for converting historical account balances into Oracle general ledger from a legacy system. There is no account code combination setup in the production instance.
Identify the setup in accounting key Flexfield structure that is requires to perform conversion.
a) Define value sets and assign them to segments.
b) Define segments in the accounting Flexfield structure.
c) Qualify one of segments as a balancing segment.
d) The key Flexfield segments have to be enabled and displayed.
e) Select the "Allow Dynamic inserts" check box in accounting key Flexfield Structure
05. You are involved in a project to upgrade to Oracle E-Business suit Release 12. You need more information about the upgrade process and paths.
Where would you find the upgrade guide for Oracle E-Business?
a) AppsNet
b) Bug data base
c) Technical Forums
d) Meta link knowledge base
e) Oracle technology Network
f) Customer knowledge Exchange
06. Select the three permissions for setting basic pricing profile options.
a) View
b) Delete
c) Administer
d) Read only
e) No access
f) View and update
07. Customer acceptance is applicable for which four order types or models.
a) Kits
b) Returns
c) Internal orders
d) Retro bill orders
e) ATO/PTO models
f) Standard orders with service items
g) Standard orders with standard items
08. The technical architecture in Oracle E-Business suit release 12 supports the business needs of the application.
Select three technical features included in the technical architecture in Oracle E-Business Suite release 12.
a) Global
b) Mobile interface
c) Rapid implementation
d) Business intelligence
e) End-to-end integration
f) Self-service (HTML/JSps)
09. Identify three features that are providing under scheduling in order management.
a) Reserving
b) Scheduling
c) Booking the order
d) Removing scheduling holds
e) Performing automatic pricing
f) Calculating available-to-promise (ATP)
10. When adding a new recipient to the approvals lists for the seeded negotiation agreements. Which two statements are true?
a) Open the seeded workflow and add the new name there.
b) Modify the seeded approvals list to create a new workflow.
c) The seeded workflow list of approvers cannot be modified.
d) Select setup>Transaction types > Approvals and add the recipient to the list of approvers to appropriate list name.
e) Select setup>Transaction types, query the appropriate transaction type and than click the appropriate button, finally the user should add the recipient to the list of agreements for the appropriate list name.
Answers:
Question: 01

Answer: a, b, e

Question: 02

Answer: a, b, e, g

Question: 03

Answer: a

Question: 04

Answer: e

Question: 05

Answer: d

Question: 06

Answer: a, e, f

Question: 07

Answer: a, e, f, g

Question: 08

Answer: b, d, f

Question: 09

Answer: a, b, f

Question: 10

Answer: d, e