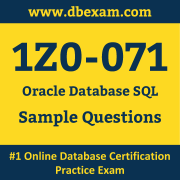 The Oracle Database SQL (1Z0-071) Sample Question Set is designed to help you prepare for the Oracle Database SQL Certified Associate (OCA) certification exam. To become familiar with the actual Oracle Certification exam environment, we suggest you try our Sample Oracle 1Z0-071 Certification Practice Exam.
This Oracle Database SQL certification sample practice test and sample question set are designed for evaluation purposes only. If you want to test your Oracle 1Z0-071 knowledge to identify your areas of improvement and get familiar with the actual exam format, we suggest you prepare with the Premium Oracle Database SQL Certified Associate (OCA) Certification Practice Exam. Our team of Oracle SQL and PL/SQL experts has designed Questions-Answers for this premium practice exam by collecting inputs from recently certified candidates. Our premium Oracle 1Z0-071 certification practice exam will boost your confidence as well as your actual Oracle Database SQL exam result.
Oracle 1Z0-071 Sample Questions:
01. Which three statements are true regarding the data types?
a) Only one LONG column can be used per table.
b) ATIMESTAMP data type column stores only time values with fractional seconds.
c) The BLOB data type column is used to store binary data in an operating system file.
d) The minimum column width that can be specified for a varchar2 data type column is one.
e) The value for a CHAR data type column is blank-padded to the maximum defined column width.
02. You need to determine the day of the week for a particular date in the future. Which function will reveal this information?
a) TO_CHAR
b) DAY_OF_WEEK
c) TO_DATE
d) None of the above
03. The user SCOTT who is the owner of ORDERS and ORDER_ITEMS tables issues the following GRANT command:
GRANT ALL ON orders, order_items TO PUBLIC;
What correction needs to be done to the above statement?
a) PUBLIC should be replaced with specific usernames.
b) ALL should be replaced with a list of specific privileges.
c) WITH GRANT OPTION should be added to the statement.
d) Separate GRANT statements are required for ORDERS and ORDER_ITEMS tables.
04. Which statement is true regarding external tables?
a) The default REJECT LIMIT for external tables is UNLIMITED.
b) The data and metadata for an external table are stored outside the database.
c) ORACLE_LOADER and ORACLE_DATAPUMP have exactly the same functionality when used with an external table.
d) The CREATE TABLE AS SELECT statement can be used to unload data into regular table in the database from an external table.
05. You can add your own comments to the data dictionary with the COMMENT statement using which of the following?
a) INDEX
b) COLUMN
c) SEQUENCE
d) TABLE
06. Assume you have a table ITEMS that includes a column STATUS. Which of the following statements is syntactically correct?
a) SELECT * FROM ITEMS FETCH NEXT 20 % ROWS ONLY;
b) SELECT * FROM ITEMS FETCH NEXT 20 PERCENT ROWS ONLY;
c) SELECT * FROM ITEMS FETCH NEXT 20 ROWS WITH TIES;
d) SELECT * FROM ITEMS ORDER BY STATUS FETCH NEXT 20 ROWS WITH TIES;
07. Which statement is true about an inner join specified in the WHERE clause of a query?
a) It must have primary-key and foreign-key constraints defined on the columns used in the join condition.
b) It requires the column names to be the same in all tables used for the join conditions.
c) It is applicable for equijoin and nonequijoin conditions.
d) It is applicable for only equijoin conditions.
08. The DESC command can be used to do which of the following?
a) Show a table's columns and the data types of those columns
b) Show a brief paragraph describing what the table does
c) Show a table's name and who created it
d) Show the data that is contained within a table
09. What can a SELECT statement be used to query?
a) One or more reports
b) One or more tables
c) Only one table
d) Only one report
10. Which one of the following is a DML statement?
a) ADD
b) ALTER
c) UPDATE
d) MODIFY
Answers:
Question: 01

Answer: a, d, e

Question: 02

Answer: a

Question: 03

Answer: d

Question: 04

Answer: d

Question: 05

Answer: b, d

Question: 06

Answer: b, c, d

Question: 07

Answer: c

Question: 08

Answer: a

Question: 09

Answer: b

Question: 10

Answer: c