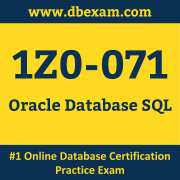 SKU: 1Z0-071
Test yourself using our Premium practice exam of Oracle Database SQL (1Z0-071). Be firm and assured on your readiness on your Oracle exam preparation. Our Oracle 1Z0-071 practice exam gives you platform to test your knowledge on a set of refined and recently updated questions.
Premium Oracle Database SQL (1Z0-071) questions bank contains 430+ questions, Premium Practice Exam will populate questions randomly from this question bank. All the questions from premium question bank will be covered easily in 2 to 4 practice exam attempts. However the more you practice, the best will be the result in real exam
With the purchase of this product, you will gain an access to following Premium Practice Exams for 2 months, unlimited attempts.
Oracle Database SQL (1Z0-071) - Full


Questions: 78 multiple-choice questions
Time limit: 120 Minutes

Oracle Database SQL (1Z0-071) - Mini


Questions: 39 multiple-choice questions
Time limit: 60 Minutes
This Premium practice exam will give you the feeling of real Oracle certification exam environment with exam time limit and random selection of questions from premium question bank of www.oraclestudy.com