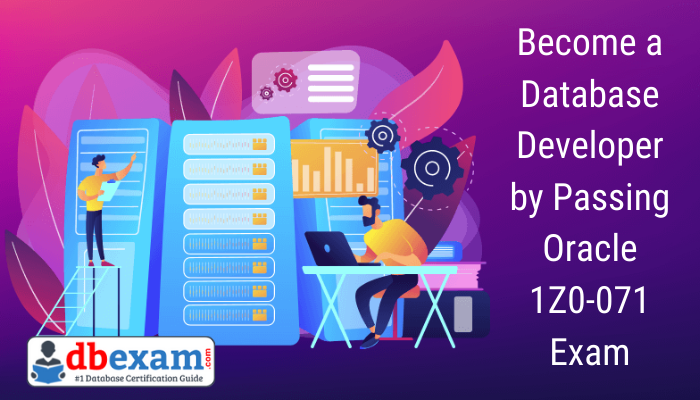 Becoming an Oracle Database SQL Certified Associate by passing the 1Z0-071 exam will prove an understanding of fundamental SQL concepts required to undertake any database project. Passing the exam demonstrates SQL's depth of knowledge and its use when working with the Oracle Database server.
Acquire a working knowledge of queries, insert, update and delete SQL statements, and some Data Definition Language and Data Control Language, the optimizer, tales and indexes, data modeling, and normalization. By passing this exam, a certified individual confirms proficiency in and a robust understanding of SQL language, data modeling, and SQL to create and manage tables in an Oracle Database.
The Oracle Database SQL Certified Associate 1Z0-071 could be a great option if you are a junior programmer who wants to get better jobs by earning Oracle certification.
The Main Benefits of Passing Oracle 1Z0-071 Exam and Becoming Oracle Database SQL Certified Associate
Earning an Oracle certification signifies and confirms its holder's commitment to career development. By certifying the acquired expertise, it also inevitably guarantees the winner obtains a job. This is especially important, considering the enormous competition for IT jobs, so holding a respected Oracle certification gives you a cutting edge over those non-certified candidates. Now, let's dive into the more important grounds.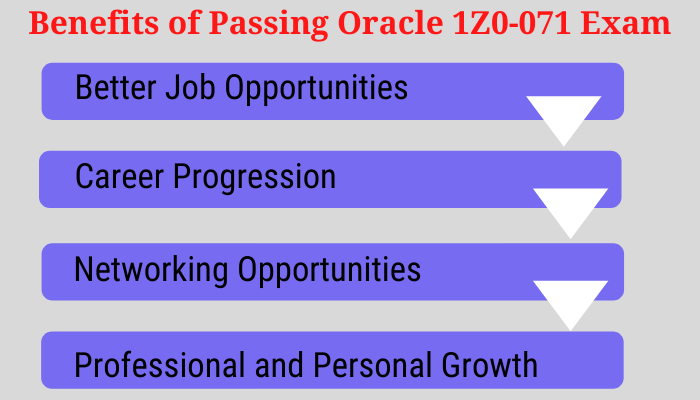 1. Better Job Opportunities
Firstly, Earning Oracle Database SQL Certified Associate adds a shining star to your CV. With it, you are entitled to get promotions and more benefits at work.
2. Career Progression
Becoming a certified IT professional would be a crucial contribution to your job position. This way, you will gain competitive gains, handle projects with more proficiency, and boost your salaries.
3. Networking Opportunities with Oracle 1Z0-071 Certification
Apart from those stated above, earning an Oracle certification will broaden the network opportunities and allowing you to be a member of the IT specialists' community.
4. Professional and Personal Growth
One of the most significant things about obtaining the Oracle Database SQL Certified Associate certification is gaining new knowledge and skills. Nothing else can be as gratifying and productive as perceiving that you have achieved your goals and succeeded!
Important Information about Oracle 1Z0-071 Exam
Passing Oracle 1Z0-071 or the Oracle Database SQL exam allows applicants to achieve any of the following three certifications of the associate level:
Oracle Database 12c Administrator Certified;

Oracle PL/SQL Developer Certified;

Oracle Database SQL Certified.
Oracle 1Z0-071 exam consists of 78 questions to be answered within 120 minutes. To pass it, you need to score at 63%. One try at the exam will cost you roughly $245.
The exam has topics that applicants need to study. It's vital for you to review these domains or syllabus topics before you start your preparation for the Oracle Database SQL 1Z0-071 exam. Reviewing topics also help you determine which books, courses, or other study resources to obtain.
Oracle Database SQL 1Z0-071 Exam Objectives
Relational Database concepts

Retrieving Data using the SQL SELECT Statement

Restricting and Sorting Data

Using Single-Row Functions to Customize Output

Using Single-Row Functions to Customize Output

Reporting Aggregated Data Using Group Functions

Displaying Data from Multiple Tables

Displaying Data from Multiple Tables

Using SET Operators

Managing Tables using DML statements

Using SET Operators

Use DDL to manage tables and their relationships.

Managing Indexes Synonyms and Sequences

Managing Views

Managing Objects with Data Dictionary Views

Controlling User Access

Managing Data in Different Time Zones
How to Prepare for Oracle 1Z0-071 Exam?
There are many exam preparation methods that you employ for the Oracle 1Z0-071 exam preparation. They involve taking training courses, acquiring hands-on experience, using practice tests, etc. All the below-mentioned online resources are reliable. They give sufficient and thorough learning.
1. Oracle Database SQL 1Z0-071 Exam Webpage
You need to know the details of your exam before registering for it. The official Oracle website provides information about exam details, topics, exam costs, and learning resources, etc.
2. Oracle Training Courses
To pass your Oracle exam and flourish in your database developer career, you must develop expert skills. A training course will help you develop the essential skills and methods that will allow you to accomplish databases successfully. These are the recommended courses that you can take:
3. Acquire Practical Skills
Practical experience is crucial for passing your exam and performing your database-related duties in the actual world. Practicing in hands-on labs, you're going to master key database technologies and utilize various tools to solve issues. Practical skills in developing, designing, and extracting information from databases will be a plus point in your exam preparation.
4. Oracle 1Z0-071 Practice Test
Another proven method to prepare for the Oracle 1Z0-071 exam is to attempt a practice test. Once you have completed the syllabus, make it a point to take practice tests every day. Arrange the environment around you as if you are taking a real exam and then start taking your test. This will help you gauge your progress in the best way possible. So, start practicing now!
Conclusion
Becoming a certified associate on Oracle Database SQL proves that you have the essential knowledge to successfully accomplish any database project. If you are the one to get the Oracle Database SQL Certified Associate certification, you have to pass the 1Z0-071 exam. This exam's training will offer you in-depth knowledge of SQL and how it is used in the Oracle Database server management. Following Oracle's training options on its official website and taking Oracle 1Z0-071 practice test sets the most secure path to take if you want to pass the exam from the first try.