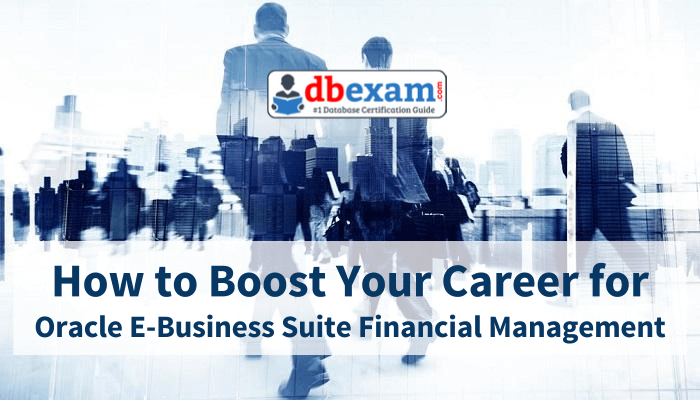 If you are one of those professionals who desire to move ahead in the career with informed choices, then Oracle E-Business Suite Financial Management is quite beneficial for you. R12 Oracle E-Business Suite Financials applications is such a course that will help streamline as well as automate all your business processes. It will make you more informed while improving the operations of the company that you work for and even reduce the cost.
Designed to boost your career in E-Business Suite Financial Management
The marketplace is competitive these days, especially for securing a well-paid job. Professionals nowadays make sure that they have something different that can set them apart from the similar job aspirants. Hence, the choice to pursue Oracle certified courses, especially E-Business Suite Financial Management.You have the choice of selecting a recommended course or even advanced topics from several Oracle E-Business Suite Financials focus areas.
The curriculum of the Oracle University for R12 Oracle E-Business Suite is designed to meet the objectives set by the learner. You should enhance your skills with this course and hence, move ahead in the existing organization. With such a degree in your resume, you can even make a choice to shift your career altogether.
Industry-leading Performance
The data model is unified and hence, it offers a common view of the entire financial information that is accurate. With this, you can even know all the information about the clients of the company.
Oracle Financials run on Oracle technology and gives an industry-leading performance together with scalability. When you learn the essentials of this course, you are equipped to advanced knowledge and also attain in-depth understanding of Asset Management, General Ledger Management, Order to Cash as well as Procure to Pay.
Added advantage of E-Business Suite Certified
Oracle University encourages professionals from all walks of life by helping them boost their functional expertise with technology. This gives them an added advantage in the corporate environment. Professionals who have joined hands with Oracle - the leader in technology have gained a lot.
The courses by Oracle helps boost the technical skills of the individual and also helps them enhance the value of their career. Basically, it gives them an edge in the competition by helping them to tap new opportunities.
A qualifying specialization of Oracle EBS
Oracle E-Business Suite Financial Management is a Qualifying Specialization. The course, Oracle E-Business Suite (EBS) Financial Management Specialization recognizes those who are proficient in selling, developing and implementing EBS Financial Management modules.
E-Business Suite Financial Management offers information that promotes better decision making. You can get more detail on Oracle E-Business Suite Financial Management training at given reference links:
Oracle E-Business Suite Certification Detail

Recommended Online Practice exams for
Topics in the Oracle EBS Financial Specialization
There are several topics in the Oracle E-Business Suite (EBS) Financial Management Specialization including System Administration, Internet Expenses, General Management, iReceivables and Advanced Collections, E-Business Tax and others.
One who specializes in Oracle E-Business Suite has a strong foundation to develop advanced knowledge in several areas. Professionals who are armed with this specialized are differentiated in the industry as they have the proven expertise in financial management.
Who can opt for these Oracle E-business courses
Professionals who can opt for Oracle E-Business Suite Financials are:
Charted Accountants (CAs)

MAB Finance

M.Com Certified

Accounts and Finance Executive with 2-4 Years of experience
Benefits of the

E-Business Suite Financial Management

Course

Oracle E-Business Suite allows a professional to work smarter. It enhances the efficiency and even reduces back-office costs that occur in an organization. The course offers standardized processes for shared services together with productivity tools as well as integrated performance management.

The course helps a professional to work globally. One can easily manage the global financial organizations from one single and integrated system by complying with multiple legislations, policies and accounting standards as well. With this, it helps facilitate financial control together with corporate governance. It equips a professional with a holistic approach to compliance as well as risk management.

Oracle E-Business Suite Financials is trusted by several organizations around the world for facilitating financial control. It helps increase efficiency and even reduce back-office costs. The solutions are such that they use standardized processes for productivity tools, shared services and even integrated performances.
What does the training includes?
The training for E-Business Suite Financials is designed to support functional implementation team members and even business users to configure, manage and use the financial applications in the best manner possible. It includes Asset Lifecycle Management, Cast and Treasury Management, Credit to Cash, Financial Control and Reporting, Financial Analytics, Governance, Risk and Compliance, Lease and Finance Management, Procure to Pay as well as Travel and Expense Management.
There are several courses under Oracle E-Business Suite Financial Management. Professionals need to equip themselves to stay a step ahead of their competitors and make sure that they have in-depth knowledge and better understanding of the subject. This is only possible when they update themselves with the best courses like Oracle time and again.