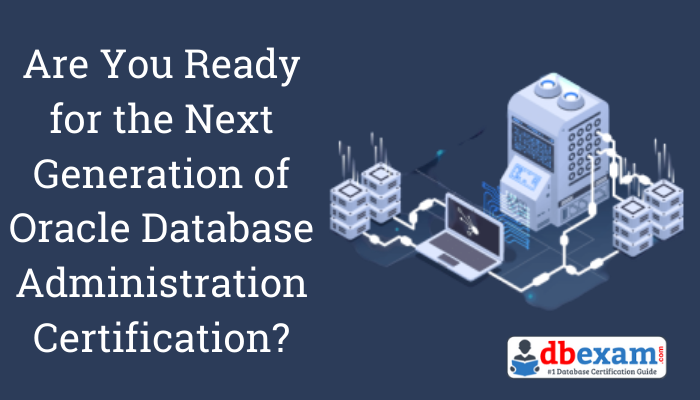 The Oracle Database Administration Certified Professional confirms that applicants have the skill and comprehension to maintain and upgrade Oracle Database and Oracle Grid Infrastructure for a standalone server. It also indicates a certification holder can administer all aspects of multitenant container databases, pluggable databases, and application containers. By earning the Oracle Database Administration certification, applicants confirm their skills needed to carry out every day admin tasks concerning to Oracle Database.
There are two exams needed to be pass to receive Oracle Database Administration certification:
1. Oracle Database Administration I (1Z0-082)
2. Oracle Database Administration II (1Z0-083)
Why Choose Oracle Database Administration Certification?
In today's ever-changing world where almost everything is evolving rapidly, the popularity of Oracle Database seems to remain intact. This statement might put you in an appalling state, but for Oracle Database Administrators, this isn't new. To find out the basis behind the same, let's concentrate on the following points.
Reason 1 – Provides You a Feeling of Accomplishment
First of all, the feeling of accomplishment of a goal always encourages you to move to that next step. In the same way, obtaining an Oracle Database Administrator certification gives you the much-required encouragement to get a strong start. Every professional needs to understand where they stand. Simply put, preparing for an Oracle certification assesses not only your skills but also determines areas of improvement.
Reason 2 – It Offers You a Competitive Advantages
Secondly, preparing for Oracle 1Z0-082 and 1Z0-083 exam helps you broaden your knowledge base, which ultimately provides you a competitive advantage. Since the demand for Oracle certified database administrator is increasing rapidly, having a certification enables you to stand out of the group, even though there is an increase in the number of developers, etc. applying for some of the best jobs.
Reason 3 – Oracle Database Administration Certification Opens the Door to Better jobs
Last but not least, as per statistics, certified professionals generally earn more than non-certified professionals. Therefore, once you receive an Oracle certification, you can expect a high salary with more prominent job positions. To sum up, Oracle Database Administration certification reinforces your status as a skilled professional.
Oracle Database Administration Certification Exam Preparation Tips
If you want to learn to become a master in Oracle Database, the earliest possible date, then building time-management habits, will be helpful. Therefore, here are a few tips that can definitely work to your advantage.
1. Join a Community of Database Administrators
At first, you must join in online communities for database administrators to help you stay on the path. Furthermore, you can ask a question related to the topic you're facing difficulty with. Keep in mind, if you manage to spend your time a few minutes daily for connecting, you will complete notice yourself equipped with a new skill.
2. Read Books
Most importantly, read relevant books as much as you can. There are many study guides written for Oracle Database exam preparation, which you can read to dwell more in-depth in the 1Z0-082 and 1Z0-083 exam objectives. Books are ideal for applicants who want to receive a real-world context for the skills.
3. Start Practicing for Database Administration Certification Exam
Once you have completed your preparation, it's time to take practice tests. The only way to pass the exam is to practice until you get it right. Unnecessary to say! You will come across plenty of online resources while exploring a practice test. The point here is whichever source you use; your preparation should be thorough in passing the exam in the first attempt.
Conclusion
So, if you are planning to develop a career in the same line, then yes, it is right time you get yourself Oracle Database Administration certified. Oracle certifications are crucial for you to move ahead and get you better jobs and salaries. So, all the best and happy learning!!