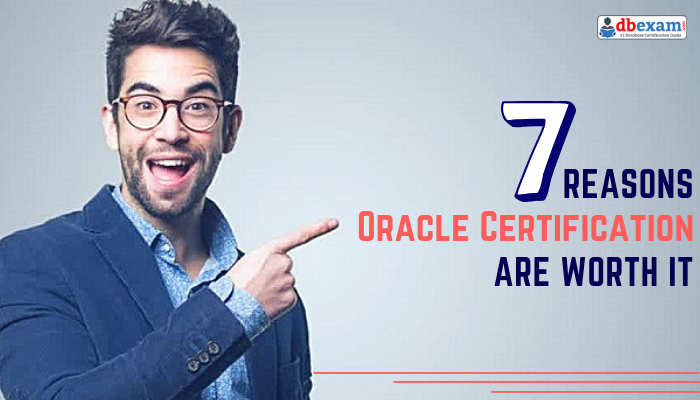 Earning the Oracle credential is no small accomplishment. Holding the title is only a small percentage of the benefits a candidate will gain from receiving certification. From experience obtained through exam preparation to the added prestige of the certification title, Oracle Certification has opened doors for many candidates.
Which O
racle Certification Is in Demand?
7 Reasons Oracle Certifications Are Worth The Effort
1) You
Will
Learn New Concepts
When you are preparing for a certification, you have to read and practice, a lot. When you finally pass certification, you feel good, but when you think about all the knowledge you obtained while preparing every Syllabus topic and every scenario, you will find that you have a lot of new concepts and you cleared some mistaken conceptions. You are now faster at achieving solutions, and you have extended the syntax you knew before beginning to prepare.
2) You Have Less Stress
Stress is a feeling that makes you get sick and affects your work performance. One of the causes of this stress is not knowing. If you do not know how to execute a solution or install a product or to correct a problem you feel stress because you are competing against time. The customer is calling you every five minutes, and you have to give the solution as soon as possible. The process that all DBAs pass through to get a certification increases the DBA's knowledge which decreases the stress of racing against the clock and not having the answer.
3) You Inspire Others
Once You became an Oracle Certified, You will notice other young professionals starting to prepare to become Oracle Exams. This is great because you are forcing more people to move to the next level and you are growing the competitiveness of your peers.
4) You will Become a Known Person
When you are at conferences, you meet people that tell you "Hey, I read your articles!" or "Hey, Congratulations on your Certification!"
5) You Will Get More Projects
Of course, you get more projects, and you can apply for better jobs! When you are using for a job, the organizations see your professional history, they schedule a technical interview, but also they see certifications. Certifications do not guarantee you are an expert, but it helps. HR likes certifications because certifications help businesses get new projects.
6) You Can Use the Logo to Back
Your skills with Oracle's Brand
You can add the certification logos in your email, your CV, your website, your blog, etc. It provides prestige to your marketing material. Right now there are 140+ people in the world that can be distinguished as an Oracle Certified Master.
7) Enforce the Commitment
You enforce the commitment that you have with your customers. Customers trust you. They believe that you will fix the issues or that you will provide solutions. With all the vast knowledge you get while preparing for every certification you are enforcing that commitment.
Don't Know How to Prepare for Oracle Certification? DBExam.com Provides Best Online Practice Exams With Guaranteed Result. we offer certification practice exams with structure, time limit and marking system same as the real certification exam