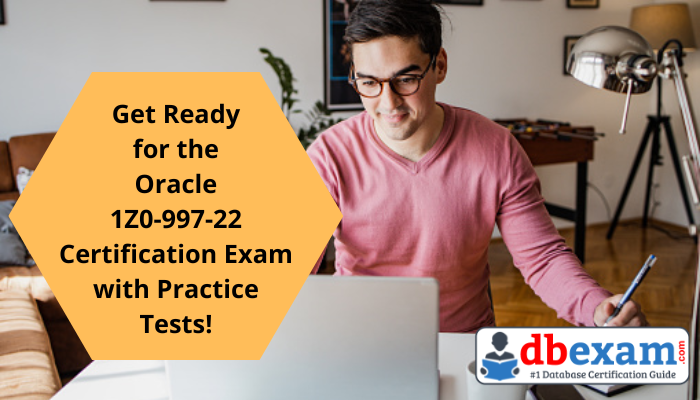 1Z0-997-22 practice tests are one of the best study resources if you want to pass the Oracle Cloud Infrastructure 2022 Architect Professional certification exam. Learn more about the certification exam preparation through this blog.
What Is the 1Z0-997-22 Certification All About?
1Z0-997-22 or the Oracle Cloud Infrastructure 2022 Architect Professional certification is a Professional level OCI Architect certification that works as the next level of certification for aspirants who have already earned an OCI Architect Associate title.
Eligibility to Earn the 1Z0-997-22 Certification:
An eligible 1Z0-997-22 certification aspirant must have the Associate level certification to qualify for the 1Z0-997-22 certification. The 1Z0-997-22 certification exam is 50 questions long, and a candidate needs to get 65% marks to pass the exam.
What Do You Learn through the 1Z0-997-22 Certification Preparation?
1Z0-997-22 or the Oracle Cloud Infrastructure 2020 Certified Architect Professional demonstrates the hands-on experience and knowledge needed to plan, design, implement and operate OCI solutions. The 1Z0-997-22 aspirant learns the following topics:
Migrating on-premises workloads to OCI

Designing for security and compliance

Planning and designing solutions

Implementing and operating solutions

Designing, implementing and operating databases

Designing for hybrid cloud architecture
Up-to-date training and field experiences are needed to pass the 1Z0-997-22 certification exam.
Avail the Study Plans to Pass the 1Z0-997-22 Exam:
Stay Determined to Take the 1Z0-997-22 Exam:
You must stay focused if you want to prepare well for the 1Z0-997-22 exam. When an aspirant proceeds with registration, it is assumed that he is going to be more focused on the preparation. You might plan to take the exam but drop it midway for multiple reasons. But when you proceed solidly with registration, chances are high to stay determined regarding the exam preparation.
Have Firm Grasp on the 1Z0-997-22 Syllabus Topics:
Your exam result should score more if you want to stay ahead of other aspirants during any interview. Therefore, grasp the 1Z0-997-22 syllabus topics and stay ahead of your competitors in the long run. If your theoretical knowledge is strong, chances are high that you will face fewer challenges during the actual exam, and attempting more questions will be a piece of cake. Covering the Oracle syllabus could be a bit challenging, as the domains are not divided into specific percentages. Therefore, look for the number of topics and sub-topics and choose the important areas.
A Study Schedule Keeps You Organized:
A study schedule becomes essential, as it helps you stay organized throughout your preparation. Time management becomes the most straightforward task while you follow the study schedule. Do not engage yourself in studying for the whole day or stretching your study hours. It would be better to focus on studying for two hours daily and cover some specific topics from the core during your study hours.
Chalk Out Your Productive Hours:
Nobody has the power to work productively throughout the day; therefore, chalk out the time when you feel the most productive, and set those hours for studying. Make notes during the study, and make your learning productive.
Break the Monotony of Study with Other Materials:
Once you are done covering the syllabus topics, keep the pace of studying with other study resources like video materials and sample questions. Your learning should never stop at the syllabus; therefore, keep exploring and strengthening your knowledge base.
Learn More About Your Preparation Level with 1Z0-997-22 Practice Test:
Will you be able to take the 1Z0-997-22 exam on time? The 1Z0-997-22 exam is of multiple-choice type, and getting an idea about the exam pattern is important to avoid any challenges in the exam hall. The 1Z0-997-22 practice tests are the ultimate solution to a candidate's problem. These tests are time-based, so you will have the real exam, like experience and insights, after every mock exam. You can analyze your performance through the result section to score better the next time. Therefore, enroll yourself for the practice tests and perform better in the exam.
Why There Is A Need for OCI?
Oracle Cloud is considered the first public cloud created from the ground up to become a better cloud for every application. Oracle created innovations that solve problems that customers have with existing public clouds. Oracle changed the core engineering and systems design for cloud computing and accelerated migrations of existing enterprise workloads. The solution offered better reliability and performance for all applications and offered the complete services customers need to create innovative cloud applications. Oracle Cloud Infrastructure is useful in many ways.
Here Are the Benefits:
Migrate Critical Enterprise Workloads Easily:
Many enterprise applications face challenges moving to the cloud, as maximum hyper-scale cloud providers were architected on a virtual machine model with resources shared through the over subscribed networks and compute hypervisor. The older cloud computing architecture was difficult for enterprise applications to work at the expected levels of performance and availability without typically significant modification and to avoid further risk and complexity. Other performance-sensitive on-premises and Enterprise applications were made to run best on:
Scale-up architectures for resource scaling (not scale-out).

Ultra-low latency networks.

Clustering of resources for availability.
OCI was created with key cloud technologies to address the requirements of enterprise applications.
OCI Is the Ultimate Solution for Modern Applications:
While OCI is made to be better for enterprise applications, the same innovations in computing, networking, and storage make cloud-native applications more resilient, performant, and scalable. OCI provides the broad cloud services and partner ecosystem that help users to build production cloud-native apps.
Bottom Line:
Having professional-level certifications proves your seriousness in taking any exam or certification, and it proves your seriousness in learning more about the specific solution and boosts your career. Therefore, earn the 1Z0-997-22 certification for the betterment of your Oracle career.