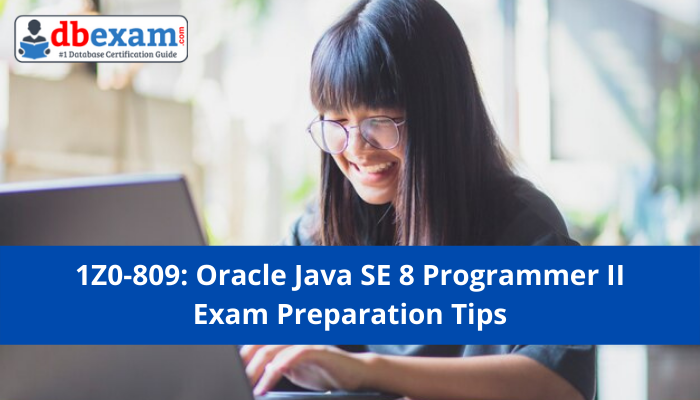 How to prepare better for the Oracle 1Z0-809 exam and earn your Java SE 8 Programmer II certification? Explore some of the practical preparation tips, learn about the practice test resource and discover the benefits of Java certification through this article.
How to Get the 1Z0-809 Certification?
You will need to pass two exams if you want to enjoy the full benefits of being a Professional Java SE 8 Developer. The first step is to gain the Oracle Certified Associate (OCA) credential followed by the Oracle Certified Professional (OCP) credential to demonstrate that you have the high-level skills required to be successful.
You must pass the 1Z0-808, Java SE Programmer I exam first and earn your Oracle Certified Associate (OCA) Java SE 8 Programmer credential. To help you prepare for the certification test, Oracle recommends training and hands-on experience. Take the required OCP training to pass the 1Z0-809 exam.
Details of the 1Z0-809 Exam:
The OCP-level 1Z0-809 exam is 85 questions long, and you need to get a 65% mark to pass the exam. You need to face multiple-choice and scenario-based questions in the exam hall.
How to Ready for the 1Z0-809 Exam?
Visit the Official Page:
Your first step as a 1Z0-809 exam taker is to visit the official webpage for the exam. You must explore the Oracle official website before you start the exam preparations. The official page reveals all necessary information regarding the exam topics, exam training, and exam structure. To prepare with ease, you must keep yourself updated about the exam structure and other essential information.
Cover the 1Z0-809 Syllabus Topics:
If you are preparing for any exam, covering the exam syllabus is the first task, and what could be a better source than books? Oracle Certified Professional Java SE 8 Programmer Exam 1Z0–809 is the latest and most up-to-date book to prepare OCPJP8 certification. The book is a study guide and is considered to be a one-stop guide for preparing OCPJP8.
You can get an in-depth and 100% knowledge of OCJP8 exam objectives and explore full-length mock exams as well as hundreds of practice questions. This book also offers a useful Java 8 certification FAQ to give you essential information about Java SE 8 certifications, like OCAJP 8 and OCPJP 8. Complete the syllabus topics with the help of a study routine, and make sure no section is left.
Take Notes Throughout the 1Z0-809 Exam Preparation:
It is best not to skip any detail regarding the exam topics. Self-learning or expert-based learning, whichever method you prefer, you will face many facts and essential points during the preparation, and you need to write them down. Java certifications need immense knowledge to implement your knowledge practically during programming. Make sure you create notes of everything while preparing for the Java 1Z0-809 exam. You will feel great during revision when you will get all your necessary details in one place.
Join the Oracle Training:
You must join the Oracle training to boost your practical knowledge and perform better during your programming applications. Including training is a must if you want easy success in the exam.
Taking Practice Tests Is Must for Better Knowledge:
When studying for the 1Z0-809 exam, taking the practice tests is the best path to gauge your skills and identify weak areas. Attempt the 1Z0-809 practice test exam to have a real exam experience and learn more about where you stand in the exam preparation. You will also get an idea about the time you must spend on each question through this rigorous practice.
Why Should You Get the Java 1Z0-809 Certification?
Java is a programming language that has scope for concurrency. The language serves as a class-based, object-oriented programming language and a computing platform. The importance of Java certifications is evident as many applications and websites would not run without Java. If you want to have a wonderful, massive, and highly popular technological landscape, you must not miss out on Java.
Improve Your Knowledge with the 1Z0-809 OCP Certification:
One of the most vital reasons to ge the Java 1Z0-809 certification is to improve your knowledge regarding the language. You would go through many major topics while preparing for the 1Z0-809 certification. Getting a certification means improving your knowledge regarding multiple topics that help you pursue your professional career easily.
Get Preference by Potential Employers:
The first and foremost reason for having the 1Z0-809 Java certification is the preference allocated to professionally certified Java personnel. Potential employers such as many consultancy firms and government organizations and candidates having certification in Java to prove their knowledge easily. Even though, as a developer, you don't explicitly state the certification requirement, you can have a distinct advantage with the 1Z0-809 certification on your resume. Your professional-level knowledge of Java could help you explore multiple job opportunities.
Get A Confidence Boost:
Another main reason to get the 1Z0-809 certification is to boost your confidence with it. The detailed coverage of different concepts in the 1Z0-809 certification programs for Java helps candidates get considerable expertise in Java. If you are applying for a new job, the certification on your resume would boost your confidence to negotiate well.
Final Words:
The benefits of Java certifications are enormous. The 1Z0-809 certification will not only boost your resume value but will get you ready with the needed knowledge to pursue your job role swiftly. Therefore, study hard, and get ready to have your certification.