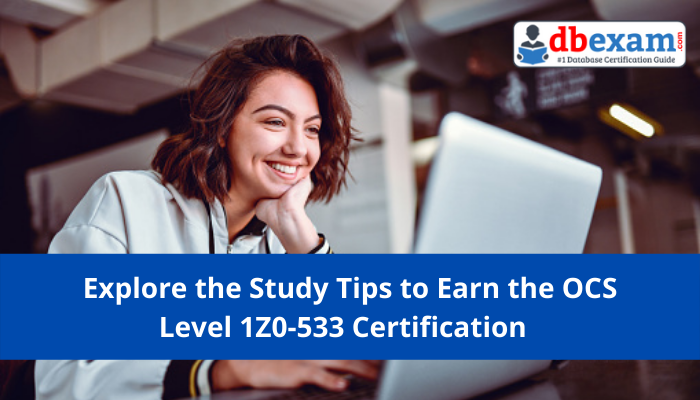 If you want to boost your career with the Oracle Hyperion Planning 11 Essentials, passing the 1Z0-533 exam is mandatory. This article will discover some proven tips, valuable sample questions, and practice test resources to ace the 1Z0-533 exam.
1Z0-533 Certification Overview:
1Z0-533 or the Oracle Hyperion Planning 11 Specialist Certification validates professionals who are skilled in implementing solutions based on Oracle Hyperion Financial Management.
What Topics Are Covered under the 1Z0-533 Certification?
The 1Z0-533 certification covers skills such as:
Creating Planning applications.

Setting up dimensions and account hierarchies.

Loading data.

Working with EPMA.

Defining forms.

Defining business rules and defining security.
Who Are the Target Audience for the 1Z0-533 Certification?
The 1Z0-533 exam targets the intermediate-level implementation team members and the 1Z0-533 certification is available to all candidates. Still, it is especially geared toward the members of the Oracle Partner Network who are focused on implementing and selling Oracle Business Intelligence technology.
The OPN members who earn the 1Z0-533 certification are recognized as OPN Certified Specialists, which helps their companies to qualify for the Oracle Business Intelligence Foundation Specialization. Having up-to-date training and field experience are suggested to pass the 1Z0-533 exam.
What Is the Study Strategy to Pass the 1Z0-533 Exam?
Join Oracle Training for the 1Z0-533 Certification:
It is always helpful to join training for IT exam preparations. Training helps a candidate to learn from the experts regarding the 1Z0-533 subject matters. The aspirant can clear the subject-oriented doubts directly from experts. Hyperion and Essbase are created to address the most complex business needs. By implementing an integrated suite of applications on a powerful OLAP database, Hyperion and Essbase offer a comprehensive business and industry solution, enabling organizations to:
enhance productivity

Accelerate business performance

offer a lower cost of ownership
A 1Z0-533 candidate can join any of the following training:
Oracle Hyperion Planning 11.1.2: Create & Manage Applications

Oracle Hyperion Planning 11.1.2 for Interactive Users

Oracle Hyperion Planning 11 Certified Implementation Specialist

Hyperion and Essbase Learning Subscription

Unlimited Learning Subscription - All Technology
Discover the Syllabus and Focus on Completing:
Covering the syllabus topics and learning them from the core is the key to your success in the 1Z0-533 exam. A schedule could help to plan syllabus covering with ease. But, try to be dedicated to your schedule to earn maximum benefit.
Choose your resources carefully while covering the syllabus. The aspirant might use Oracle press-released books or online resources to prepare for the exam. While you schedule your study time, keep more time for lengthier exam topics. Follow previous year's questions for learning the exam pattern and high weightage topics.
Learn from Video Materials:
Studying from books could feel boring sometimes; therefore, look for other resources like sample questions in a video format. You can learn from these questions while doing other works, by putting in little effort.
Keep Practicing Online for Performance Analysis:
Once the candidate learns the syllabus topics well, it is time for him to assess his performance level through online 1Z0-533 practice tests. The 1Z0-533 practice tests are designed in such a manner, that it provides the aspirant to take the real exam. Every aspirant should take these practice tests seriously to learn where they stand in exam preparation. During the initial attempts, the aspirants should only take the practice tests as evaluation tools and work hard depending on the valuable insights.
What Is Oracle Hyperion Planning?
Oracle Hyperion Planning is an agile planning solution that helps in enterprise-wide budgeting, planning, and forecasting using desktop, mobile, and Microsoft Office uses.
The solution offers a robust modeling framework to develop reliable financial forecasts based on sales and operational assumptions. These forecasts produce cost-effective enterprise alignment. Oracle Hyperion Planning allows the user to have a solution that is best in class and proven in the marketplace to offer timely, actionable plans to help make informed business actions.
What Are the Benefits of Using Oracle Hyperion Planning in Businesses?
The user can appeal to a wider user community through an intuitive Web user interface.

They can reduce budgeting and planning cycles by weeks or months.

Forecast reliability is enhanced.

The solution offers a familiar user interface for users with full Microsoft Office integration.

The time lag is reduced when plans are updated, and reports are refreshed.

The cost of ownership is low through superior application deployment, management tools, and packaged data integration.

Oracle Hyperion Planning offers the required agility to the enterprise planning process by quickly aligning financial models, plans, and forecasts across cost centers and lines of business thus allowing decisions to be made at a speed that businesses demand.

The change impacts key plan drivers and assumptions can be assessed instantaneously, and revisions are immediately available to all stakeholders without the reliability risks from manual interventions.
Bottom Line:
Oracle Hyperion Planning comes with built-in time intelligence and allocation logic. It comes with a powerful calculation engine that is helpful to express a range of business demands, from simple arithmetic formulae to complex allocations. The use of Oracle Hyperion Planning in businesses creates the demand for certified candidates in the work field. Thus getting the 1Z0-533 certification is a great career booster.