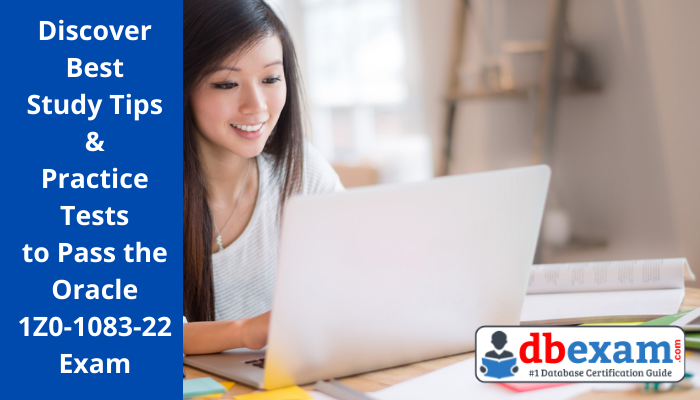 Passing the 1Z0-1083-22 or the Oracle Narrative Reporting 2022 Implementation Professional certification needs excellent effort. The preparation becomes easy with valuable study tips and using practice tests.
Details of the 1Z0-1083-22 Exam:
The 1Z0-1083-22 is a professional-level exam with 55 multiple-choice questions, and you need to get 62% marks to pass the exam. Passing the 1Z0-1083-22 exam earns you the Oracle Narrative Reporting 2022 Certified Implementation Professional (OCP) certification.
Overview of the 1Z0-1083-22 Certification:
Through the 1Z0-1083-22, Oracle Narrative Reporting 2022 Certified Implementation Professional certification, an individual demonstrates his knowledge and skills to implement Enterprise Performance Management and Oracle Narrative Reporting Cloud solutions.
What Else Do You Learn through the 1Z0-1083-22 Certification Preparation?
The 1Z0-1083-22 individual is able to configure and set up Cloud security and build EPM Cloud automation routines. They can create Report Packages, set up and manage Narrative Reporting Environment, work with Management Reporting, and make a Narrative Reporting custom application.
What Are the 1Z0-1083-22 Syllabus Topics?
The 1Z0-1083-22 exam covers the following topics-
Working with Management Reporting

Managing Report Packages (Workflow)

Creating Report Package

Setting up and Managing Narrative Reporting Environment

Narrative Reporting Overview
How to Get Ready for the 1Z0-1083-22 Certification Exam?
Begin with Registration:
What should be the perfect beginning to your 1Z0-1083-22 preparation? It should always be taking the registration and choosing an exam date for you. Setting a date for the 1Z0-1083-22 exam will give you an instant boost to take your study plan seriously. Pearson Vue conducts the 1Z0-1083-22 exam; therefore, visit the site and get your registration done. Calculate the total time you have and set your study goals accordingly.
Create Your Schedule to Cover the 1Z0-1083-22 Topics:
You must learn about the whole syllabus structure to make an effective study routine. Therefore, go through the syllabus topics and discuss how you want to cover them. Set out what you want to study daily, and follow the study plan rigorously. Try not to get scattered while you prepare for the exam. If you are focused enough, only studying for two hours could be of much help. Make this study time more productive by making notes and daily studying with devotion.
Join Oracle 1Z0-1083-22 Training to Learn from the Experts:
Learning from experts is one of the best ways to enhance your knowledge. Oracle offers training to help candidates learn more about the 1Z0-1083-22 syllabus topics. You can join any of the following training-
Oracle Narrative Reporting 2022 Certified Implementation Professional

Oracle Enterprise Performance Management Cloud Learning Subscription
Through the training, you get to learn about the following-
You learn about Oracle EPM cloud.

You can upload data from external sources and manage them through Enterprise Planning Cloud.

Work with Account Reconciliation and Transaction Management.

Register business applications, and create views and viewpoints to manage alternate business perspectives in Enterprise Data Management.

Make a custom reporting cloud application, models, and dimensions in Narrative Reporting.

Create and manage accounts, entities, scenarios, and user-defined dimensions in Financial Consolidation and Close.
Solving 1Z0-1083-22 Practice Tests Is Important:
Every aspirant must study hard, but they should be specially devoted to using Oracle 1Z0-1083-22 practice test. The practice tests are immensely helpful in assessing your preparation level. When the aspirant becomes confident about the syllabus topics, they must engage quality time in practicing the topics they have studied. Self-assessment through the online 1Z0-1083-22 practice tests and working on the areas they lack is vital to earning success. Don't indulge in unnecessary stress if you cannot score high during your initial attempts. Take these tests as learning and focus more on the sections that you feel difficulties in.
Learn More about Oracle Narrative Reporting:
Narrative Reporting is a purpose-based business method available in Oracle Cloud EPM for narrative, management, and regulatory reporting. The solution offers a secure, collaborative, process-driven approach for authoring, defining, reviewing, and publishing financial and management report packages. This will help the internal and external stakeholders, as well as a cross-cloud service reporting tool for offering integrated Cloud EPM reporting.
Benefits of Using Oracle Narrative Cloud Reporting:
Directly Access the System of Data:
Work with data that is always current by availing data directly from Oracle and non-Oracle sources. It includes Hyperion EPM applications, spreadsheets, Oracle Cloud EPM applications, Oracle Cloud Financials, native databases, and Oracle Analytics content.
Use Existing Reports with Ease:
The user does not need to recreate existing reports. They can bring in the current Microsoft PowerPoint and word or PDF-based narrative reports, as well as Excel-based reports through a constant and consistent method.
Combining Data and Narrative Content Is Easy Now:
Help offer context to the numbers by combining financial statements and data with textual narrative in a single report.
Leverage built-in report writing
Accelerate the reporting process. Narrative Reporting is equipped with a report writer that helps the user bring in charts and grids sourced from Oracle Essbase, Oracle Cloud EPM, and Oracle Cloud Financials.
Bottom Line:
Passing the 1Z0-1083-22 certification exam proves your credibility to employers and puts you one step forward for better job roles. The 1Z0-1083-22 certification improves your confidence regarding Oracle Narrative Reporting. Therefore, study hard and pass the 1Z0-1083-22 exam for a fruitful career.