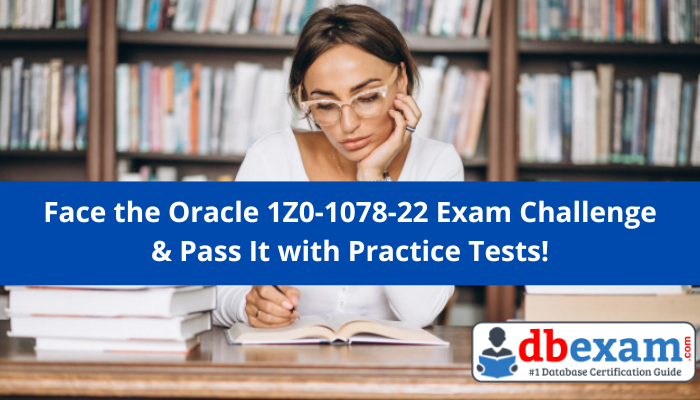 Passing the Oracle 1Z0-1078-22 exam gets easy with practice tests. Discover your flaws and strengths with rigorous practice and get to the Oracle Product Lifecycle Management 2022 Certified Implementation Professional (OCP) certification in no time. Get more details on exam preparation through this blog.
Overview of the Oracle 1Z0-1078-22 Certification:
1Z0-1078-22 or the Oracle Product Lifecycle Management Cloud 2021 Implementation Professional is an individual who is versed with the needed knowledge to deploy and configure innovation management, product hub, product development, and quality products.
What Do You Learn through the 1Z0-1078-22 Certification Preparation?
Candidates who earn the 1Z0-1078-22 certification are able to create and maintain products using change orders, product hub portal, new item requests, idea and item rules, publish products, and ensure product quality.
What Is the 1Z0-1078-22 Exam Structure?
The 1Z0-1078-22 is a 90-minute long exam with 55 questions. A candidate must get a 64% mark to pass the exam and earn his Oracle Product Lifecycle Management 2022 Certified Implementation Professional (OCP) certification.
Avail the Preparation Tips to Pass the 1Z0-1078-22 Exam:
Get through the Registration Process First:
Selecting an exam date is the first tsk, while you start preparing for the 1Z0-1078-22 certification. Setting a date for the 1Z0-1078-22 exam will give you the boost to take your study plans seriously. Pearson Vue conducts the exam; therefore, register with them, and count the total number of days to plan properly for the exam.
Go through the 1Z0-1078-22 Syllabus Details:
You must visit the 1Z0-1078-22 official page before you jump into the exam preparation and get all the syllabus details. Oracle syllabus does not mention any percentage distribution on the topics; therefore, one must chalk out the topic lengths and work on the topics.
Once you make a schedule to cover the 1Z0-1078-22 syllabus, studying becomes easy, and you can cover the topics within time. If you set out your study chart and mention what you want to study on a particular day, you can save the deciding time and avoid the study time schedule.
Develop Writing Habit to Boost Your Preparation:
Having a writing habit is a good thing to boost your learning regarding the 1Z0-1078-22 exam. It is proven that candidates who combine reading and writing end up memorizing the topics for longer, which is a need to succeed in any multiple-choice exam.
Boost Your Confidence with 1Z0-1078-22 Practice Test:
It is essential to check out your confidence level from time to time, and what could be better than enrolling for 1Z0-1078-22 practice tests? The time-based practice tests are the best tool to check your preparation level. You can calculate your speed and have the experience of taking the exam. You might think about using dumps, but the biggest disadvantage is that you can only read from dumps, but the self-evaluation can't be done with dumps.
Overview of Oracle Product Lifecycle Management Cloud:
Oracle Cloud PLM offers a digital thread that standardizes and structures manufacturing, design, planning, and service methods to help drive faster, higher-quality innovations and support business changes.
Oracle PLM Fusion Cloud Product Lifecycle Management helps the supply chain and development teams to unify operations and effectively manage data. Due to this, they can prioritize and agree on the demands needed to innovate and continuously commercialize new products and services.
Benefits of Oracle Product Lifecycle Management Cloud:
Oracle PLM helps in smarter innovation with enterprise-class possibilities to streamline, translate, optimize, and execute a balanced, achievable portfolio targeted to provide winning offerings matched to growth strategies. Embedded analytics and connected IoT enable faster decisions and traceability.

The solution speeds up product development by efficiently developing and managing new products and engineering change demands while enhancing your product record through item and approved manufacturer list change management (AML) management, bill of materials (BOM) management, and supplier collaboration.

Oracle PLM allows design meets demands by using a powerful guided selling and configuration solution that enables flexible modeling of configurable, multi-option, and customizable products and services.

Harmonize the product master data for rapid commercialization with Oracle PLM. Create governance and publish product master data for globalized manufacturing and omnichannel commerce.

Flawlessly syndicate data to internal and external applications and marketplaces with a single multi-domain solution, delivering trusted and commercialized product information.
Bottom Line:
Oracle Fusion Cloud PLM is a collaborative platform that helps the user to get the best ideas to market faster by standardizing and structuring the data and methods. These processes go into developing, innovating, and commercializing products and services. Therefore, get the Oracle 1Z0-1078-22 certification to prove your credibility to potential employers and make a prosperous career with Oracle.