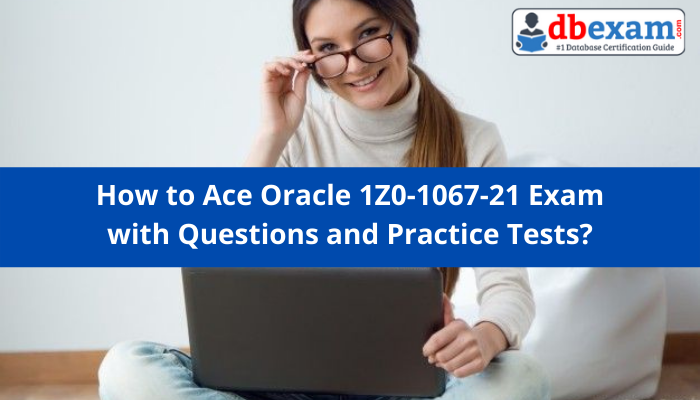 Grab some practical 1Z0-1067-21 questions and work with practice tests to become Oracle Cloud Infrastructure 2021 Cloud Operations Associate smoothly. Learn more about the exam and get details of the study materials through this article.
Who Is an Oracle 1Z0-1067-21 Certified Associate?
The 1Z0-1067-21, Oracle Cloud Infrastructure 2021 Certified Cloud Operations Associate, shows hands-on experience and knowledge needed to Automate Cloud tasks, Tune Performance, and Troubleshoot. They also know how to manage cost, manage security and compliance policies, Monitor and Alert OCI, Implement Data Retention and Archival, create shell scripts with the Command Line Interface (CLI), and design Cloud-scale Agility on OCI. Up-to-date training and field experience are recommended.
What Is the 1Z0-1067-21 Exam structure?
The 1Z0-1067-21 exam is 90 minutes long with 55 questions, and a candidate needs to get a 70 % mark to pass the exam. The candidate faces multiple-choice questions while taking the exam.
What Are Some Tips to Pass the 1Z0-1067-21 Exam?
Explore the Syllabus and Make A Study Plan According to that:
The candidate's first task regarding the exam is to explore the syllabus topics. Once they are done exploring the syllabus of the 1Z0-1067-21 exam, it is time for them to make a study plan. But before they make the study plan, registering with Pearson Vue and getting an exam date is important.
Once you fix an exam day, you can count exactly how much time you have in your hand, and planning becomes simple. If you only think of appearing for an exam and do not register, chances are, you are going to leave the exam preparation halfway. Therefore, make it a solid effort with registration.
You Should Set Solid Study Hours:
If you want to make your 1Z0-1067-21 exam preparation journey smoother, you must be fixed with some matters. Choose your study space, where you can access all your necessary materials at ease and fix your study hours. If you devote only two hours daily, you can easily grasp the topics and perform well in the exam.
Make your chart and be sure about the topics you want to cover on a particular day. Do not rush to cover the syllabus; work on one topic, learn it from the core, and move to the next topic. You can write down essential points from the topics and prepare notes to revise quickly in the future.
How Much Time Should You Take to Cover the Topics?
Oracle's associate-level certifications could feel tough to cover; therefore, whenever you plan to take an exam, devote at least two to three months to the exam preparation. Oracle syllabus is not percentage-based; therefore, while making your schedule, focus more on topics with more sub-topics.
Learn from the Experts through Oracle 1Z0-1067-21 Training:
If you put the whole work into studying and do not join the training, you might face difficulties later during the practical operations. Therefore, ensure your success with the combination of study, practice, and training. A candidate can join one of the following training-
Oracle Cloud Infrastructure 2021 Certified Cloud Operations Associate

Oracle Cloud Infrastructure Learning Subscription
Get Wiser with 1Z0-1067-21 Practice Tests:
Exam preparation is all about learning your mistakes, strengths, and weaknesses and getting wiser while understanding those sections. So following the reliable 1Z0-1067-21 practice tests help a candidate to gain valuable insights regarding exam preparation. Time management is essential if you want to pass the exam on the first attempt. It is all about attempting a maximum number of questions within the given time. Many candidates fail during the initial practice exams and get tense about it. Take these practice tests as learning and work on the sections you lack. Take the chance to improve yourself and get a good score in the actual exam. Many aspirants opt for dumps, and they miss out on the actual exam-like experience and face difficulties during the exam.
How Oracle Cloud Infrastructure Does Helps Organizations?
Oracle Cloud is the first public cloud made from the ground up to be a better cloud for every application. By calculating core engineering and systems design for cloud computing, Oracle created innovations that speed up migrations, offer better reliability and performance for all applications. OCI also offers the complete services customers need to build innovative cloud applications.

OCI's Cloud Adoption Framework helps organizations generate their transition to the cloud by offering a valuable collection of cloud resources, enablement tools, and best practices.

The OCI framework helps customers define a robust cloud strategy, plan for successful workload migration, and assure complete manageability of cloud situations.

The Cloud Adoption Framework offers customers a methodology to use Oracle Cloud built-in efficiencies such as crucial value programs and Cloud Lift Services, including Oracle Support Rewards.
Bottom Line:
OCI certifications are highly valued these days. Getting the 1Z0-1067-21 certification would earn you the Oracle Cloud Infrastructure 2021 Cloud Operations Associate certification, and the certification on the resume would boost your career value.