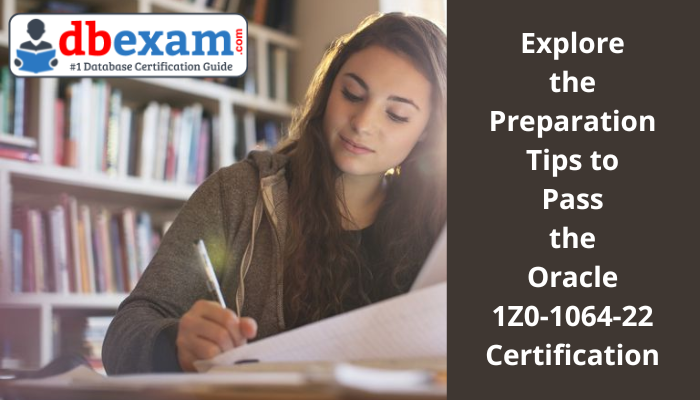 Preparing and passing the Oracle 1Z0-1064-22 certification exam depends on quality study materials, and practice tests are considered to be the best suitable materials. Learn more on the exam acing tips and Oracle Engagement Cloud through this blog.
What Do You Prove being an Oracle 1Z0-1064-22 Certified Professional?
Being an Oracle B2B Service 2022 Implementation Professional, you possess the knowledge to perform initial setup and configure service request management. You can deploy and have a customized Digital Customer Service application, configure Omni channel communications, and utilize tools to configure and customize B2B service workflows.
The Following Topics Are Covered Under the 1Z0-1064-22 Exam:
A candidate learns the following topics through the 1Z0-1064-22 exam preparation-
Advanced Configuration, Integration, and Analytics

Productivity Features

Omnichannel Communications

Digital Customer Service (DCS)

Knowledge Management (KM)

Entitlements

Service Request (SR) Management

Initial Setup
How to Prepare for the 1Z0-1064-22 Certification?
Continue with Your 1Z0-1064-22 Exam Study Pace:
Having a study schedule helps you to follow a routine and stay organized. You must continue studying at a specific pace to cover the syllabus topics within a specific time. Confirm taking the exam with registration and prepare accordingly.
Explore More about the 1Z0-1064-22 Syllabus Topics:
Learning about the 1Z0-1064-22 syllabus domains is a primary task, and you must visit the official page to get valuable information regarding the exam. Make a study chart and mention all necessary details, like the topic names, your daily targets, etc., on that chart. It would be best if you stick to your study chart till the exam day.
Be Productive with Your Study Time:
Studying smart is essential to prepare for any IT certification exam. Therefore, try to use your study time productively. Get rid of any confusion by deciding prior about the syllabus topics you want to cover on a particular day. You must study for a few hours daily to cover the entire 1Z0-1064-22 syllabus on time.
Learn from the 1Z0-1064- 22 Training:
The training helps you expand your knowledge practically about the 1Z0-1064-22 exam topics. Therefore join any of the training to learn directly from the experts and improve your knowledge and skills.
Oracle B2B Service 2022 Certified Implementation Professional

Oracle CX Sales and B2B Service Learning Subscription
Enhance Your Confidence with Oracle 1Z0-1064-22 Practice Test:
The main purpose of the 1Z0-1064-22 practice exams is to offer you the experience of taking the actual exam. You can use online resources like the dumps and practice tests; both are available to get ready for the 1Z0-1064-22 exam. But, it is always beneficial to choose the 1Z0-1064-22 practice tests as you get the scope to assess your preparation level. You might fail to score well in the initial practice exam attempts, but that should not make you afraid to take the exam. Practice tests guide you regarding the exam structure and point out your strengths and weaknesses. Therefore, take these tests as learning, and improve further with valuable guidance.
Overview of Oracle Engagement Cloud:
Oracle Engagement Cloud offers the complete set of possibilities to help sales leaders transition smoothly from sales planning and execution through account management, customer onboarding, and support services. Powerful sales and service possibilities are built on a single platform, with easy mobile access and native AI that allow each account's win probability and recommended next best actions.
Benefits of Oracle Engagement Cloud:
Advanced Intelligence for Sales:
Oracle provides the most advanced AI for Sales, which operates pervasively at the platform level. The solution is intelligent and connected to crucial business data across the organization.
Monitor the Sales Motions:
Look at the prescriptive recommendations for the next best actions, product configurations, and more.
Detect the Risks Early:
Learn about deals at risk and enhance forecast accuracy.
Get Voice-Controlled Assistance:
Oracle Digital Assistant for Sales offers 24/7 access to sales and customer intelligence with voice-controlled CRM updates.
Better Management with Customer Data with 1Z0-1064-22 Certification:
Use customer Data Management, and come to rely on customer data that is complete and accurate. Manage accounts more effectively, cut down duplicated work streams, and work more on effective marketing and sales campaigns. Solve customer service issues quickly and completely, and look for possibilities to upsell and cross-sell confidently.
Build Up the Source of Truth:
Create a single consistent, accurate customer profile with a prebuilt source hierarchy and cross-referencing components that link and merge disparate data.
Improve Agility:
Check out duplicates, verify addresses in real-time, and allow account and contact matching during data import.
Enrich the Data:
Get to more prospects with help from third-party data, including millions of organizations, contacts, and social media profiles, with Oracle Data as a Service for Sales.
Get Clean Data for Multiple Operations:
Leverage embedded data quality management foundations and tools for marketing, sales, and service organizations for clean data throughout the customer lifecycle.
Bottom Line:
Oracle Engagement Cloud empowers everyone in an organization, including partners and channel representatives, with contextual tools to win and have more business. The implementation of Oracle Engagement Cloud makes it a popular choice and career option. Therefore, get the 1Z0-1064-22 certification and become an Oracle-certified professional.